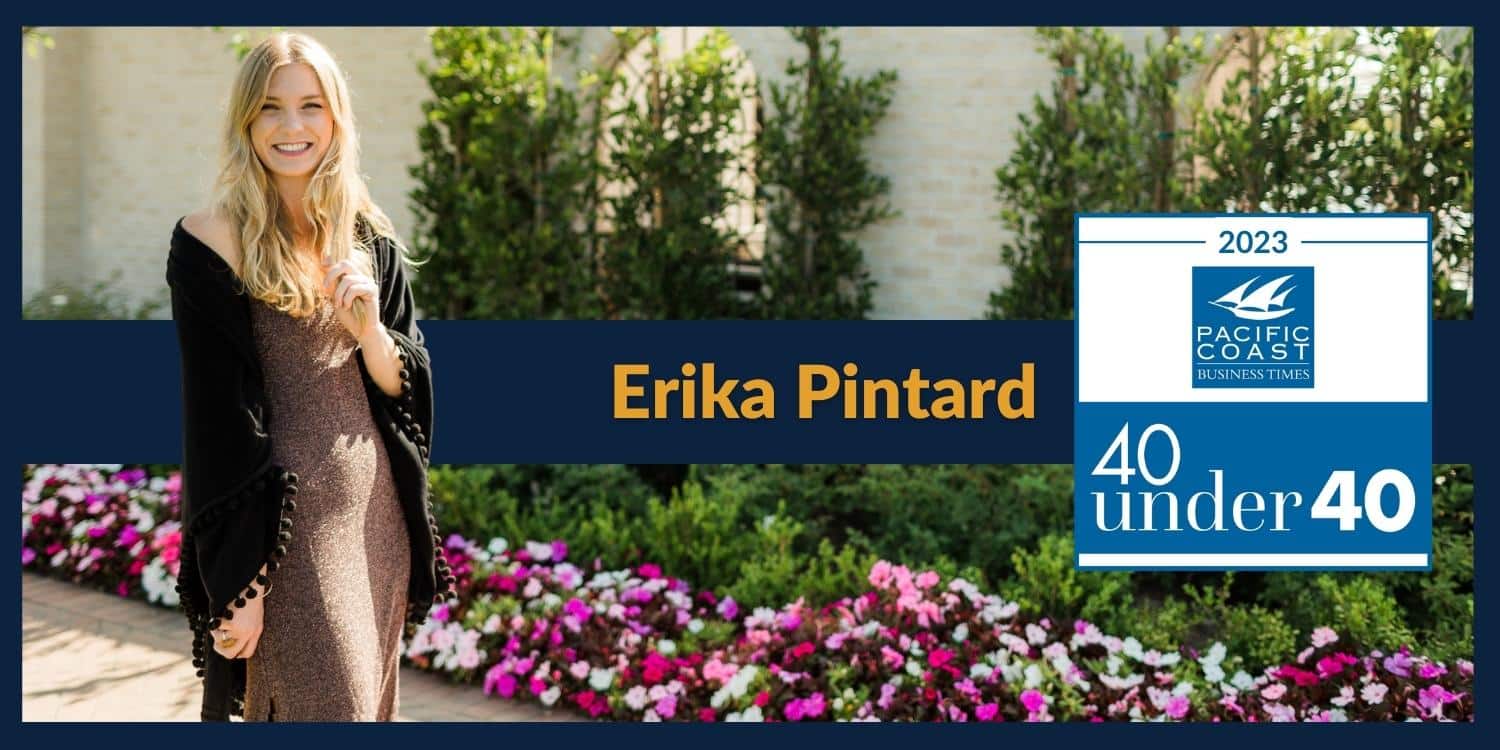 The Pacific Coast Business Times announced the honorees of their annual Top 40 Under 40 awards this week, naming Erika Pintard, Mission Wealth CRM Administrator, to their 2023 list. This year, the Business Times selected the region's top up-and-coming professionals under the age of 40, in an array of industries including finance, professional and other business services, real estate, technology, nonprofits, health care, and education.
Erika has been with Mission Wealth for more than 4 years after initially joining the firm as an Operations Associate. Now a CRM Administrator, Erika loves her role and the ability to work across all departments and with all Mission Wealth team members. Over the past year, she has helped implement new and improved processes using automation within Salesforce to help overall efficiency and customer service.
"I am grateful that Mission Wealth gave me this opportunity to try and create something new before we could've imagined how it would evolve. They've supported, listened, and challenged me in ways that have contributed to my personal growth," said Erika. "This award is a reflection of Mission Wealth's leadership, guidance, and core values. Without them, this wouldn't have been possible."
Erika is an active member of her San Diego community. When she is not working, Erika can be found taking care of her cat, Bella, embracing her green thumb, and exploring her community after recently moving from Santa Barbara. Erika also volunteers and supports Hugs for Cubs, an organization that works with pediatric cancer patients and provides field trips, experiences, and family activities throughout treatment and remission.
The 40 Under 40 special report has proven to be a sustainable way to recognize up-and-coming leaders in the community. Many prior winners are rising up to the executive ranks at regional companies and nonprofits and this year the class is expected to follow in those footsteps. Each year the selection process becomes more and more competitive, with twice as many nominations as they select. The nominees are selected in order to maintain the right balance between the tri-counties while achieving as diverse a group as possible.
The three requirements to be considered for this selection include: 1) Be under the age of 40 at the time of nomination close; 2) Be a resident of or a person whose business or volunteer efforts are based in the tri-counties; 3) You can only be honored once. In picking winners, they consider professional accomplishments, outside recognition, and community involvement. They look for people who have gone above and beyond by taking leadership roles in their organizations or by starting their own companies. There is no cost associated with this award and recognition.
Other Mission Wealth 40 Under 40 winners from previous years include Seth Streeter (2002), Brad Stark (2004), Matthew Adams (2005), Dannell Stuart (2008), Andy Penso (2009), Jenna Rogers (2015), Kieran Osborne (2016), Michelle Winkles (2018), Brian Sottak (2019), Wes Patton (2020), and Emil Nazaretyan (2022).
About Pacific Coast Business Times
Pacific Coast Business Times is the weekly business journal of record serving Santa Barbara, Ventura, and San Luis Obispo counties.
Pacific Coast Business Times produces numerous awards events each year, including Spirit of Small Business, Top 50 Women in Business, Central Coast Best Places to Work, Business Hall of Fame, Latino Business Awards, Fastest Growing Companies, 40 Under 40, and Central Coast Innovation Awards. These events offer unique sponsorship and networking opportunities, as well as a chance to get to know the region's top companies.
Financial Guidance For Your Life Journey
Talk with a financial planner about your next steps.
Guidance For Your Full Financial Journey
Through our comprehensive platform and expertise, Mission Wealth can guide you through all of life's events, including retirement, investment planning, family planning, and more. You will face many financial decisions. Let us guide you through your options and create a plan.
Mission Wealth's vision is to provide caring advice that empowers families to achieve their life dreams. Our founders were pioneers in the industry when they embraced the client-first principles of objective advice, comprehensive financial planning, coordination with other professional advisors, and proactive service. We are fiduciaries, and our holistic planning process provides clarity and confidence. For more information on Mission Wealth, please visit missionwealth.com.
To meet with a Mission Wealth financial advisor, contact us today at (805) 882-2360.
00540649 08/23