Family Office Solution at Mission Wealth
A high-touch service designed for your family office financial planning needs.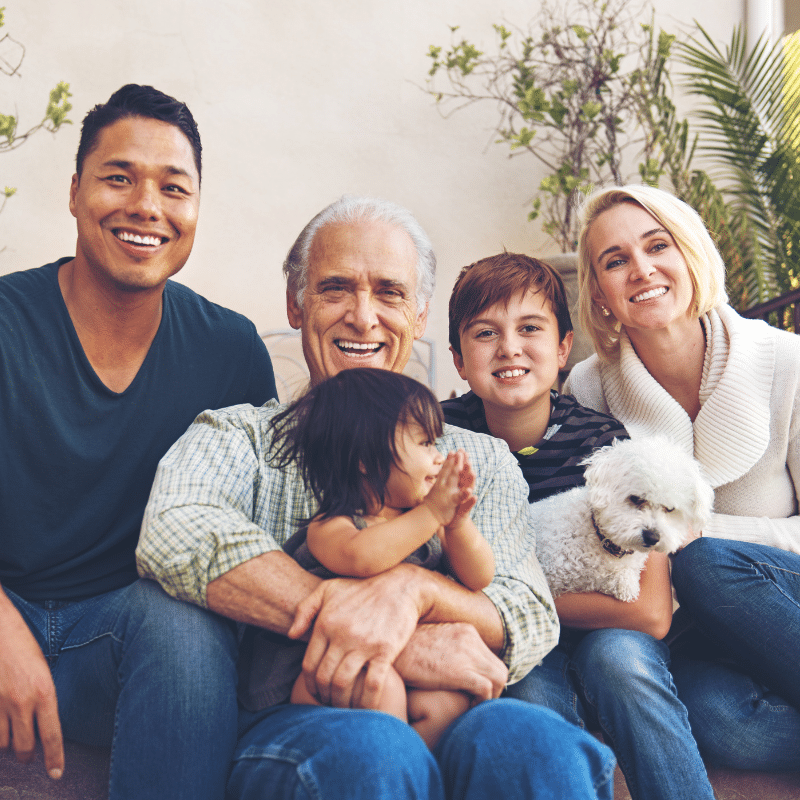 About Our Family Office Solution
Our Family Office Solution offers the highest level of sophisticated financial planning and expertise to support your family's goals.
---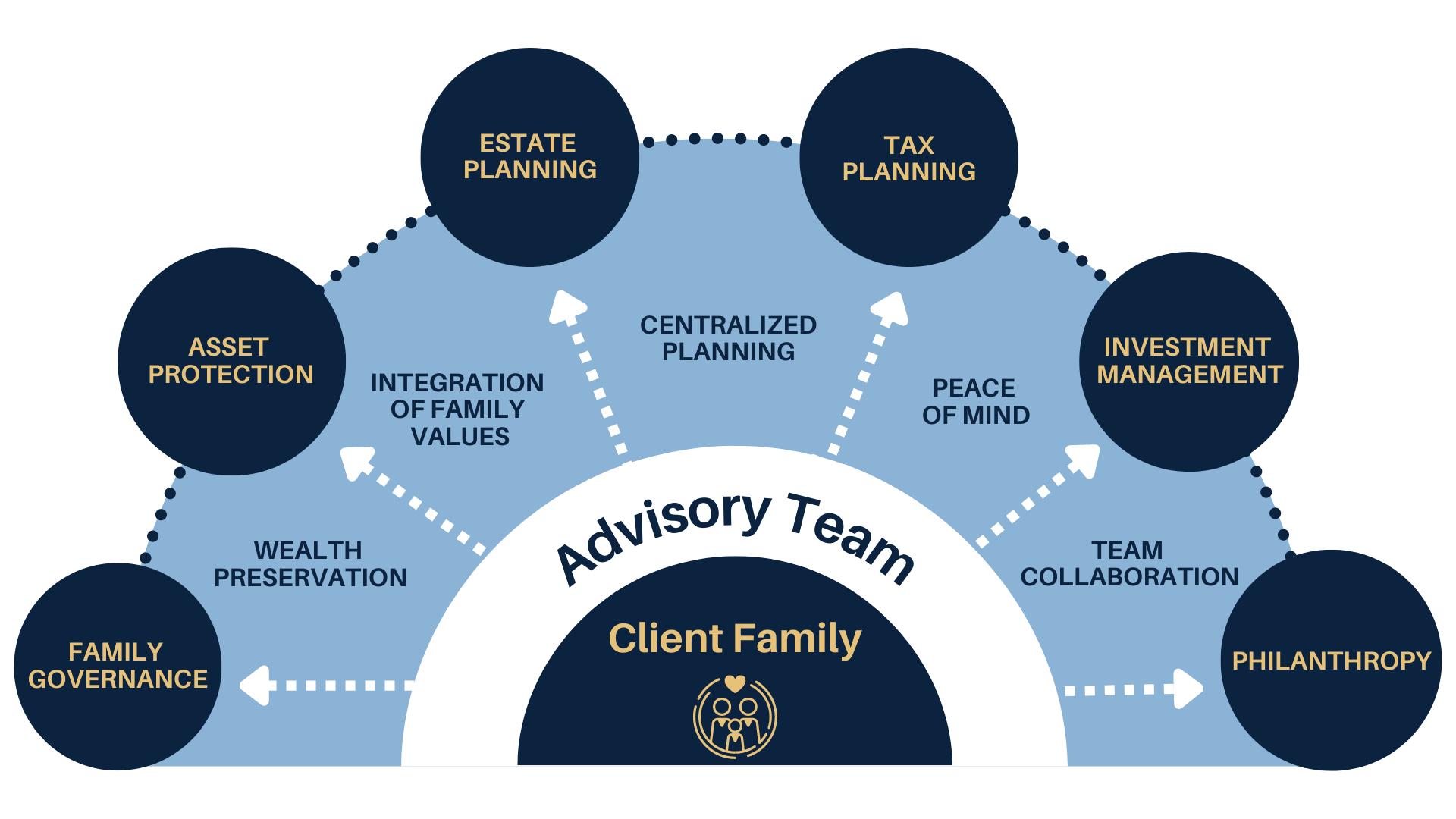 Our in-house team of professionals with specializations in investments, taxes, charitable giving, estate and trust planning and asset protection will partner with you and your other trusted advisors to address your family's unique needs and complexity. Family Office services are tailored for every unique client situation. Through our boutique offering, we will create and implement bespoke strategies to address your evolving needs and long-term goals. Our family governance and philanthropy offerings will help you to establish and instill your family values in an impactful way to create a lasting legacy for you and your family.
Investment Management
We help Family Office clients create a personalized investment strategy based on their financial situation, goals, and risk tolerance. Mission Wealth conducts thorough research, due diligence, and recommends suitable investment opportunities across different asset classes. We help construct a well-diversified portfolio that aligns with a client's preferences. We continuously monitor the investments, track performance, and make necessary adjustments. By leveraging our expertise and personalized approach, we offer family office clients:
Custom Portfolio Management

Access to Specialized Alternative Investments

Stock Concentration Strategies

Stock Option Planning

Socially Responsible Investing

Tax-Smart Implementation, Monitoring, Rebalancing, Tax-loss Harvesting, and Performance Reporting

Income Strategies and Cash Management Solutions

Cash Flow Planning and Portfolio Income Projections
Estate & Trust Management
We help you create and implement a plan so that your hard work will help the people in your life, protect your legacy, and preserve as much as you can. Whether your goal is to leave your estate to heirs or charity, to minimize taxes or to maximize lifetime giving, we are here to provide clarity and direction. We have the knowledge to guide you through all phases of your estate plan to ensure that your wealth is directed as you intend, including:
Access to Our Director of Estate Strategy

Estate Plan Review, Including Balance Sheet Review and Net Worth Forecasting

Family Legacy Planning

Education on Advanced Estate and Gift Strategies

Estate Tax Reduction Strategies

Coordination with Your Team of Trusted Professionals on Estate Plan Updates

Special Needs Planning

Trustee and Fiduciary Support

Family Endowment
Asset Protection
A well-crafted asset protection strategy can help you protect your assets and minimize potential losses. Through our thorough review process, we will determine if you have adequate coverage to protect your family in the event that something unexpected happens. We will discuss the risks with you and introduce you to an insurance professional who may be able to provide solutions. We will also review any existing policies you have in place and determine how they fit into your current financial picture. Our services include:
Personal Insurance Review for Umbrella, Life, Disability, and Long-Term Care Insurance

Property and Casualty Insurance Review

Cyber Security Insurance Review

Luxury Asset Planning

Household Employee Planning

Network of Legal Specialists

Business Management Planning: Valuation, Transition Planning, and Protection
Tax Management
Mission Wealth can assist Family Office clients with tax management by analyzing their financial situation and recommending strategies to minimize tax liabilities. We collaborate with tax advisors and accountants to ensure coordinated tax planning efforts. We also offer guidance on tax-efficient investment strategies and keep our clients informed about changes in tax laws. The following tax services are offered to our Family Office clients:
Integration and Coordination with CPA

Income Tax Planning & Savings Strategies

Direct Access to our Director of Tax Strategy and CPAs on Staff

Powerful Tax Review with Complex Scenario Analysis, Including Tax Impact of Financial Recommendations

Furnish Materials Required for Tax Preparation, Including Tax Forms and Other Relevant Items to CPA

Outsourced Bill Pay Solutions

Cross-Border and Residency Planning
Family Governance
We can provide expertise and guidance on various financial matters that impact family dynamics and long-term planning. We assist in establishing clear financial goals and strategies, developing effective communication channels within the family, and implementing structures such as trusts and family foundations to preserve and grow wealth across generations. By providing objective advice and acting as a neutral third party, a financial advisor can help families navigate complex financial situations, mitigate conflicts, and foster a sense of unity and stewardship among family members.
Moderate and Conduct Family Meetings, Including Next Generation Financial Education

Family Continuity Planning

Personal Planning for Next Generation Family Members

Coordination with Professional Advisors and Coaches

In-Person Retreat with Peer Families
Charitable Giving & Philanthropic Planning
We can assist Family Office clients with philanthropy by helping them define their goals and develop a strategic philanthropic plan. We can guide our clients in identifying causes aligned with their values and recommend philanthropic vehicles such as foundations or donor-advised funds. We have expertise in governance, legal requirements, and operational considerations for effective philanthropic activities. Our philanthropic specialist will advise on tax-efficient strategies and explore options like planned giving or charitable trusts. Overall, our guidance empowers Family Office clients to make a meaningful and lasting difference through their philanthropy.
Direct Access to Our Director of Philanthropic Strategy

Gain Access to Additional Philanthropic Specialists

Philanthropic Research

Impact Investing

Complex Asset Group

Corporate Donor-Advised Fund

Philanthropic Perpetuity
Integrate all aspects of your family's financial picture.
Get in touch to discuss creating a Family Office wealth plan today.
Why Choose Mission Wealth for Your Family Office
Expertise: We bring specialized knowledge and expertise in financial management, investment strategies, and wealth preservation, tailored to the unique needs of family offices.

Objectivity: As a neutral third party, we can provide objective advice and guidance, free from personal biases or conflicts of interest.

Customization: We offer personalized solutions and strategies that are specifically designed to meet the individual goals and preferences of the family office.

Comprehensive Approach: We take a holistic approach to family office management, considering all aspects of wealth management, including investments, taxes, estate planning, philanthropy, and risk management.

Access to Networks: We have access to an extensive network of professionals, including attorneys, tax advisors, and specialists in various fields, which can be beneficial in addressing complex family office needs.

Fiduciary Duty: As a Registered Investment Advisor, we have a fiduciary duty to act in the best interest of our clients, ensuring that we prioritize the client's financial well-being above all else.

Transparency: We provide transparent reporting and clear communication, keeping the family office well-informed about their financial situation, investment performance, and any changes or updates.

Continuity: We offer stability and continuity in managing the family office over the long term, providing consistent support and guidance even through generational transitions.

Risk Management: We can assess and mitigate risks associated with investments, asset protection, and overall wealth management, helping to safeguard the family office's financial assets.

Peace of Mind: By leveraging our expertise and providing comprehensive support, we offer peace of mind to the family office, allowing them to focus on their core priorities and enjoy the benefits of effective wealth management.
Who is the Family Office Solution best for?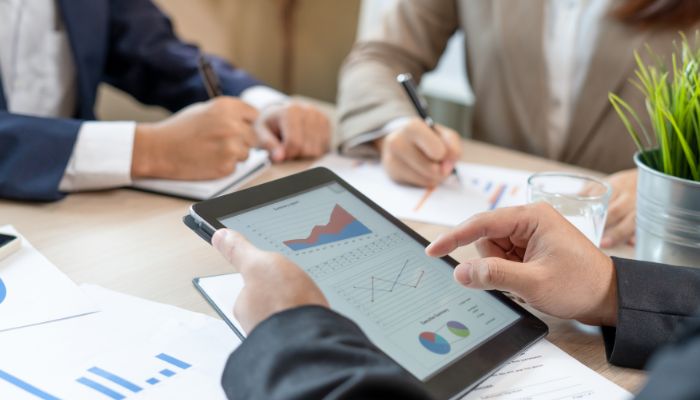 Clients with a minimum of $20 million in assets under management.

Clients who seek customized portfolio management as well as coordination and integration among professional advisors.

Clients requiring personalized service and expertise across multiple aspects of their finances.

Clients seeking a trusted advisory team to help advise the family for decades to come.

Clients experiencing increasing complexity who seek a coordinated approach with guidance to maximize opportunities while saving time.
Is The Family Office Solution right for you?
---
Contact us today to talk to a trusted advisor. Let's determine where you want to go and the best way to get there.
---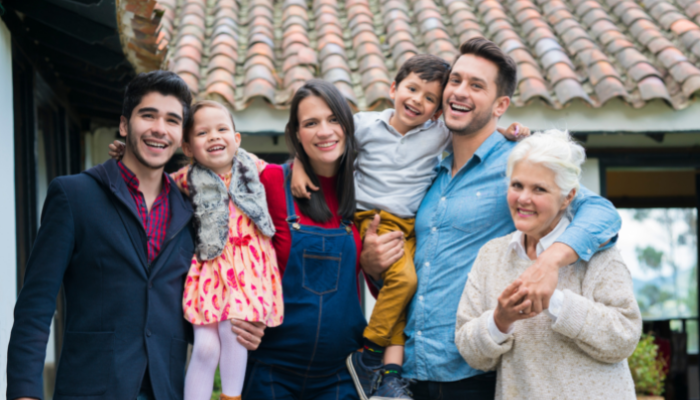 ---
Is The Family Office Solution right for you?
---
Contact us today to talk to a trusted advisor. Let's determine where you want to go and the best way to get there.
Explore Our Other Financial Solutions