Dannell Stuart Named to 2023 Top Women in Business by PCBT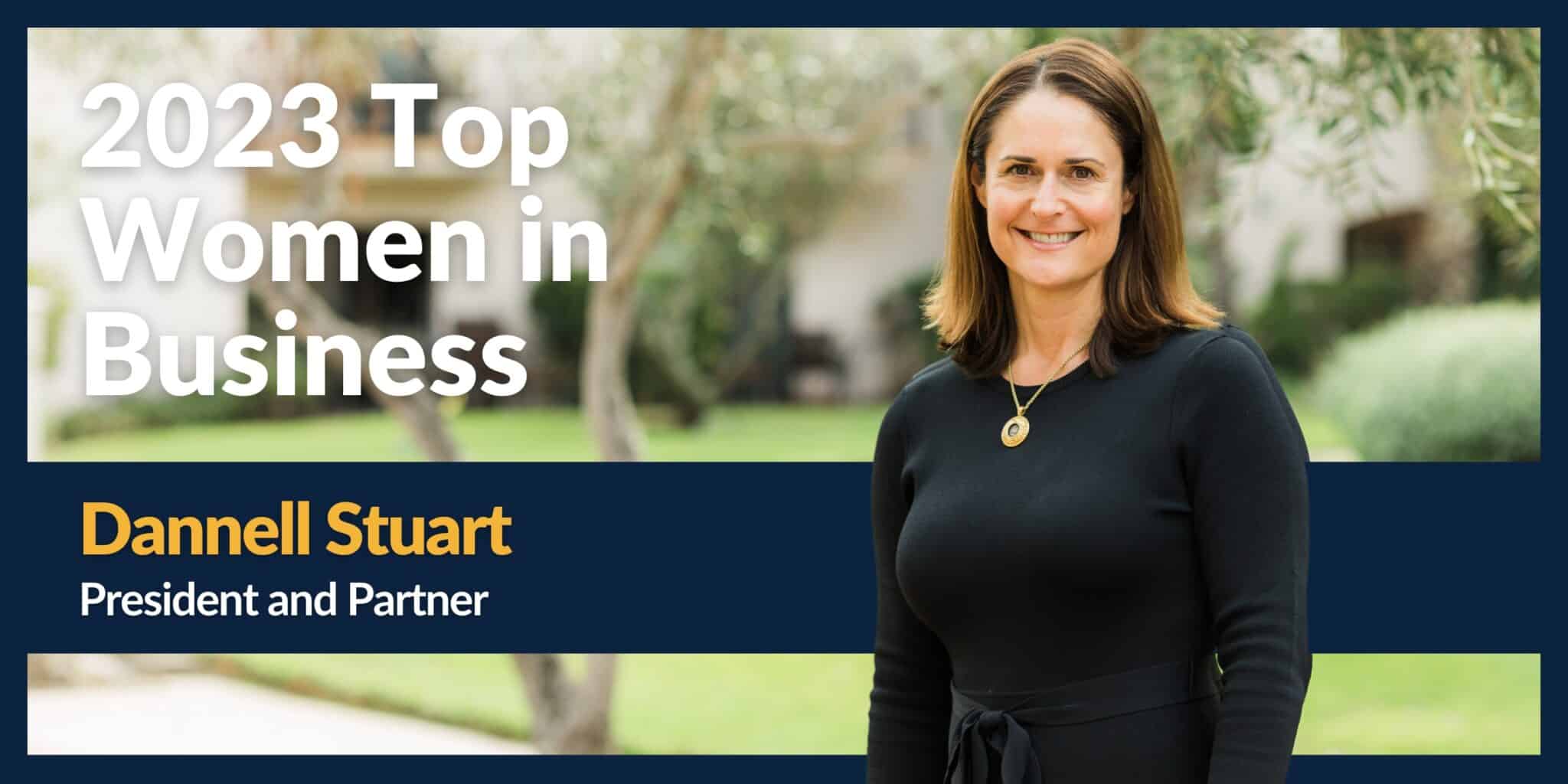 Mission Wealth congratulates President and Partner Dannell Stuart on her fourth recognition in the Pacific Coast Business Times as an outstanding female business leader and a featured Top Women in Business.
"I am passionate about creating opportunities for others to be the best they can be. Advisors who feel appreciated and fulfilled will naturally cultivate that same caring approach with clients," said Dannell. "At Mission Wealth, it is an honor and a pleasure to empower people to realize true wealth."
For the last 18 years, the Pacific Coast Business Times has recognized the top women in business who have had unique successes on the central coast. These top 50 executives lead several private employer sectors, including finance, professional services, CRE, healthcare, technology, and nonprofits.
Dannell was appointed President of Mission Wealth in 2022 and has been with the firm since 2010. Her leadership responsibilities include the execution of firm strategy, support of personnel, and, ultimately, an exceptional client experience. Dannell is a nationally featured panelist in both live and online wealth management forums, has contributed personal finance articles to various publications, and has taught courses and workshops on investments and planning.
"Over the past dozen years, Dannell has excelled within our advisory team, has consistently attracted new clients to the firm, and has demonstrated the highest level of professionalism," said Chief Executive Officer and Managing Partner, Matthew Adams. "It's my honor to work alongside Dannell, and I could not be more optimistic about the future of our firm."
Dannell has been recognized more than once by Pacific Coast Business Times as one of the Top 50 Women in Business and was also the Editor's Pick for Business and Finance in 2015. Additionally, the PCBT chose her as a Top 40 under 40 business leader in 2008, and she was in the Who's Who in Banking and Finance edition in 2011 and 2012, respectfully. For more on Dannell's and Mission Wealth's current and past awards, visit our Awards & Rankings page.
A proud resident of Santa Barbara, Dannell enjoys spending her time with her husband, Craig, and their two children. In addition to the exceptional work that Dannell does at Mission Wealth, she is also involved in numerous volunteer activities around Santa Barbara.  She serves on the Endowment Committee for the Women's Fund of Santa Barbara, as a Leadership Team Member at Ocean Hills Church, and is a past Board Member of VNA Health.
Stuart Leads Women on a Mission Group at Mission Wealth
Dannell is also an integral leader of the Mission Wealth Women on a Mission group, an array of female team members that offer the advice and guidance women need in this new age; the goal is to support a future full of strong, independent women, based on education, positivity, and empowerment.
Join us in honoring Dannell, and all women in business, at the Pacific Coast Business Times Top 50 Women in Business 2023 event at the Hilton Santa Barbara Beachfront Resort on April 20, 2023. More information can be found here.
Past Mission Wealth Top Women in Business Honorees include Jenna Rogers (2022), Renee Hennessee (2021), Dannell Stuart (2020, 2018, and 2015), Tricia Fahnoe (2019 and 2016), and Amanda Thomas (2017).
About Pacific Coast Business Times
Pacific Coast Business Times is the weekly business journal for Ventura, Santa Barbara, and San Luis Obispo counties. A locally owned company with offices in downtown Santa Barbara, the publication is delivered to subscribers each Friday and is also available at local bookstores. For more information, visit pacbiztimes.com.
Award Disclosure: This is a listing of key women in business from San Luis Obispo, Santa Barbara, and Venture counties. Anonymous nominations are submitted and accepted on the Pacific Coast Business Times website. Mission Wealth submitted a nomination for one of the top businesswomen in the current year open. Awardees are chosen by the PCBT staff from among all those nominated. There is no fee to submit a nomination.
Feel empowered with the confidence and resources you need to take control of your financial well-being.
Are you interested in working with a female advisor?
Advice for Women Investors at Mission Wealth
Mission Wealth was founded on a vision to empower families to pursue their financial dreams. That vision has grown into a mission to inspire people, optimize their finances, and achieve their life goals. With more women in a position to grow their wealth and take financial control of their own futures, in many cases for the first time, Mission Wealth has created Women on a Mission, a group of female wealth and financial advisors and strategists who share a passion to help other women achieve their financial goals.
Founded in 2000, Mission Wealth is a nationally recognized RIA that oversees more than $5.3 billion in client assets under management. Mission Wealth is known for its service model, driven by a world-class technology stack that offers financial planning, investment counsel, tax services, estate planning and philanthropic strategies, and asset protection solutions tailored to each client's needs.
If you are looking for more information about Mission Wealth's financial planning or wealth management services, please visit missionwealth.com.
00503700 03/23
Recent Articles for Women Investors