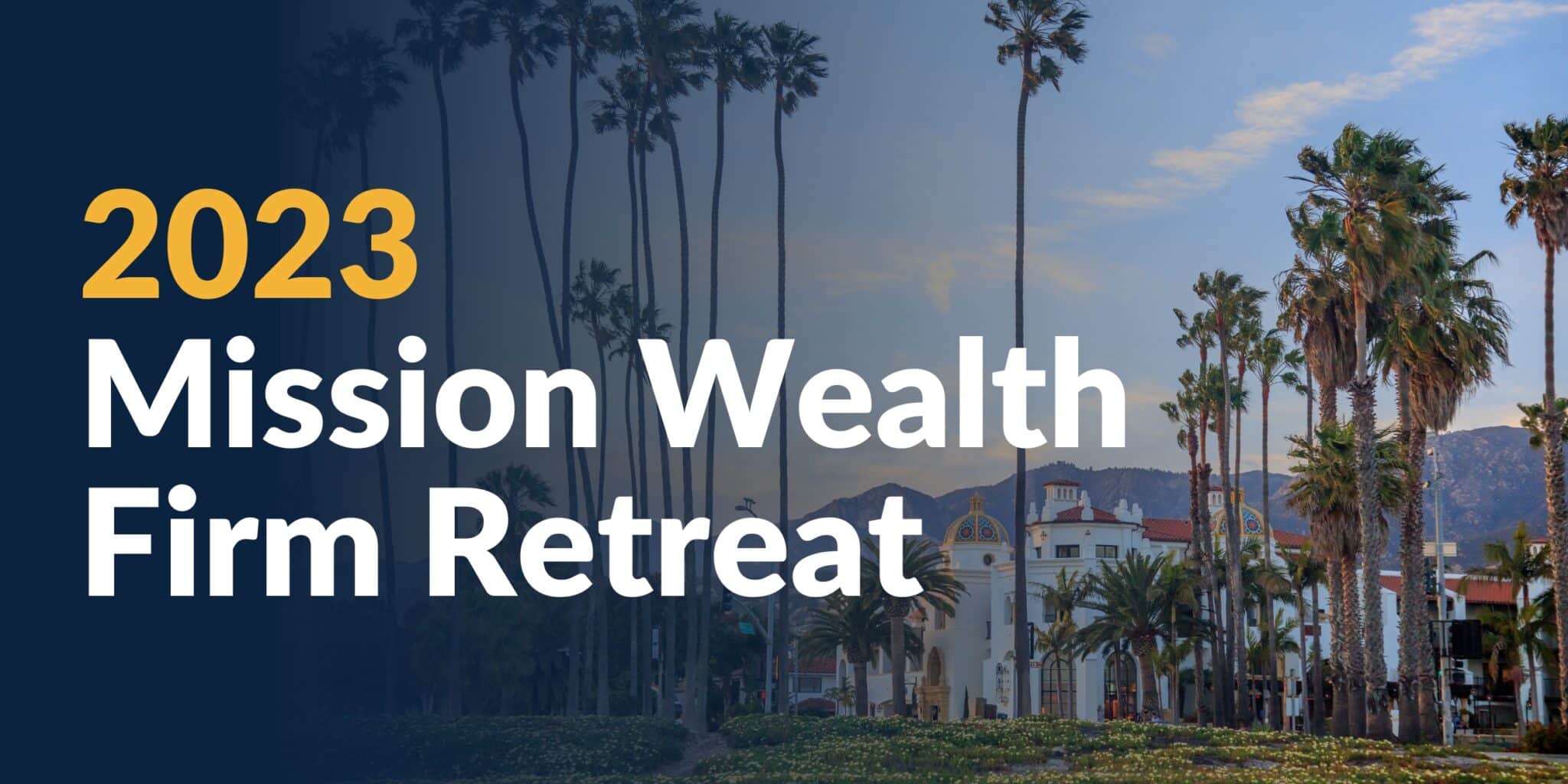 This year, Mission Wealth hosted our annual firm retreat in Santa Barbara, California at the Hilton Beachfront Resort. More than 90 team members from across the country came together for a three-day event for some reflection, connection and collaboration.
Team Bonding
An afternoon of fun kicked off the retreat as team members split up and enjoyed some local Santa Barbara activities. While some team members hiked the San Roque Canyon and Jesusita Trails, others made their great escape from the House of Clues, drove around the town in rented buggies, or experienced local sea life while kayaking off of East Beach.
"Our team rented buggy cars - it was the best hour of my life! Great group activity and excellent for team building!" said an anonymous team member.



Touring The Coast
As the sun went down, the team boarded the Land & Sea Tour's Land Shark for a tour of downtown Santa Barbara from Cabrillo and State Street and then head into the water. The group got to view a beautiful coastline of pink mountains, and a beautiful sunset over the harbor (with a couple of special guests, the Santa Barbara seals!) After dinner, the team met for dinner and drinks at the hotel.
Reflecting on 2022 and Looking Ahead
During the second day of the retreat, an all-firm meeting kicked off with icebreakers led by Seth Streeter. This activity gave team members an opportunity to learn more about each other on a different level, while having some fun and experiencing personal growth.
"These icebreakers were a great opportunity to learn about others, especially what we have in common. Always love the storytelling and got to speak with team members I haven't yet had the chance to connect with! Time well spent!" said one team member.
After a team photoshoot and breakfast, the Leadership Team presented their team's 2022 accomplishments and looked ahead at the coming year and goals. During this time, new employees and partners were welcomed and a fun birthday message was delivered to our CEO and Managing Partner Matt Adams.
The 2023 Mission Wealth MVP was also awarded during this presentation to Director of Tax Strategy Brandon Baiamonte. This peer-nominated award is based off Brandon's representation of Mission Wealth's four core values - caring, committed, growth-minded, and adaptable.
After the Firm Presentation, employees had the chance to hear from each of the Mission Wealth Scholar Recipients and welcome each of them to the team. Each recipient gave their personal backstory and how they would be impacted by the scholarship program. Mission Wealth would like to thank Dawn Ricketts, Deanna Lewis, Forest Starr, and Dr. Marielle Young for sharing their inspirational stories.
"Incredible and inspiring stories! Loved getting to hear how Mission Wealth is making an impact direct from the recipients." said one team member.



Giving Back
Mission Wealth wrapped up this three-day retreat with employees coming together with Explore Ecology to clean up East Beach in Santa Barbara. The group was able to pick up a total of
51.25 pounds of trash
with over 1,400 pieces of environmentally harmful Styrofoam collected; these are extra harmful because they float into water easily, cannot decompose, and break into small and fatal bite-sized pieces easily ingested by fish and other wildlife. To learn more about Mission Wealth's volunteering event at East Beach,
click here
.
"It felt great to have an impact in our local community and these activities always end up as additional team bonding!! Got to know a couple of our team members even better while doing good!" said an anonymous team member.

About Mission Wealth
Mission Wealth is a nationally recognized Registered Investment Advisory firm (RIA) founded in 2000 that oversees over $5.2 billion in client assets under management. Mission Wealth is known for its service model, driven by a world-class technology stack that offers financial planning, investment counsel, tax strategies, estate planning coordination, philanthropic advice, and risk management solutions tailored to each client's needs.
Mission Wealth's vision is to provide caring advice that empowers families to achieve their life dreams. Our founders were pioneers in the industry when they embraced the client-first principles of objective advice, comprehensive financial planning, coordination with other professional advisors, and proactive service. Mission Wealth is a fiduciary, and our holistic planning process provides clarity and confidence.
For more information on Mission Wealth, please visit missionwealth.com.
To meet with a Mission Wealth financial advisor, contact us today at (805) 882-2360.
Copyright © 2023, Mission Wealth is a Registered Investment Advisor. All rights reserved.
ALL INFORMATION HEREIN HAS BEEN PREPARED SOLELY FOR INFORMATIONAL PURPOSES. ADVISORY SERVICES ARE ONLY OFFERED TO CLIENTS OR PROSPECTIVE CLIENTS WHERE MISSION WEALTH AND ITS REPRESENTATIVES ARE PROPERLY LICENSED OR EXEMPT FROM LICENSURE. PAST PERFORMANCE IS NO GUARANTEE OF FUTURE RETURNS. INVESTING INVOLVES RISK AND POSSIBLE LOSS OF PRINCIPAL CAPITAL. NO ADVICE MAY BE RENDERED BY MISSION WEALTH UNLESS A CLIENT SERVICE AGREEMENT IS IN PLACE.