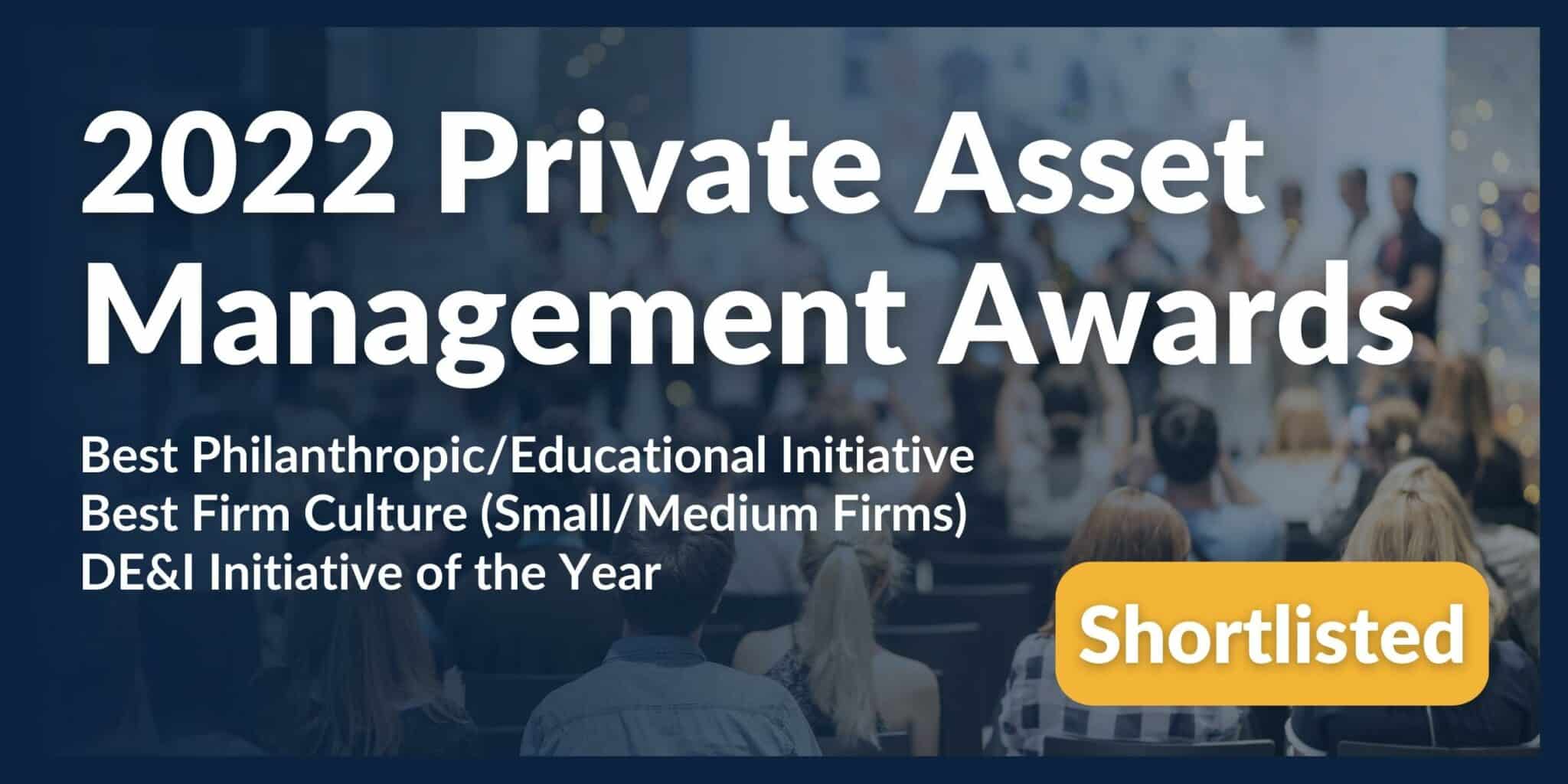 Mission Wealth was recently recognized by the 2022 Private Asset Management Awards and shortlisted in three categories, including Best Philanthropic Initiative, Best Firm Culture (Small and Medium Firm), and DE&I Initiative of the Year.
The 2022 Private Asset Management (PAM) Awards provide a platform for top investment professionals, wealth advisors, legal firms, consultants, and other key service providers operating within the sector, to showcase the incredible achievements they have accomplished. Mission Wealth is honored to be recognized by this prestigious organization as a leading firm in the following categories.
Best Philanthropic/ Educational Initiative
Our Mission is to be a giving catalyst firm-wide by strengthening the impact our firm, clients, and employees have in their communities and in the world. Giving back is embedded into the Mission Wealth culture and we feel privileged to serve others. In the last year, Mission Wealth continued this impact throughout the country and internationally by offering a new philanthropic benefit package that includes paid volunteer time off, donation matching, team giving budgets provided by Mission Wealth, firm sponsorships, and regional group volunteer events.
Mission Wealth received this PAM shortlist for the Mission Wealth Scholars CFP Scholarship, the Sea Center Solarization Program for the Santa Barbara Museum of Natural History, and the firm's humanitarian support for Ukraine.
To learn more about Mission Wealth's impact, click here.
Best Firm Culture (for Small and Medium Firms)
Our purpose is to provide caring advice that empowers people to realize true wealth. We are committed to our clients, helping them achieve their financial and life goals and we are committed to cultivating a supportive, fun, family-friendly culture. We are adaptable to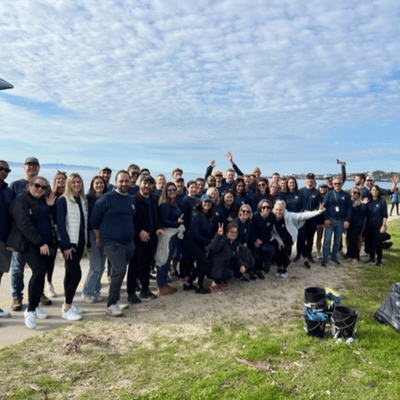 In 2022, employees used more than 510 hours of volunteer time off, volunteered at 80 nonprofits across the country, gave financially to 143 organizations, had $8,000 matched for individuals, donated $54,000 from regional teams, and Mission Wealth donated more than $206,000. To learn more about our 2022 impact, click here.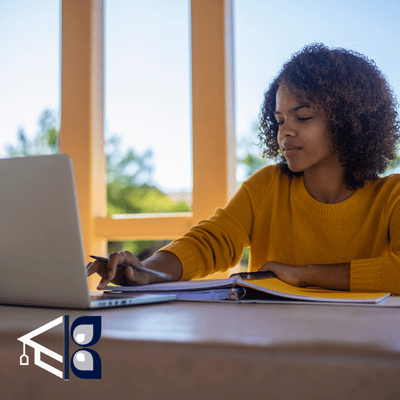 "Mission Wealth is thrilled to create educational opportunities for impressive candidates to pursue a financial planning career. This provides professional advancement and empowers their ability to positively impact the lives of client families they will be able to serve." said Mission Wealth Founder and Chief Impact Officer Seth Streeter.
changes by evolving our services over time. We are continually improving our service offering for clients, and we understand our growth allows us to be cutting-edge and a firm of permanence. We celebrate a growth-mindset and promote continuous learning and career advancement for our team. We foster a thriving diverse and inclusive culture that attracts top talent. We cultivate strong partnerships that drive our national expansion and ability to serve more families. Caring is reflected in how we care for our clients, team members, and the communities we serve. We're proud of the culture we've created at Mission Wealth and we're continually investing in new ways to develop all of our people to enable them to grow and succeed throughout their careers.
In 2022, through various surveys throughout the year, 100% of employees said that Mission Wealth is a great place to work - compared to the average US company at 57%. To view more of the survey insights and results, click here.
DE&I Initiative of the Year
In 2022, Mission Wealth partnered with the CFP Board Center for Financial Planning to launch Mission Wealth Scholars, a scholarship program that aims to advance the financial planning profession by providing financial assistance to individuals pursuing CFP® certification who are from populations underrepresented in the profession.
The mission of this Scholarship was to create a more diverse and sustainable financial planning profession so that all Americans can have access to competent and ethical financial planning advice. The Scholarship supports eligible students enrolled in either an undergraduate-level or certificate-level CFP Board Registered Program who come from an underrepresented population within the financial planning profession in terms of gender, race, ethnicity, disability, or sexual orientation, and who have a financial need. The Scholarship awards up to $5,000 per student seeking to complete an undergraduate-level or a certificate-level CFP Board-Registered program, either of which would qualify the student to sit for the CFP® exam.
About Private Asset Management Awards
For over two decades, the highly sought-after With Intelligence Private Asset Management Awards have provided a platform for top investment professionals, wealth advisors, legal firms, consultants, and other key service providers operating within the sector, to showcase the incredible achievements they have accomplished. Winning a Private Asset Management Award is a true seal of approval from the private wealth community to one of its own and provides a launchpad for future success.
The judging process, using an independent panel made up of industry experts, is based on a mixture of qualitative and quantitative performance indicators. For a complete list of PAM Award winners, click here.
About Mission Wealth
Mission Wealth is a nationally recognized Registered Investment Advisory firm (RIA) founded in 2000 that oversees over $5.0 billion in client assets under management. Mission Wealth is known for its service model, driven by a world-class technology stack that offers financial planning, investment counsel, tax strategies, estate planning coordination, philanthropic advice, and asset protection solutions tailored to each client's needs.
Mission Wealth's vision is to provide caring advice that empowers families to achieve their life dreams. Our founders were pioneers in the industry when they embraced the client-first principles of objective advice, comprehensive financial planning, coordination with other professional advisors, and proactive service. Mission Wealth is a fiduciary, and our holistic planning process provides clarity and confidence. For more information on Mission Wealth, please visit missionwealth.com.
To meet with a Mission Wealth financial advisor, contact us today at (805) 882-2360.
Copyright © 2023, Mission Wealth is a Registered Investment Advisor. All rights reserved.
ALL INFORMATION HEREIN HAS BEEN PREPARED SOLELY FOR INFORMATIONAL PURPOSES. ADVISORY SERVICES ARE ONLY OFFERED TO CLIENTS OR PROSPECTIVE CLIENTS WHERE MISSION WEALTH AND ITS REPRESENTATIVES ARE PROPERLY LICENSED OR EXEMPT FROM LICENSURE. PAST PERFORMANCE IS NO GUARANTEE OF FUTURE RETURNS. INVESTING INVOLVES RISK AND POSSIBLE LOSS OF PRINCIPAL CAPITAL. NO ADVICE MAY BE RENDERED BY MISSION WEALTH UNLESS A CLIENT SERVICE AGREEMENT IS IN PLACE.
Award Disclosures: 2022, Private Asset Management, "Best Philanthropic/Educational Initiative" is based on firms that have done an exceptional job in running either a philanthropic or educational endeavor in the last 12 months and can clearly demonstrate a positive impact and testimonials from industry leaders or those impacted by the initiative.
2022, Private Asset Management, "Best Firm Culture (for Small and Medium Firms)" is designed to reward the sub-$5bn wealth management firms that have led the way in terms of creating an inclusive and positive working environment for its team, while also having a well-developed succession/business continuation structure in place for the future. These firms have shown clear evidence of the steps taken to achieve a positive working environment, positive testimonials from staff, and any staff feedback research and turnover statistics that would support their submission.
2022, Private Asset Management, "DE&I Initiative of the Year" is based on firms that have run the most effective initiative to promote and enable DE&I internally or in the wealth management industry at large. The shortlisted firms have shown clear evidence that the initiative has significantly progressed internally, and/or made a meaningful impact on the wider financial industry; used company resources to progress DE&I; and was run in an inclusive and equitable manner, with diverse owners and voices included in the process.