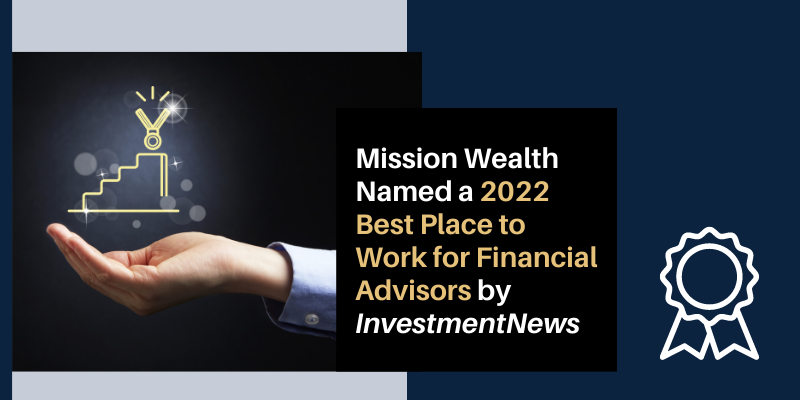 ---
InvestmentNews revealed that Mission Wealth is No. 2 on its annual Best Places to Work for Financial Advisors for firms with 50+ employees. This list represents financial firms that go beyond offering their advisors attractive benefits and perks, but create workplaces that empower employees with the skills and confidence necessary to deliver the best possible investment and financial planning guidance to clients.
"We are honored to be named by InvestmentNews as one of the Best Places to Work for Financial Advisors in 2022," said Matthew Adams, Chief Executive Officer. "The passion with which our team cares for our clients, for each other, and for our community is what makes Mission Wealth such a unique and rewarding place to work. We have enjoyed significant growth in recent years and we are proud of the our career advancement and professional development opportunities within our firm which have been galvanized by our culture of promoting from within. As a 100% employee-owned firm evolving to a true national presence, we believe our future is incredibly bright and I couldn't be more proud of the dedicated group of professionals we have assembled."
This year's list of 75 employers set exemplary standards in leading the way at financial advice firms. These businesses show how invaluable their employees and clients are. There is a strong sense of culture at these companies, along with supportive communities.
The firms that scored highest on our list have stellar leadership, fellowship, mentorship, offer excellent salary and benefits, unique employee programs and allow for quality work-life balance.
"In a year that's seen so much turmoil in the workplace – from mask mandates and canceled office reopenings to The Great Resignation – InvestmentNews is proud to spotlight those firms with a proven record of investing in their most valuable resource: their employees," said Paul Curcio, Executive Editor of InvestmentNews. "We applaud this year's finalists and wish them all the best in 2022."
The complete results of the Best Places to Work for Financial Advisors, including company profiles, can be found at bestplacesforadvisers.com.
About InvestmentNews Best Places to Work for Financial Advisors
Currently in its fifth year, the InvestmentNews 2022 Best Places to Work for Financial Advisors program recognizes financial advice businesses that create meaningful work experiences for all their professionals. These firms value a commitment of excellence to both their employees and clients. It is from these encouraging foundations that advice firms can provide high quality and personalized investment and financial planning for clients.
Each year, this project is conducted in partnership with employee survey firm Best Companies Group. Winners are selected from a two-part survey completed by employers and employees. Employers report their organization's workplace policies, practices and demographics, and employees complete a survey designed to measure the employee experience. Scores from the employee survey represent three-quarters of the weight of the final rankings.
Mission Wealth is a nationally recognized Registered Investment Advisory firm (RIA) founded in 2000 that oversees over $4.8 billion in client assets under management. Mission Wealth is known for its service model, driven by a world-class technology stack that offers financial planning, investment counsel, tax strategies, estate planning coordination, philanthropic advice, and risk management solutions tailored to each client's needs.
Mission Wealth's vision is to provide caring advice that empowers families to achieve their life dreams. Our founders were pioneers in the industry when they embraced the client-first principles of objective advice, comprehensive financial planning, coordination with other professional advisors, and proactive service. Mission Wealth is a fiduciary, and our holistic planning process provides clarity and confidence. For more information on Mission Wealth, please visit missionwealth.com.
MISSION WEALTH IS A REGISTERED INVESTMENT ADVISER. THIS DOCUMENT IS SOLELY FOR INFORMATIONAL PURPOSES, NO INVESTMENTS ARE RECOMMENDED. ADVISORY SERVICES ARE ONLY OFFERED TO CLIENTS OR PROSPECTIVE CLIENTS WHERE MISSION WEALTH AND ITS REPRESENTATIVES ARE PROPERLY LICENSED OR EXEMPT FROM LICENSURE. NO ADVICE MAY BE RENDERED BY MISSION WEALTH UNLESS A CLIENT SERVICE AGREEMENT IS IN PLACE.