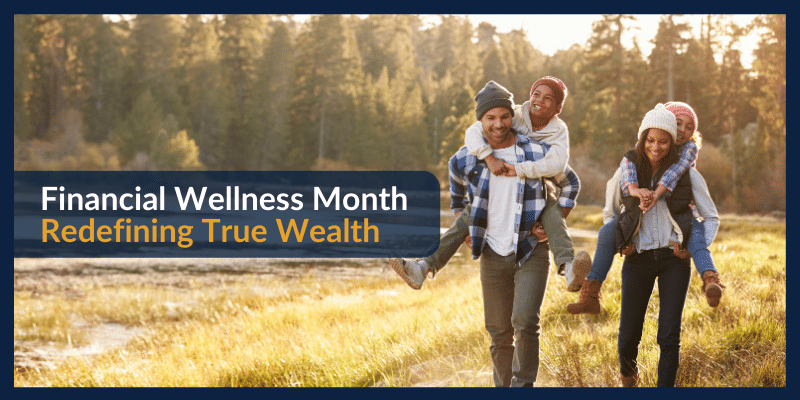 Most Americans celebrate the holidays, roll into New Year's, set resolutions and intentions, and then continue on with life. Not before long, those well-intended resolutions fade, and goals fall by the wayside. Setting your financial future up for success starts and ends with planning. Understanding your actionable goals makes all the difference, and many people begin with the financials. While that may be a worthy (and important) goal, we encourage you to look at the bigger picture; redefining your wealth is more than balancing the bottom line.
Sure, let's start with your safety net.
In times of crisis, you don't want to be shaking pennies out of a piggy bank. Having a financial safety net in place can ensure that you're protected when a financial emergency arises. One way to accomplish this is by setting up a cash reserve, a pool of readily available funds that can help you meet emergency or highly urgent short-term needs.
Most financial professionals suggest that you have three to six months' worth of living expenses in your cash reserve. The actual amount, however, should be based on your particular circumstances. Do you have a mortgage? Do you have short-term and long-term disability protection? Are you paying for your child's orthodontics? Are you making car payments? Other factors you need to consider include your job security, health, and income.
Building your cash reserve
If you haven't established a cash reserve, or if the one you have is inadequate, you can take several steps to eliminate the shortfall:
Save aggressively: If available, use payroll deduction at work and budget your savings as part of regular household expenses.
Reduce your discretionary spending (e.g., eating out, movies, lottery tickets).
Use current or liquid assets (those that are cash or convertible to cash within a year, such as a short-term certificate of deposit).
Use earnings from other investments (see summary below, e.g., stocks, bonds, or mutual funds).
Review your cash reserve periodically
Your personal and financial circumstances change often—college expenses for a child or grandchild, an aging parent becomes more dependent, or a larger home brings increased expenses. Because your cash reserve is the first line of protection against financial harm, you should review it annually to make sure that it fits your current needs.
Once your emergency savings are covered, consider your long-term investments and giving strategies.
There are many opportunities to develop a multi-strategy investment approach to mitigate market risks. At Mission Wealth, we develop customized, globally diversified, and tax-efficient portfolios tailored to your financial plan. If you are seeking additional income from your portfolio, look to create income strategies to maximize the after-tax income generated by your portfolio. Your investment advisor should continue to monitor your investments, rebalance them on a regular basis, tax-loss harvest when appropriate, and provide you with quarterly performance reporting.
As a previous article mentioned, planned giving strategies should be discussed and optimized year-round. Charitable Giving tools such as Charitable Gift Annuities, Charitable Remainder Trusts, and non-cash assets are all strategies to discuss with your Client Advisor and Philanthropic Financial Planner. Creating opportunities to give with organizations that match your charitable values is a great way to marry your passion and money. Please visit our Charitable Planning page to learn more about what types of strategies we can assist with.
---
Are you ready to talk with an advisor about the benefits of Mission Wealth?
Learn more about our Financial Planning strategies. 
Looking for other resources? We have the answers.
Sometimes an article or two isn't enough to get us the answers or confidence we need to get started. Here are other resources available for your listening, watching, or reading pleasure.
Podcasts:
Seth Streeter and Dr. Daniel Crosby Discuss "Money with a Mission"
Behavioral finance helps us understand how our financial decisions are greatly influenced by human emotions, biases, and cognitive limitations of the mind in how we process and respond to information. In this podcast, Seth discussed some of the delicate tethers in people's lives that keep them from achieving financial greatness. Our biases can explain many of the reactionary choices we make with our money. And as we know, gaining awareness is a positive first step.
A New Definition of Wealth | Seth Streeter on the MindBody Podcast
We encourage you to listen to this podcast to hear Seth's perspective on why we as humans constantly have to evolve, how financial plans have changed, and why our relationships with money have shifted. Seth claims that you don't have to be forever stuck in the place you're at in life right now. He also talks about helping people find their purpose and the ability to lean into their physical health, spiritual life, emotional well-being, their intellectual pursuits, and how one can find more financial security and freedom.
Videos:
Top 5 Health and Wealth Tips to Empower Your New Year
Looking to expand your health AND wealth this year? In this video, Dr. Darshan Shah of Next Health and Seth Streeter of Mission Wealth discuss 5 health and wealth tips to empower your new year in 2023.
Articles:
What is the Purpose of Money? Exploring the Longevity Effect
Money is an extremely important part of society that has always been surrounded by questions, myths, and misconceptions. It can be difficult to know how money works, who should have it and what you should do with it. This article will explore the longevity effect of having a lot of money and how it can affect your life.
Stay Healthy and Wealthy in Retirement
Staying healthy and wealthy in retirement is a common goal but the best health care is preventative, especially in the early years of retirement. Here are 4 ways to keep your medical costs from negatively affecting your plans.
Mission Wealth Can Help You Plan With Confidence
We help assess your current situation, including assets, liabilities, and cash flow. We work closely with you to identify and prioritize your goals. We then develop a road map to help you consider your future options and optimize your financial security. Additionally, we quarterback with your advisory team – including accountants, attorneys, mortgage brokers, and bankers – to ensure the seamless execution of your plan.
For over 20 years, Mission Wealth's vision has been to provide caring advice that empowers families to achieve their life dreams. Our founders were pioneers in the industry when they embraced the client-first principles of objective advice, comprehensive financial planning, coordination with other professional advisors, and proactive service. We are fiduciaries, and our holistic planning process provides clarity and confidence.
For more information on Mission Wealth's Financial Planning, please visit this page.
To meet with a Mission Wealth financial advisor, contact us today at (805) 882-2360.
Copyright © 2023, Mission Wealth is a Registered Investment Advisor. All rights reserved.
MISSION WEALTH IS A REGISTERED INVESTMENT ADVISER. THIS DOCUMENT IS SOLELY FOR INFORMATIONAL PURPOSES, NO INVESTMENTS ARE RECOMMENDED. ADVISORY SERVICES ARE ONLY OFFERED TO CLIENTS OR PROSPECTIVE CLIENTS WHERE MISSION WEALTH AND ITS REPRESENTATIVES ARE PROPERLY LICENSED OR EXEMPT FROM LICENSURE. NO ADVICE MAY BE RENDERED BY MISSION WEALTH UNLESS A CLIENT SERVICE AGREEMENT IS IN PLACE.
00495110 01/23