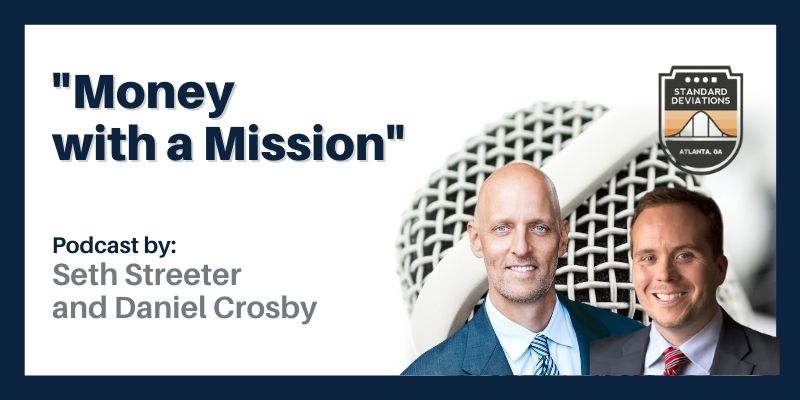 Behavioral finance helps us understand how our financial decisions are greatly influenced by human emotion, biases, and cognitive limitations of the mind in how we process and respond to information. In this Podcast, Seth Streeter discussed some of the delicate tethers in people's lives that keep them from achieving financial greatness. Our biases can explain many of the reactionary choices we make with our money. And as we know, gaining awareness is a positive first step.
In
this podcast
,
Dr. Daniel Crosby
spoke with
Seth Streeter
, Chief Impact Officer and founder of Mission Wealth. Seth discussed some of the delicate tethers in peoples' lives that keep them from achieving financial greatness. Influences and biases can be the source for explanation of all types of reactionary actions we take today managing our money. More and more conversations are arising about how we can best manifest the concept of behavioral finance in our financial planning discussions.
Tune in to hear:
What are some of the flimsy tethers in peoples' lives that keep them from achieving financial greatness?
If an advisor's number one job is not to make you money, what might it be?
What are the 11 different dimensions of wealth that Seth's firm lays out? How did he arrive at these?
How do these provide a helpful framework for clients during times of crisis?
How do you balance giving your children a great amount of access without spoiling them or diminishing their self-reliance?
Should we talk with our children about our income level and our net worth?
Is it a reality for anyone other than those who are already wealthy to switch from a job that's making them miserable to a more fulfilling, but potentially lower paying, position?
How can advisors best support their clients during divorce and other hard times? What is the appropriate level of intervention or closeness in these cases?
The Standard Deviations Podcast
The Standard Deviations podcast is a weekly production that looks at money, mind and meaning, all through a psychological lens. Each week, psychologist and New York Times bestselling author Dr. Daniel Crosby interviews a fascinating new guest, experts in everything from finance to literature to wellness. Each guest provides listeners with three concrete ways to apply what was learned that week, ensuring that weekly listening becomes part of a path to a richer life. Episodes are brief, research-based, and designed to fit perfectly within your commute time. So, tune in for practical news that will help you make more, think more and be more. Learn more by following Dr. Daniel @danielcrosby or visit the website at www.standarddeviationspod.com/ Standard Deviations is presented by Orion.
MISSION WEALTH IS A REGISTERED INVESTMENT ADVISER. THIS DOCUMENT IS SOLELY FOR INFORMATIONAL PURPOSES, NO INVESTMENTS ARE RECOMMENDED. ADVISORY SERVICES ARE ONLY OFFERED TO CLIENTS OR PROSPECTIVE CLIENTS WHERE MISSION WEALTH AND ITS REPRESENTATIVES ARE PROPERLY LICENSED OR EXEMPT FROM LICENSURE. NO ADVICE MAY BE RENDERED BY MISSION WEALTH UNLESS A CLIENT SERVICE AGREEMENT IS IN PLACE.
00448048 04/22