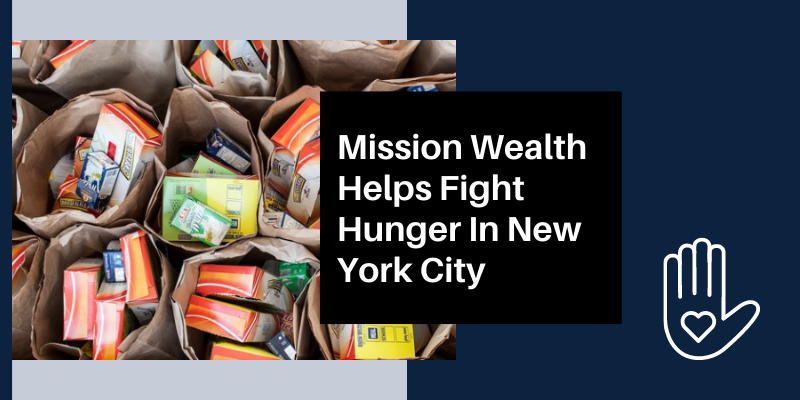 Mission Wealth continues to prioritize community impact and philanthropy throughout the country. Recently, our Northeast team took a day off to volunteer at Rauschenbusch Metro Ministries food bank. Together, the team was able to bag 200-300 bags of groceries for New York City residents facing food insecurities.
More than 6.2 million New York City residents are food insecure as of May of 2020, based on U.S. Census Household Pulse data. Many NYC residents must choose between paying rent or buying food. In addition, the number of food insecure children in New York has skyrocketed over the past two years to a total of about 1.7 million kids in the city.
The Mission Wealth Northeast team recently came together and utilized Mission Wealth's Volunteer Time Off (VTO) and helped make a difference at Rauschenbusch Metro Ministries (RMM) a food bank in Hell's Kitchen, organized through New York Cares.
Rauschenbusch Metro Ministries
In collaboration with Metro Baptist Church and a network of partners, RMM provides services and resources for New York City children and teens, veterans, domestic abuse victims, homeless, and the food insecure.
Each month more than 700 New Yorkers are provided emergency food assistance through RMM's food pantry. Each person receives a 3-day supply of nutritious food staples. RMM not only provides food, but also seeks to address the issue of food justice.
What makes this Hell's Kitchen pantry especially unique is providing residents with produce grown on the pantry rooftop. Many pantries have difficulty providing fresh produce, and this rooftop farm provides the opportunity to not only have food fresh from a farm but also to foster discussion on where food comes from.
Click here for more information about RMM.
Click here for more volunteering opportunities at New York Cares.
MISSION WEALTH IS A REGISTERED INVESTMENT ADVISER. THIS DOCUMENT IS SOLELY FOR INFORMATIONAL PURPOSES, NO INVESTMENTS ARE RECOMMENDED. ADVISORY SERVICES ARE ONLY OFFERED TO CLIENTS OR PROSPECTIVE CLIENTS WHERE MISSION WEALTH AND ITS REPRESENTATIVES ARE PROPERLY LICENSED OR EXEMPT FROM LICENSURE. NO ADVICE MAY BE RENDERED BY MISSION WEALTH UNLESS A CLIENT SERVICE AGREEMENT IS IN PLACE.