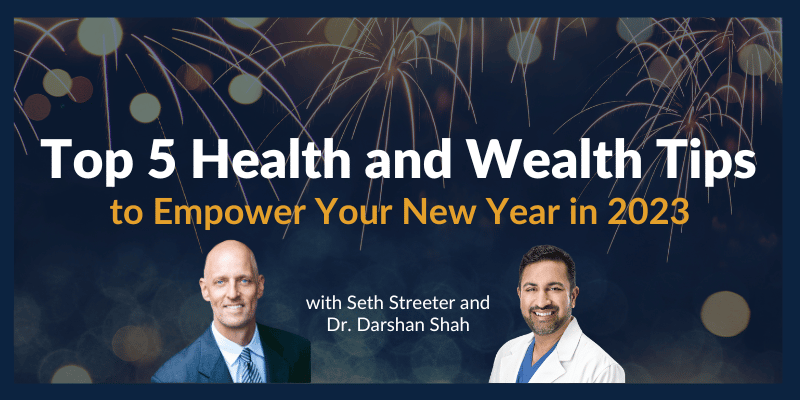 ---
In this video, Dr. Darshan Shah of Next Health and Seth Streeter of Mission Wealth discuss 5 health and wealth tips to empower your new year in 2023.
The Top 5 Health and Wealth Tips for 2023
Wealth Tip:
With the state of the current economy and with market volatility, it is easy to want to sit on the sidelines and cash out. However, markets may improve prior to the economy improving, so make sure that you have a portfolio that is ready to participate in that rebound, including assets that are not correlated to public securities. 
Health Tip:
Become the CEO of your own health. This means understanding what your biomarkers mean. When you get a blood test from your doctor, ask them what each of your results mean. For example, "Am I headed towards a disease or am I perfectly normal and healthy with my individual biomarkers?" 
Wealth Tip:
The current estate tax laws are going to sunset at the end of 2025. We have a couple years to take advantage of the current laws. This may apply to your wills, trusts, durable powers of attorney, and gifting strategies. So think of others and update your estate plans.
Health Tip:
It is a proven fact that you become the average health of the 5 people that you surround yourself with the most. Not only should you try to surround yourself with people that have the same health goals as you do, but also try to be a positive impact to the 5 people that you surround yourself with most often - your family and your friends. 
Wealth Tip:
When it comes to retirement savings, the easy win is to maximize your retirement plans through your employer, whether it be a 401(k), profit sharing, or even just individual IRA accounts. Pay yourself first and take advantage of those retirement savings accounts. 
Health Tip:
Eliminate processed food from your diet. Go to your pantry and clean out anything with an ingredients list. Stop buying processed foods from the center of the grocery store and shop on the outside isles where all of the vegetables and fruits are.
Wealth Tip:
Let's gain awareness of your spending. Take a look at your 2022 spending and project that forward into 2023. What is the reality? Anticipate any large expenses coming up this year. Pay off any high interest debt if you have any and try to pay yourself first with some savings. 
Health Tip:
Listen to podcasts and become a health and wellness information junkie. Find a podcast that is around your drive time and listen to it every single day. 
Wealth Tip:
From a financial standpoint, make sure that you have ample cash reserves and adequate insurance. If you are renting a home, get renter's insurance and if you are a homeowner, get umbrella liability coverage. This is really cost-effective and can really protect you if you have serious liabilities.
Health Tip:
Protect yourself from toxins. You want to protect yourself from the air you breathe, get an air purifier. Protect yourself from the water you drink. Get reverse osmosis and do not drink from plastic containers. With the food that you eat, eliminate processed food and try to eat organic as much as possible.
Health is Wealth - And So Much More
A thought-leader in the area of conscious financial planning, Seth helps people reframe their perspective of wealth beyond just the financial so that they can enjoy more balanced, impactful, and fulfilling lives. Click here for Seth's TEDtalk on the 11 Dimensions of Wealth - Wealth Redefined.  
We hope these tips were informative and that you have a wonderful year ahead. If you have any questions, please reach out to us at missionwealth.com. 
About the Speaker - Dr. Darshan Shah
Dr. Darshan Shah is a health and wellness specialist, well-known Board Certified surgeon, published author, tech entrepreneur, and founder and CEO of Next Health. As an expert on all body systems, he has performed over 10,000 surgical procedures, including trauma surgery, general surgery, and plastic/reconstructive procedures. As a health and wellness specialist, he has advised thousands of patients on how to optimize their well-being and extend their lifespan, culminating in the creation of Next Health, the "Apple Store" of Health and Wellness offering healthspan and lifespan-extending technology and treatments in a beautiful, welcoming environment.
Dr. Darshan Shah started his training at an accelerated MD program at the age of 15 at the University of Missouri and earned his medical degree at the age of 21, becoming one of the youngest doctors in the United States. After surgical training in central California, Dr. Shah then continued his training at the Mayo Clinic, one of the most prestigious medical institutes in the county. After earning his board certification, he went on to open medical/surgical centers throughout California, as well starting innovative tech companies, creating patented medical devices, as well as advising dozens of startups in medicine, finance, and tech. Dr. Shah's belief in continual education and self-improvement has earned him alumni status at Harvard Business School, Singularity University, and other prestigious institutions.
MISSION WEALTH IS A REGISTERED INVESTMENT ADVISER. THIS DOCUMENT IS SOLELY FOR INFORMATIONAL PURPOSES, NO INVESTMENTS ARE RECOMMENDED. ADVISORY SERVICES ARE ONLY OFFERED TO CLIENTS OR PROSPECTIVE CLIENTS WHERE MISSION WEALTH AND ITS REPRESENTATIVES ARE PROPERLY LICENSED OR EXEMPT FROM LICENSURE. NO ADVICE MAY BE RENDERED BY MISSION WEALTH UNLESS A CLIENT SERVICE AGREEMENT IS IN PLACE.
00489624 12/22