Watch the INSPIREDtalk with Bruce Feiler and Seth Streeter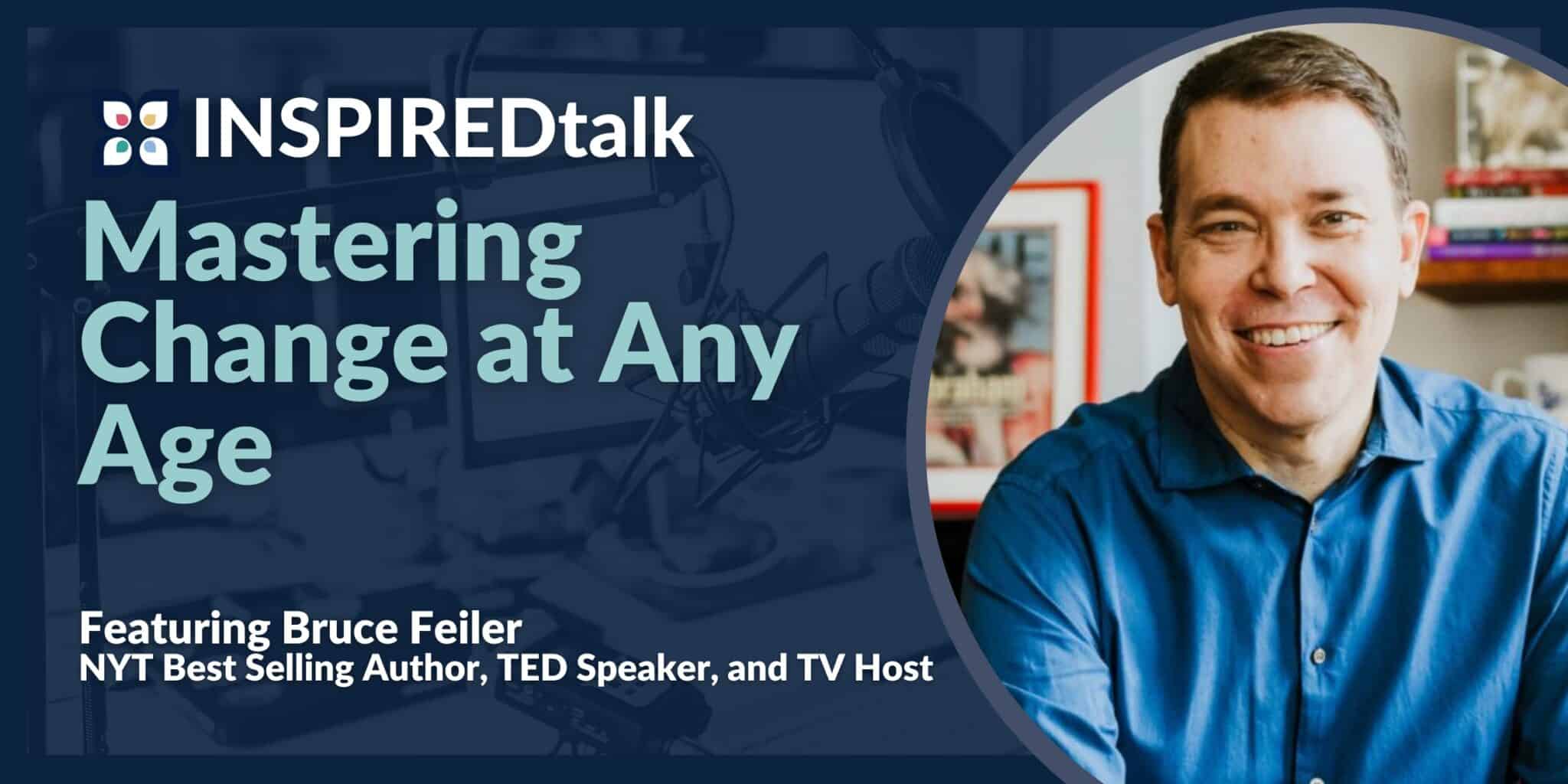 On Wednesday, October 4, 2023, Mission Wealth and Seth Streeter hosted our ninth INSPIREDtalk with world-renowned speaker and New York Times best-selling author, Bruce Feiler. During the webinar, Bruce led us through the process of turning transitions into opportunities and infusing purpose into every financial decision, career step, and family conversation. 
With all that's happening in today's world, how do you transform times of change into periods of creativity and growth? In our jam-packed one-hour INSPIREDtalk "Mastering Change at Any Age", we explore the art of navigating life transitions and discuss finding meaning in work at any age, including a bold new road map for discovering purpose in what you do. We also discuss how families with wealth may have conversations about values and the tools you can utilize now to help assist you in these conversations.  
Watch the Full Recap of our INSPIREDtalk with Bruce Feiler 
Video not working? Click here to watch it on YouTube. 
We Have Linear Expectations and Nonlinear Lives  
Everyone gets to a moment where they don't know how to tell their story. Things change, unexpectedly most of the time, and our lives are completely upended. After years of boots-on-the-ground research, hundreds of interviews with people telling their own stories, and his own deep dive into his life, Bruce learned that the idea of the linear life is dead.
"Those of us who are 40-plus, grew up at a time when we were told, everyone does the same thing in your twenties. Everyone does the same thing in their thirties, and everyone has a mid-life crisis between 39 and 44 and a half. That was the original research. We do not live our lives based on graphs that you might see in an undergraduate textbook." Bruce explains.
How to Get Through a Lifequake  
The idea of the nonlinear life is based on constant changes, and change comes in all different directions and often when you least expect it. You will go through around 3 dozen "disrupters" in your life (times of large change every 12-18 months). A significant percentage of these, around 1/10 or 3-5 times in our adult lifetime, these changes will be massive. Bruce calls them lifequakes and they typically last for 5 years, meaning we may spend as much as 25 years of our lives navigating major life transitions.
Transitions are a skill that we can and must master. What are the ways we can best navigate these transitions that are going to be happening? 
Name the feeling or thing that hasn't been named. Identify the problem or crisis and validate it. Naming the crisis is normalizing the crisis and knowing you are not alone. 
Understand the 3 phases of the transition. The Long Goodbye, The Messy Middle, and The New Beginning. The Long Goodbye is where you accept you're in a transition, an emotional experience, and you mark the time with a ritual (burning a note, cutting your hair, etc.) The Messy Middle is where you shed certain habits and create new ones (making a list, planning a move, etc.) The New Beginning is where you update your life story and share this new self with the world.
Start with your transition superpower. Do what you're good at. Just as transitions are nonlinear, the phases of a life transition are nonlinear too.
In Bruce's book, "Life is in the Transitions" he outlines a Transition Toolkit, that includes the following steps: accept it, ritualize it, shed it, create it, and share it. 
In describing the difference between a lifequake and a transition, Bruce shared that a lifequake puts you on your heels, while a transition puts you on your toes.  The lifequake is the event, and the transition is our way of navigating the event, giving us agency in this time of transformation. 
The ABCs of Meaning 
What's the difference between happiness and meaning? Happiness is what you feel. It's an emotion and it's kind of a current state. Meaning is about stitching together past, present, and future. It's about your story and it allows you to make sense and process it, even through times of unhappiness. 
Bruce has identified three building blocks of meaning:  
A – Agency: What we do, make, or build things that we can control. Our "me" story. 
B – Belonging: The love in our lives, our relationships, our family, our friends, our colleagues, our community. Our "we" story. 
C – Cause: A calling or purpose that's something greater than yourself. The "your" story. 
Nonlinear Changes in Your Career  
Picking your career and vocation has drastically changed over the years. Gone are the times when you sat down with a guidance counselor and picked out a job and company, and then continued to work for that company for the rest of your life. A nonlinear career life is more normalized now than ever, and we're just getting started.  
Hard work is built into the American fabric, but it comes with certain restrictions that didn't exist before. People don't want to be overworked, they don't want to choose between work and family, and they want to be happy.
Bruce outlines three "lies" about today's workforce and job outlook.  
You have a career. You don't. Half the people who change jobs also change their vocations. Do whatever you want.
You have a path. You don't. You can stay on the path you're on now, or you can get off the escalator. 
You have a job. You don't. You have multiple jobs.
Finding meaning in work means getting off the "should train" and getting on the "want train". Shoulds may include the job promotion and the higher salary that comes with a lot more pressure. Bruce's research found that the people who are the happiest and most fulfilled, don't just climb, they dig.  They find out what really drives them, and they make a plan to get there. Maybe that's a "hope job", wherein you're doing something on the side that fulfills you and you hope it leads to something else.  
The Secret of Happy Families: Discussing Money and Values 
There are three commonalities between high-functioning families: 
They adapt all the time. They understand that life is nonlinear, and you have to be agile.
They have clear and transparent conversations. Talk through the issues, including your children (age appropriate). Find out where you are now, and how to address the issues to get to where you want to be. 
They go out and play. Movie nights, trips, and games can make positive memories and create tighter bonds.
Bruce highly recommends creating a family mission statement. Mission Wealth advisors are able to support their clients with this process as part of our family conversations during our philanthropy services. According to Bruce, 80% of children never have a conversation about money with their parents. He says, "Every conversation about money is a conversation about values. Even a conversation about money that doesn't happen. Because the conversation about money that doesn't happen is setting the value that talking about money is hard." 
Developing a culture where you can talk about money within your family from a young age will set your children up for success. It's much better to have a problem with a small allowance than it is with a large salary or even larger inheritance. 
About the Speaker: Bruce Feiler 
Bruce Feiler is one of America's most thoughtful voices on contemporary life. He is the author of seven New York Times bestsellers, including LIFE IS IN THE TRANSITIONS, THE SECRETS OF HAPPY FAMILIES, and COUNCIL OF DADS. His three TED Talks have been viewed more than four million times, and he teaches the TED Course HOW TO MASTER LIFE TRANSITIONS. His latest book, THE SEARCH: Finding Meaningful Work in a Post-Career World (May 2023), is a bold new roadmap for finding meaning and purpose at work, based on insights drawn from hundreds of life stories of all vocations and backgrounds. 
Employing a firsthand approach to his work, Bruce is known for living the experiences he writes about. His work combines timeless wisdom with timely knowledge to encourage people to live with more meaning, passion, and joy.  
A longtime columnist at the New York Times, Bruce now writes the popular newsletter THE NONLINEAR LIFE. He has appeared in numerous publications, including The New Yorker, The Wall Street Journal, Harvard Business Review, and Gourmet, where he won three James Beard Awards. He is a frequent commentator on radio and television. A former circus clown, he has been the subject of a Jay Leno joke and a JEOPARDY! question, and his face appears on a postage stamp in the Grenadines. 
A native of Savannah, Georgia, Bruce lives in Brooklyn with his wife Linda. Their identical twin daughters have just begun their freshman year at Yale University, bringing a whole new transition to Bruce and Linda's life now. 
Financial Guidance For Your Life Journey
Talk with a financial planner about your next steps.
Guidance For Your Full Financial Journey
Through our comprehensive platform and expertise, Mission Wealth can guide you through all of life's events, including retirement, investment planning, family planning, and more. You will face many financial decisions. Let us guide you through your options and create a plan.
Mission Wealth's vision is to provide caring advice that empowers families to achieve their life dreams. Our founders were pioneers in the industry when they embraced the client-first principles of objective advice, comprehensive financial planning, coordination with other professional advisors, and proactive service. We are fiduciaries, and our holistic planning process provides clarity and confidence. For more information on Mission Wealth, please visit missionwealth.com.
To meet with a Mission Wealth financial advisor, contact us today at (805) 882-2360.
00547572 10/23