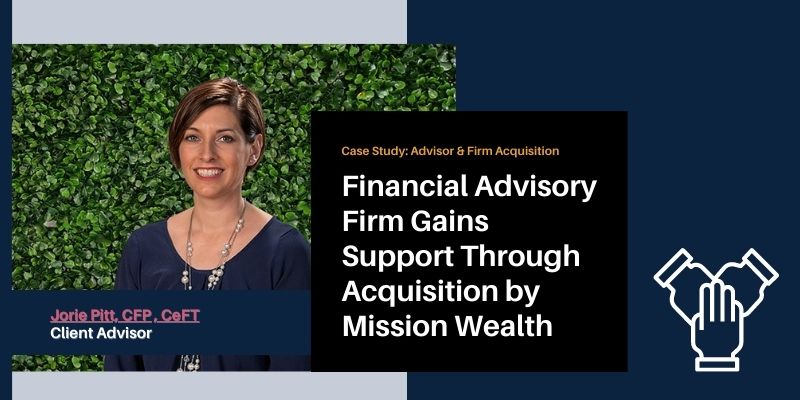 ---
By Seth Streeter, MS, CFP®, CDFA™, Founder & Chief Impact Officer at Mission Wealth
---
As a Senior Advisor and Partner at AHC Advisors in Chicago, IL, Jorie Pitt was attracted to Mission Wealth for their abundant support departments. Motivated by the opportunity to join a great culture and team with structured departments, Jorie knew she would now have time to do more of what she loved - serve clients.
---
---
Jorie Pitt was a minority owner and partner at Registered Investment Advisory firm (RIA) AHC Advisors. AHC was a boutique style Financial Planning and Wealth Management firm, but also had an institutional arm to the business that was dedicated to pension fund consulting. Jorie serviced the individual Financial Planning and Wealth Management clients during her time at AHC.
AHC's team of three was efficient and highly processed, but they were quickly coming to the point where each person was reaching their capacity. They needed to begin expanding, which would mean additional hiring and evolving their processes as they started to grow, or they needed to consider joining a larger firm.
---
---
Why AHC Chose Mission Wealth
---
After much discussion and consideration, AHC decided to move forward with an acquisition. AHC did an extensive search, considering many firms of whom they had a lot of discussions with. They created an extensive checklist of what they considered 'must-haves' and then a secondary check-list of what they considered 'like to haves' in any firm that they were going to join.
"Anyone who has worked for a business or is involved in building a business is very attached to it. AHC was a wonderful business, so the idea of the name going away or merging into a different company was definitely a difficult decision," said Jorie Pitt. "But in the end, that was the decision that we made – we were going to look for a highly compatible firm. We were going to merge into that firm in order to not have to expand, to have access to different departments such as training, marketing, investments, operations, and all of those things that we would either have had to build out on our own or join another firm in order to access."
At the highest level AHC was looking for two main things. First, that their employees were going to be happy with the firm, and secondly that their clients were also going to be happy. The new firm needed to be a good fit for AHC, which was a firm who focused on financial planning, had a similar approach to investments, and a great company culture.
Mission Wealth's company culture collaborates and cares for each other. The firm continually cultivates a professionally supportive, award-winning, fun, family-friendly culture. They are an equal opportunity employer and embrace a strong diversity and inclusion program.
Discussions with Mission Wealth took place for over a year. One of the factors that Jorie really liked after meeting with Mission was the people. "After meeting with Mission Wealth and their management team we knew that they were good people. We really felt that they listened to what we had to say and that they were going to be a collaborative firm to work with. They were interested in hearing about some of our best practices and potentially incorporating some of them into their own firm once we had merged. We really just want to serve clients the best way possible, and we believed both firms had that same philosophy." said Pitt.
Mission used the same custodians as AHC which was a contributing factor to merging. A custodian is a specialized financial institution (typically, a regulated entity with granted authority like a bank) that holds customers' securities for safekeeping in order to minimize the risk of their misappropriation, misuse, theft, and/or loss. 
Another deciding factor was the firm's technology stack. "As heavy technology users, we wanted to be able to make sure things were processed and done the same way, each and every time. We were very happy to see the tech stack that they had in place and were excited to improve it and grow it over time." said Pitt.
Mission Wealth was chosen for many reasons, but their dedicated support departments that could immediately start to pull some of the work off of their plates was a big factor.
Mission Wealth has strategically developed specialized Culture, Operations, Technology, Marketing, Compliance, Investment, Strategy (Tax and Compliance), and Sales/Advice teams and proactively adopt tools and services to support advisors and help clients accomplish their goals. The firm also provides access to a growing team of in-house professionals and resources including additional back-office support so that you can focus more on what you do best.
---
---
---
Once AHC had chosen Mission Wealth the acquisition process went relatively smoothly and quickly. It was a team effort and included working with some outside consulting firms to help both firms through the entire process.
Jorie's concentration as a client advisor was on client retention. "I was very proactive in this area. We were going for 100% client retention and we wanted our clients to feel like this was a positive move for all. I gave a personal phone call to every single one of our clients as soon as the merger was going to be announced, to let them know personally about it, and to make sure that I could address any individual questions."
AHC's other team members spent their time during the integration working on technology and the transmission of their data. AHC needed to migrate their CRM (Redtail) over to Mission Wealth's CRM program (Salesforce). They also needed to migrate over their portfolio performance system into Tamarac. They also moved their cloud storage from Egnyte into Spring CRM.
"On top of the technology integration there is a lot of technology training you need to do while you're trying to quality control the data that moves into new systems… that was the hardest part. In the end I would say it went as smoothly as it possibly could and I feel like there's always going to be something to learn when you migrate one system into another." said Pitt.
---
---
The Post-Integration Process
---
The first three to six months were spent making sure that all of the data moved over properly and that AHC's clients were happy. "After a lot of phone calls you sort of feel like you're doing two jobs - you're still working for your old company and you're also working for this new company. But seven months in, I can say that I feel as if we have successfully transitioned into Mission and that I no longer feel like I have two jobs." Jorie said. "I feel very good about the management team and the rest of the firm has been incredibly welcoming and they're truly wonderful people – exactly as we suspected during the pre-acquisition time period when we were getting to know them. They are focused on a positive culture for employees and clients and that's been wonderful."
Jorie received very good feedback from clients. The feedback from clients has mostly been that they haven't really noticed much of a change, which is really what they were hoping for especially in the first year. Jorie wanted them to be comfortable and know that they made this move because it was good for both AHC and their clients. They are receiving the same level of service, if not a slightly higher level of service, because there are some additional services they can now offer that they weren't able to offer at AHC – particularly on the investment side.
Mission Wealth offers a robust service offering for their clients, including Wealth Management, Investment Management, Risk Management, Estate Planning, Tax Management, and Inspired Living. They also offer truly customized solutions to meet clients' evolving needs.
A lot of tasks have been reduced for the AHC team due to the support departments at the firm. There is an abundant amount of communication with other advisors at Mission. The advisory team participates in a lot of collaboration, offers support for one another, along with shared wisdom.
"Right now I've been with Mission for 7 months. I feel that I have been fully integrated into the company at this point and feel my clients have also been fully integrated. I have to say that the overall process was a lot of work and it took a while to get everything started, but it was a great experience and I would do it again if I had to go back and re-do the process." said Pitt.
Jorie and her team now have more time to concentrate on what they do best and enjoy doing most, which is working with clients.
---
---
Mergers, Integrations and Acquisitions (M&A) are Transforming the Financial Advisory Landscape
---
M&A financial service industry trends show that funding for M&A and vertical integration is growing due to low interest rates. This means M&A is a unique growth opportunity for financial professionals and firms looking to scale their boutique services, and/or grow their client list and assets under management - without compensating on service quality. Despite the promising outlook, small and medium sized businesses may find it difficult to identify suitable M&A advisory firms which can assist them in such deals, and they may face considerable challenges in sourcing potential buyers.
If you're considering M&A for you or your firm, the integrations process at Mission Wealth can be tailored to your unique needs, set-up, clients, and objectives. With objective-driven decision-making and a clear set of goals, consistent communication, and deep exploration of the cultural fit, Mission Wealth would be happy to have a discussion.
---
Merger, Integration and Acquisition (M&A) Opportunities with Mission Wealth
---
Mission Wealth is seeking aligned wealth management firms and advisors with the right cultural fit to expand our growing nationwide presence. There are many benefits to joining our firm and we want to make the transition seamless for you, your team and your clients. If you are ready to explore your fit at Mission Wealth, we would be happy to meet with you to discuss the opportunity.
Visit https://missionwealth.com/opportunity/ to learn more.
---
---
Mission Wealth is a nationally recognized Registered Investment Advisory firm (RIA) founded in 2000 that oversees over $4.3 Billion in client assets under management. Mission Wealth is known for its service model, driven by a world-class technology stack that offers financial planning, investment counsel, tax strategies, estate planning coordination, philanthropic advice, and risk management solutions tailored to each client's needs.

Mission Wealth's vision is to provide caring advice that empowers families to achieve their life dreams. Our founders were pioneers in the industry when they embraced the client-first principles of objective advice, comprehensive financial planning, coordination with other professional advisors, and proactive service. Mission Wealth is a fiduciary, and our holistic planning process provides clarity and confidence. For more information on Mission Wealth, please visit missionwealth.com.
---
MISSION WEALTH IS A REGISTERED INVESTMENT ADVISER. THIS DOCUMENT IS SOLELY FOR INFORMATIONAL PURPOSES, NO INVESTMENTS ARE RECOMMENDED. ADVISORY SERVICES ARE ONLY OFFERED TO CLIENTS OR PROSPECTIVE CLIENTS WHERE MISSION WEALTH AND ITS REPRESENTATIVES ARE PROPERLY LICENSED OR EXEMPT FROM LICENSURE. NO ADVICE MAY BE RENDERED BY MISSION WEALTH UNLESS A CLIENT SERVICE AGREEMENT IS IN PLACE.
00413466 08/21