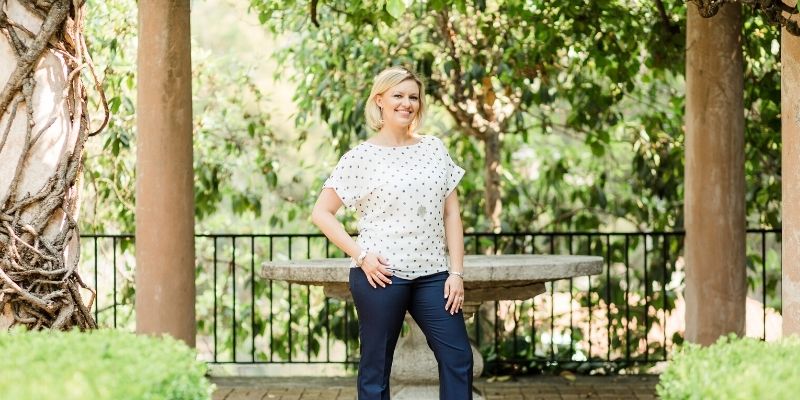 ---
---
Mission Wealth's Spotlight on the Team for July 2020 is Client Advisor, Kristen Taylor! Kristen has been with Mission Wealth since 2018, and has over 15 years of experience in the financial industry. Kristen is also one of the firm experts in sustainable investing, and she shares her perspective on how to invest with a sustainable mindset. She is also an active member of the Financial Women of San Francisco, providing support by raising money for the next generation of women in finance. Learn more about Kristen in this interview!
What are a few childhood experiences you had that formed who you are today?
I'm an only child, so I learned to be creative by entertaining myself. I learned to appreciate the special occasions where I could have friends over, while also feeling the peace of being alone. Much of my drive as an adult stemmed from enjoying school, particularly math and science, which was interesting and made sense to me. My parents were always engaged in my learning and encouraged my growth in school, so they helped me relate education to the real world. After school I was in ballet and softball for most of my young life. This provided a fantastic balance to where I found an appreciation for new challenges and working well on a team.
How do you like to spend time outside of Mission Wealth?
My husband and I bought our first home last year with a big yard, so I have discovered my passion for gardening, especially learning about permaculture to respect our land and participate in the ecosystem, while creating a big edible garden.
There is nothing more rewarding than prepping for dinner by going outside to pick something to eat and knowing it was your hard work that supported the growth from a seedling!
We already loved to cook, but feeling inspiring by what's ready to eat in our yard has added a whole new dimension and fresh nutrients to our diet.
Are you a raving fan of anything?
Yes! I graduated from the University of Texas at Austin, so I'm a die-hard Longhorn fan, and every fall I miss my massive football stadium in Austin while I'm shouting at the TV.
What's something interesting that people don't know about you?
I was voted "Most Spirited" of my high school senior class. I earned straight A's, was a cheerleader, and was also on the high school softball team.
If you could offer any advice to your younger self, what would it be?
Enjoy the ride and remain present in the joys of life. Seek acceptance of what comes, and believe in your inner warrior to ward off anxiety and stress.
At Mission Wealth we talk people all the time about what their goals and aspirations are. So, what's on your bucket list?
There is so much of the world I want to see and explore. Travel and culinary adventures are very important on my list, especially Ireland, Australia, Thailand, Italy and Croatia. Included in that are humanitarian trips, because I would love to do more to help those in need.
Lastly, despite my husband's objections, someday I will have my "power woman" sports car!
Are you a part of any organizations or clubs? Tell us more about it.
I joined the nonprofit organization Financial Women of San Francisco (FWSF) several years ago, and I join fundraising committees every year. I love the annual events and network of successful women of all ages from all sectors of financial services. Seeing the impact of the scholarships we award to women each year really moves me. A couple of years ago, I was on the board as a co-chair of the Endowment Committee and we put on a fashion show event from scratch with a major retailer. We highlighted the 6 decades that FWSF has been around, which ended up being one of the most successful fundraising events for our scholarship Endowment fund to date. I feel like I'm doing my small part to help the next generation of women feel empowered and driven.
What do you think makes you well-suited for your current role?
I love to connect with people. It's very rewarding to know that my knowledge and service can make a difference for an individual or a family. I've also been trained well in explaining how things work, like investments and planning, so I take pride in being somewhat of a translator of complicated topics.
Is there something about your personality that guides your approach?
I have an outgoing personality, so I think I naturally connect with clients and serve their needs well.
What are your favorite kinds of clients to work with and why?
My favorite clients are those that I have some level of commonality with - whether that's age, life stage, value alignment (like sustainable investing), or even a fellow cat-lover.
What kinds of issues do you help your clients with, and what kinds of unique services do you provide to help them with these issues?
I love the challenge of finding investment solutions that best align with their long term financial plan, whether that's income needs, tax mitigation or value alignment. I am also one of the firm experts in sustainable investing, so I help clients understand how we can build them a sustainable and socially responsible portfolio that still meets their financial goals. I also have in-depth experience with public and private investments in general so I'm able to break down portfolio holdings and recommendations and help clients understand at the level they desire.
Watch our video to learn more about Socially Responsible Investing, ESG, Impact Investing, and Mission Wealth's Social Values Portfolio. 
Can you tell us a story about a client you helped and how you changed their life in a positive way?
I have a client that I worked with at my prior advisory firm. When I joined Mission Wealth he decided to stick with me, and become a Mission Wealth client. At Mission Wealth I was able to offer him far more resources that would help him, like the ability to build a financial plan to give us a clear picture of what steps to take to help him grow his retirement money. I could also offer him unique investment recommendations that provided growth opportunities while supporting his risk-averse philosophy. Since joining Mission Wealth, I've helped him hedge future income with his employers stock options, and shift his portfolio to a more diversified and risk-adjusted strategy that he's been very pleased with. He's also pleased with the service and communication I regularly provide; so much in fact that he's referred at least one friend to Mission Wealth so far. He's always so thankful for my time and service, I feel so honored that he respects my advice and guidance, he's a great client to have.
Give me one piece of financial advice you would offer clients.
Maintaining a long term view is extremely valuable when investing for important life goals. It's quite easy to get swept up in short term market movements and headlines, but in general our portfolios are designed for performance to be evaluated over several years and in alignment with the time horizon of financial goals. This can often feel contrary to what you're feeling in the moment, which is why allowing an advisor to maintain a strict discipline for you will very likely pay off in the long run.
Click here to learn more about the benefits of long-term investing. 
What is a subject or area of finance that not many people know a lot about, but understanding it could really help their financial picture?
The concept of compounding income is certainly nothing new, but it's often overlooked as far as its importance in portfolio growth. First, even if you don't need income from your investments today, owning stocks and bonds that pay dividends and interest not only provide the more stable component of your return (versus price growth), but also reinvesting that income allows you to "make interest on your interest" or compound your return over time. In times when prices are very volatile, income provides a stabilizer and an opportunity to reinvest regularly. Never underestimate the power of investment income!
What are some important things to consider when choosing a financial planner?
There are so many advisors in the marketplace, many with nearly identical service models but also many that offer something different. Therefore, a good advisor will help you understand what they can offer, how it will benefit you, and how that compares to other firms out there, so that you're able to make an informed decision that works best for you... "comparing apples to apples" I like to say.
Transparency is key so clients can understand what their advisor can (and cannot) provide, and what the clear costs of doing business are. If you're comparing two similar advisors that offer essentially the same services, give each a chance to connect with you a little deeper to see who you'd feel more comfortable discussing personal financial matters with, and see who brings you a sense of trust.
00373367 07/20