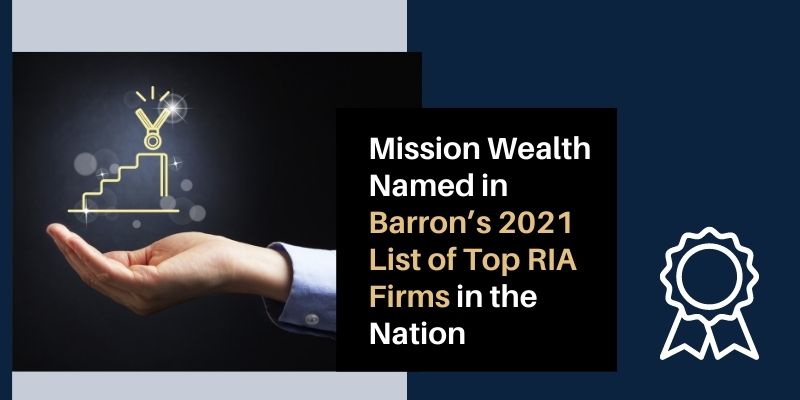 ---
Santa Barbara, CA – Sept. 23, 2021 – Barron's has ranked Mission Wealth one of the nation's top independent financial advisory firms according to its 2021 list of the top 100 RIA firms in the United States, which was released on Monday. The ranking, now in its sixth year, is based on both qualitative and quantitative criteria, including assets under management (AUM), revenue, regulatory record, staffing levels, diversity, technology spending, succession planning and other metrics.
"Mission Wealth is honored to earn a spot on Barron's prestigious list of the Top 100 RIAs in the country." said Mission Wealth Chief Executive Officer Matthew Adams. "We, as well as our colleagues on this list, have worked tirelessly to shape the wealth management industry over past decades and to also look forward as we innovate and enhance the varied services that we offer our valued clients. "The future is bright at Mission Wealth as a 100% employee-owned firm, and we are grateful for the ongoing opportunity to play such a meaningful and impactful role in our clients' lives and in our communities."
Mission Wealth is a nationally recognized RIA with a local presence across the county. Founded in 2000, the firm oversees $4.5 Billion in client assets under management. Mission Wealth is known for its service model, driven by a world-class technology stack that offers financial planning, investment counsel, tax strategies, estate planning coordination, philanthropic advice, and risk management solutions tailored to each client's needs. Beyond finances, the Inspired Living™ platform of Mission also helps clients achieve more balance in their lives and personal fulfillment.
"This recognition would not be possible without the trust that our clients instill with us or the dedication by all associates to serve." said founder and Chief Compliance Officer Brad Stark. "Twenty one years ago we didn't have the idea to be a Top 100 firm. But we did set out to be the best advocates for our clients and to do so in a caring and impactful way. This honor is a true collaborative award."
Mission Wealth's vision is to provide caring advice that empowers families to achieve their life dreams. Our founders were pioneers in the industry when they embraced the client-first principles of objective advice, comprehensive financial planning, coordination with other professional advisers, and proactive service. Mission Wealth is a fiduciary, and our holistic planning process provides clarity and confidence. For more information on Mission Wealth, please visit missionwealth.com.
In addition to this 2021 Top RIA Barron's ranking, Mission Wealth was honored in the 2021 Inc. 5000 list as a Fastest Growing Company, the 2021 Fortune Top 100 Best Workplaces ranking, FA Magazine's 2021 Top 50 Fastest Growing RIAs, and Inc. Magazine's Best Workplaces of 2021. To learn about more awards and rankings the firm has achieved, visit https://missionwealth.com/awards-and-rankings/.
Barron's publishes four individual advisor rankings each year (Top 100 Advisors, Top 100 Women Advisors, Top 100 Independent Advisors, Top 1,200 Advisors) along with three team- or firm-based rankings (Top RIA Firms, Top Institutional Consultants, Top Wealth Management Firms).
The goal is to shine a spotlight on the nation's best financial advisors, with an eye toward raising standards in the industry. The rankings serve two distinct types of Barron's readers. For wealth management professionals, they serve as an industry scorecard. For investors, the rankings are a tool that can help in the process of finding financial guidance.
Advisors who wish to be ranked fill out a 102-question survey about their practice. Barron's verifies that data with the advisors' firms and with regulatory databases and then apply their rankings formula to the data to generate a ranking. The formula features three major categories of calculations: (1) Assets (2) Revenue (3) Quality of practice. In each of those categories they do multiple sub-calculations.
They take into account not just the amount of assets an advisor manages, but also the type of assets—are they private-wealth assets or institutional? If they're institutional, are they for a foundation or an endowment, or are they corporate assets? They measure the growth of advisors' practices and their client retention. They also consider a wide range of qualitative factors, including the advisors' experience, their advanced degrees and industry designations, the size, shape, and diversity of their teams, their charitable and philanthropic work and, of course, their compliance records.
The rankings are meant as a starting point for clients looking for an advisor—a first-pass vetting that can help investors narrow a search. Every advisor will have his or her own approach to investing, financial planning, and other services. Clients are encouraged to approach a search for an advisor the way they would a search for a doctor—interviewing multiple professionals and getting opinions from multiple third parties.
MISSION WEALTH IS A REGISTERED INVESTMENT ADVISER. THIS DOCUMENT IS SOLELY FOR INFORMATIONAL PURPOSES, NO INVESTMENTS ARE RECOMMENDED. ADVISORY SERVICES ARE ONLY OFFERED TO CLIENTS OR PROSPECTIVE CLIENTS WHERE MISSION WEALTH AND ITS REPRESENTATIVES ARE PROPERLY LICENSED OR EXEMPT FROM LICENSURE. NO ADVICE MAY BE RENDERED BY MISSION WEALTH UNLESS A CLIENT SERVICE AGREEMENT IS IN PLACE.