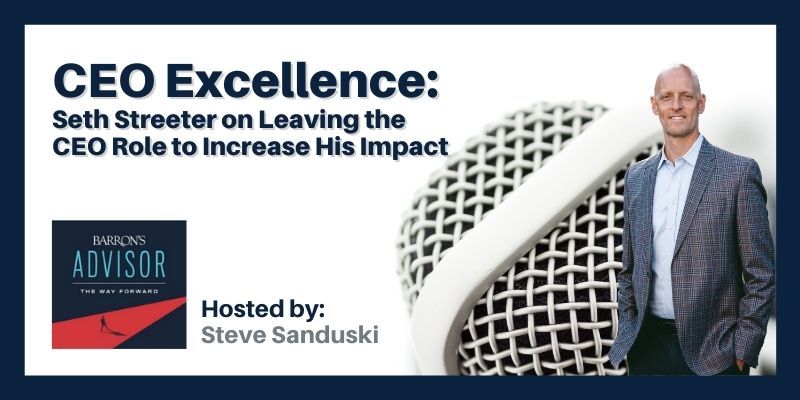 Through interviews with top achievers and visionary voices, Between Now and Success brings you the strategies, tips, and tools you need to succeed at the intersection of business, investing, and life. In each episode, Steve Sanduski's guests open up and share their journey and the lessons they learned on their road to the summit.
On Being an Excellent CEO
In the fourth and final episode of this mini-series on the role of the advisory firm CEO, Steve met with Seth Streeter to discuss why he voluntarily left the CEO role at Mission Wealth for a role that better suits this stage of his life. Letting go of a company you've shepherded through successful growth may not be easy.
Seth Streeter did it voluntarily, while still in his early 50s, and moved to a different full-time role in the firm that better suits this stage of his life. Building a company that's able to keep growing and succeeding without you at the helm is the mark of a job well done. Let the culture you built and the team you assembled free you to explore new avenues for personal and professional growth.
Key Takeaways:
Embrace a growth mindset rather than a fixed mindset. Throughout his tenure, Seth inspired his team to imagine what was possible, be brave, and achieve great things.
Grow for impact. Bigger companies have bigger opportunities to impact their employees, their clients, and their communities.
Do more by doing less. By transitioning from CEO to Chief Impact Officer, Seth can put his skills to their highest uses for the company as he also prepares for the next chapter of his life.
Also Learn:
How Seth knew the time was right for him to step aside from the CEO role and become the firm's Chief Impact Officer.
How Seth selected and mentored his internal replacement.
How Seth and the new CEO Matt Adams created "swim lanes" to make sure they're clear on who does what.
The key lessons Seth learned in his long tenure in the CEO seat.
Interested in hearing the full 4 part series? Steve reflects on his CEO mini-series, he noticed three common threads among these leading CEOs. And these threads are not about tactics or strategies, rather, they're about a way of thinking and being. Find out what he discovered on his website. 
MISSION WEALTH IS A REGISTERED INVESTMENT ADVISER. THIS DOCUMENT IS SOLELY FOR INFORMATIONAL PURPOSES, NO INVESTMENTS ARE RECOMMENDED. ADVISORY SERVICES ARE ONLY OFFERED TO CLIENTS OR PROSPECTIVE CLIENTS WHERE MISSION WEALTH AND ITS REPRESENTATIVES ARE PROPERLY LICENSED OR EXEMPT FROM LICENSURE. NO ADVICE MAY BE RENDERED BY MISSION WEALTH UNLESS A CLIENT SERVICE AGREEMENT IS IN PLACE.