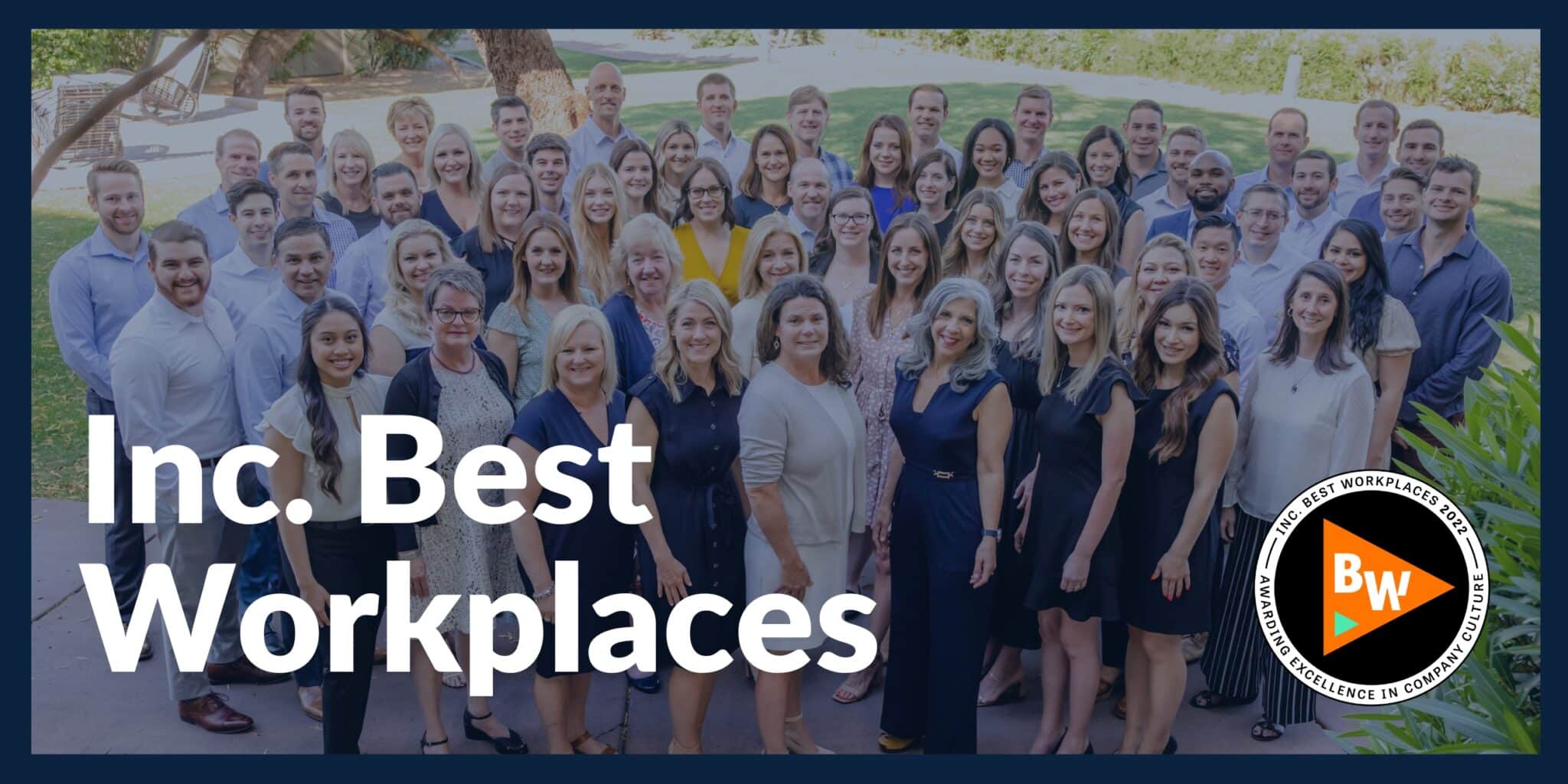 Mission Wealth has been named to Inc. magazine's annual list of the Best Workplaces for 2022. The list is the result of a wide-ranging and comprehensive measurement of American companies that have created exceptional workplaces and company culture whether teams are operating in person or remotely.
Mission Wealth has been named to Inc. Magazine's annual Best Workplaces list. Featured in the May-June 2022 issue, hitting newsstands on May 17, 2022, and prominently featured on Inc.com, the list is the result of a comprehensive measurement of American companies that have excelled in creating exceptional workplaces and company culture, whether operating in a physical or virtual facility.
"It has been quoted that adversity does not build character, it reveals it. Our team showed its true colors by continually elevating our service and outreach throughout the Covid pandemic." said Seth Streeter, Chief Impact Officer and Founder of Mission Wealth. "With priority given to virtual programs that kept our cultural cohesion high, we adopted a distributed workforce model that allowed us to hire diverse and top talent from across the country. With a team size increase of over 45%, our capacity to serve from a base of diverse strengths and perspectives has never been stronger."
After collecting data from thousands of submissions, Inc. selected 475 honorees this year. Each company that was nominated took part in an employee survey, conducted by Quantum Workplace, which included topics such as management effectiveness, perks, fostering employee growth, and overall company culture. The organization's benefits were also audited to determine overall score and ranking.
One anonymous survey participant wrote, "Our corporate culture is truly unique and special. The company does an excellent job in hiring to ensure a good fit for both our firm and the new team member. We all pull together to make new hires feel very comfortable. Opportunities to grow within the organization are given fairly, focusing on the contribution of the team member, regardless of age, gender, etc. I do not take the equality demonstrated in our firm for granted. Our core values of committed, adaptable, growth minded, caring truly start at the leadership level and continue through the organization. We all enjoy what we do and as a firm we know that our contribution matters to our clients."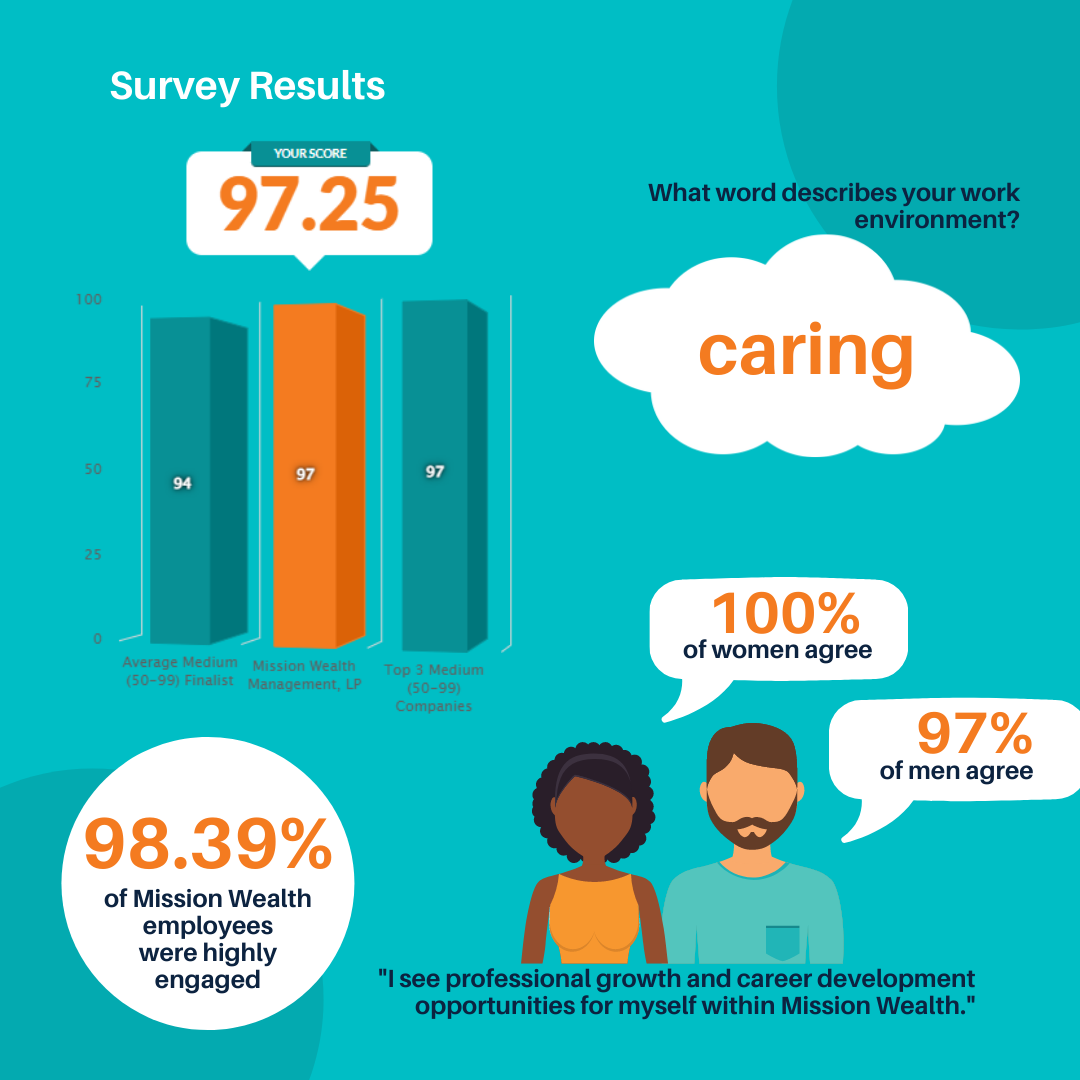 This year, Mission Wealth had 62 employees complete the Inc. Best Workplace survey. Results of this survey include a 97.25 overall score out of 100, 98.39% of employees are highly engaged, and 100% of women and 97% of men agree that they can see professional growth and career development opportunities for themselves at Mission Wealth.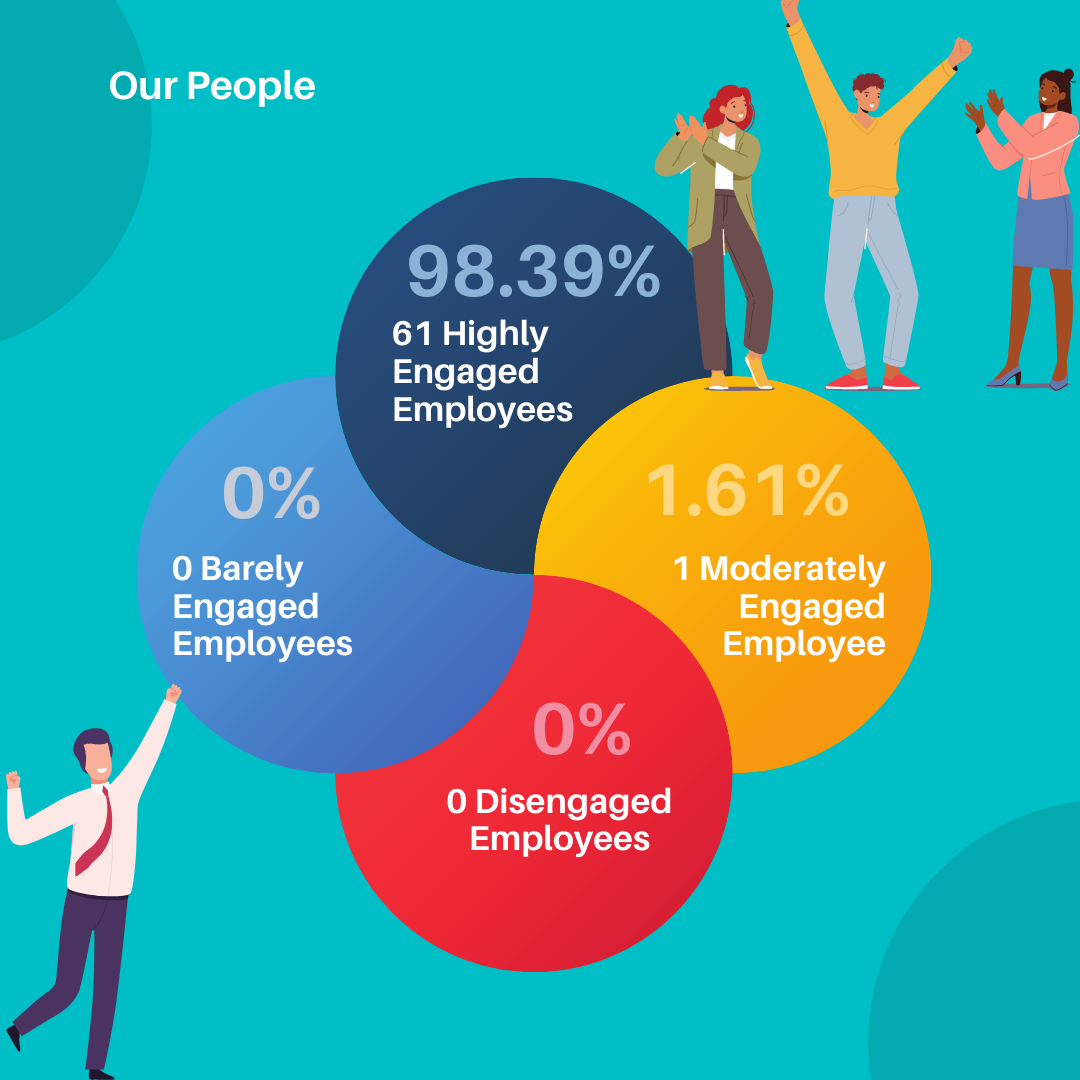 Highly engaged employees are highly favorable, advocate, intend to stay, and exude high discretionary effort. 61 out of 62 employees at Mission Wealth identify as a highly engaged employee.
Survey results showed that the word caring best describes Mission Wealth's work environment. 100% of survey participants believed that the senior leaders of the organization values people as their most important resource. Team respondents also saw professional growth and career development opportunities for themselves in the organization.
"This organization truly cares about it's employees, it's clients and the community. They are committed to doing what is right and it inspires others to do the same. I am not sure I have ever worked for a better organization. I am proud of the leadership team and their mission is pure. I intend to work here likely for the rest of my career." said another anonymous team member.
"The definition of a positive workplace has changed drastically over the past year," says Inc. magazine Editor-in-Chief Scott Omelianuk. "Stocked fridges and nap pods were no longer perks many companies could rely on once work went remote. So, this year's list is even more important as it reveals organizations that continue to enrich the lives of its employees amid a pandemic."
About Inc. Media
The world's most trusted business-media brand, Inc. offers entrepreneurs the knowledge, tools, connections, and community to build great companies. Its award-winning multiplatform content reaches more than 50 million people each month across a variety of channels including websites, newsletters, social media, podcasts, and print. Its prestigious Inc. 5000 list, produced every year since 1982, analyzes company data to recognize the fastest-growing privately held businesses in the United States. The global recognition that comes with inclusion in the 5000 gives the founders of the best businesses an opportunity to engage with an exclusive community of their peers, and the credibility that helps them drive sales and recruit talent. The associated Inc. 5000 Conference is part of a highly acclaimed portfolio of bespoke events produced by Inc. For more information, visit www.inc.com.
About Mission Wealth
Mission Wealth is a nationally recognized Registered Investment Advisory firm (RIA) founded in 2000 that oversees over $4.8 billion in client assets under management. Mission Wealth is known for its service model, driven by a world-class technology stack that offers financial planning, investment counsel, tax strategies, estate planning coordination, philanthropic advice, and risk management solutions tailored to each client's needs.
Mission Wealth's vision is to provide caring advice that empowers families to achieve their life dreams. Our founders were pioneers in the industry when they embraced the client-first principles of objective advice, comprehensive financial planning, coordination with other professional advisors, and proactive service. Mission Wealth is a fiduciary, and our holistic planning process provides clarity and confidence.
MISSION WEALTH IS A REGISTERED INVESTMENT ADVISER. THIS DOCUMENT IS SOLELY FOR INFORMATIONAL PURPOSES, NO INVESTMENTS ARE RECOMMENDED. ADVISORY SERVICES ARE ONLY OFFERED TO CLIENTS OR PROSPECTIVE CLIENTS WHERE MISSION WEALTH AND ITS REPRESENTATIVES ARE PROPERLY LICENSED OR EXEMPT FROM LICENSURE. NO ADVICE MAY BE RENDERED BY MISSION WEALTH UNLESS A CLIENT SERVICE AGREEMENT IS IN PLACE.