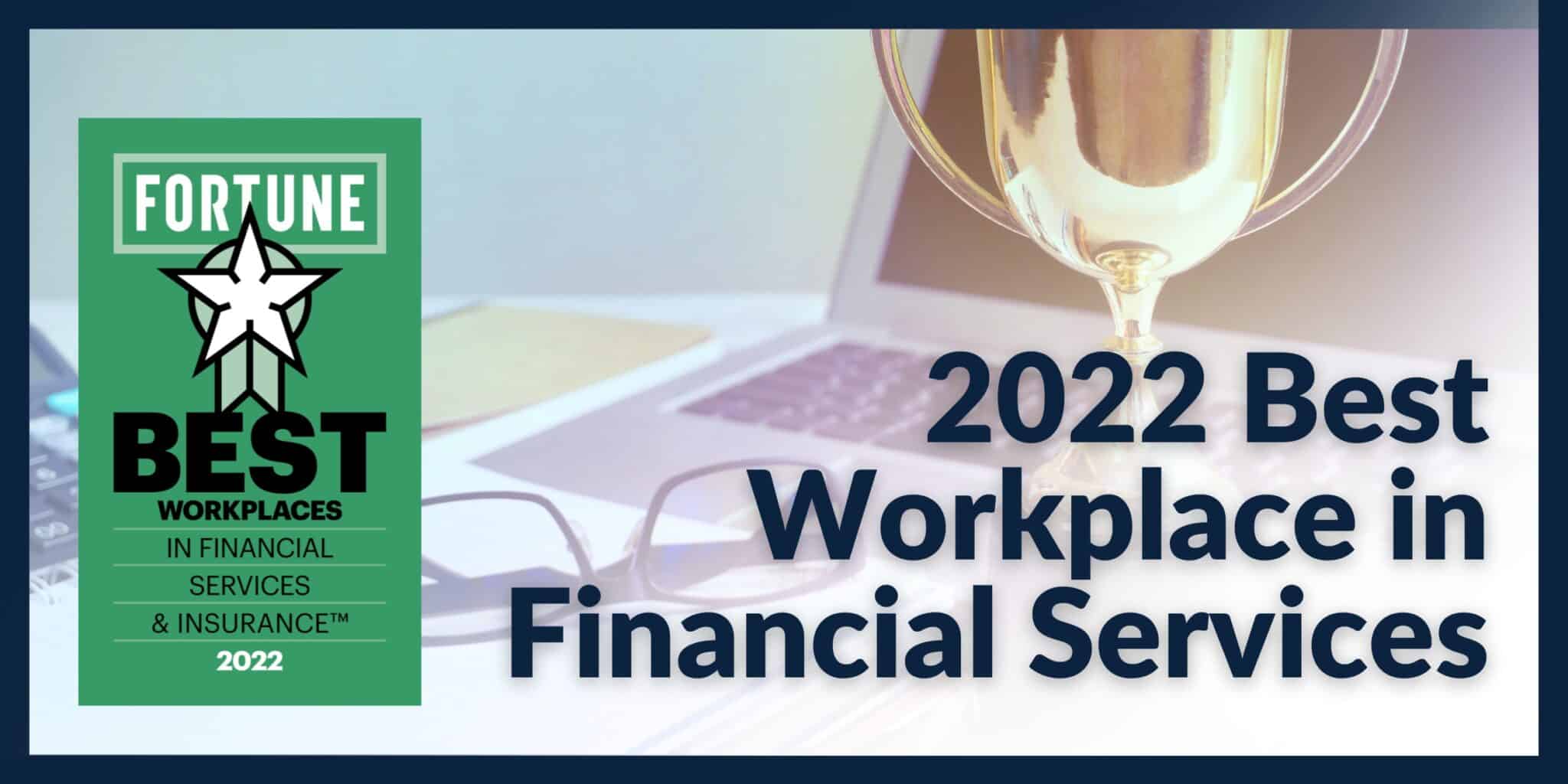 Great Place to Work® and Fortune magazine have honored Mission Wealth as one of the 2022 Best Small and Medium Workplaces™ in Financial Services and Insurance. This is Mission Wealth's third consecutive time being named to this prestigious list, coming in this year at #17 out of 50 companies. Earning this spot means that Mission Wealth is one of the best companies to work for in the country.
The Best Workplace in Financial Services & Insurance award is based on analysis of survey responses from more than over 176,000 employees from Great Place to Work-Certified™ companies in the financial services and insurance industry. In that survey, 100% of Mission Wealth employees said it is a great place to work. This number is 43% higher than the average U.S. company at 57% (Source: Great Place to Work® 2021 U.S. National Employee Engagement Study).
"We are honored to be recognized by FORTUNE as a best workplace in financial services. For over 20 years, we have been focused on building a strong culture reflective of our dedication to client service and to the growth and development of our team members." said Matthew Adams, CEO and Managing Partner. "As a 100% employee owned firm, we are dedicated to building a firm of permanence that will serve our clientele for many decades to come and that will also ensure our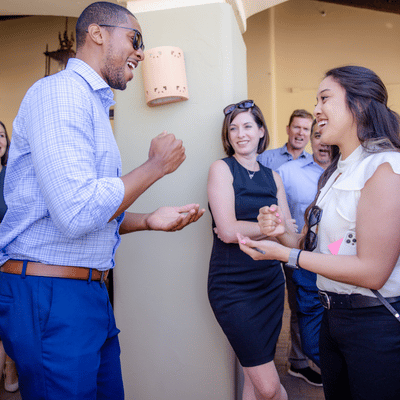 "After working at several other financial planning firms, I understand the rarity of Mission Wealth," said one anonymous employee. "The organization is abundantly transparent, the leaders are beyond competent, and they have achieved the impossible feat of only hiring wonderful people to work with."
team members tremendous career advancement opportunity. We feel the future is very bright at Mission Wealth and are incredibly grateful to our clients, our team, and our corporate partners."
The Fortune Best Workplace in Financial Services & Insurance Award is highly competitive. Great Place to Work, the global authority on workplace culture, selected the list using rigorous analytics and confidential employee feedback. Companies were only considered if they had been a Great Place to Work-Certified™ organization.
Great Place to Work is the only company culture award in America that selects winners based on how fairly employees are treated. Companies are assessed on how well they are creating a great employee experience that cuts across race, gender, age, disability status, or any aspect of who employees are or what their role is.
"These companies have adapted to the challenges of an ever-changing workplace by their commitment to inclusive, high-trust cultures where employees are treated as human beings first and foremost," says Michael C. Bush, CEO of Great Place to Work. "Congratulations to the Best Workplaces in Financial Services & Insurance."
In 2021, Mission Wealth was ranked #31 and #18 in 2020. To learn more about awards and rankings the firm has achieved, visit Awards & Rankings
About the Best Workplaces in Financial Services & Insurance™
Great Place to Work® selected the Best Workplaces for Financial Services & Insurance™ by gathering and analyzing confidential survey responses from more than 176,000 employees from Great Place to Work-Certified™ companies in the financial services and insurance industry. Company rankings are derived from 75 employee experience questions within the Great Place to Work Trust Index™ survey. Great Place to Work determines its lists using its proprietary For All™ methodology to evaluate and certify thousands of organizations in America's largest ongoing annual workforce study, based on over 1 million survey responses and data from companies representing more than 6.1 million employees, this year alone. Read the full methodology.
About Great Place to Work®
Great Place to Work® is the global authority on workplace culture. Since 1992, they have surveyed more than 100 million employees worldwide and used those deep insights to define what makes a great workplace: trust. Their employee survey platform empowers leaders with the feedback, real-time reporting and insights they need to make data-driven people decisions. Everything they do is driven by the mission to build a better world by helping every organization become a great place to work For All™.
Learn more at greatplacetowork.com and on LinkedIn, Twitter, Facebook and Instagram.
About Mission Wealth
Mission Wealth is a nationally recognized Registered Investment Advisory firm (RIA) founded in 2000 that oversees over $4.8 billion in client assets under management. Mission Wealth is known for its service model, driven by a world-class technology stack that offers financial planning, investment counsel, tax strategies, estate planning coordination, philanthropic advice, and risk management solutions tailored to each client's needs.
Mission Wealth's vision is to provide caring advice that empowers families to achieve their life dreams. Our founders were pioneers in the industry when they embraced the client-first principles of objective advice, comprehensive financial planning, coordination with other professional advisors, and proactive service. Mission Wealth is a fiduciary, and our holistic planning process provides clarity and confidence.
Copyright © 2022, Mission Wealth is a Registered Investment Advisor. All rights reserved.
ALL INFORMATION HEREIN HAS BEEN PREPARED SOLELY FOR INFORMATIONAL PURPOSES. ADVISORY SERVICES ARE ONLY OFFERED TO CLIENTS OR PROSPECTIVE CLIENTS WHERE MISSION WEALTH AND ITS REPRESENTATIVES ARE PROPERLY LICENSED OR EXEMPT FROM LICENSURE. PAST PERFORMANCE IS NO GUARANTEE OF FUTURE RETURNS. INVESTING INVOLVES RISK AND POSSIBLE LOSS OF PRINCIPAL CAPITAL. NO ADVICE MAY BE RENDERED BY MISSION WEALTH UNLESS A CLIENT SERVICE AGREEMENT IS IN PLACE.
To determine the 2022 Best Small Workplaces list, Fortune partnered with the people analytics firm Great Place to Work® to analyze anonymous survey feedback representing more than 280,000 employees working in small- and medium-sized businesses in the United States.
Employees responded to over 60 survey questions describing the extent to which their organization creates a Great Place to Work For All™. Eighty-five percent of the evaluation is based on what employees say about their experiences of trust and reaching their full human potential as part of their organization, no matter who they are or what they do. Great Place to Work analyzes these experiences relative to each organization's size, workforce make up, and what's typical relative to their peers in the industry.
The remaining 15% of the rank is based on an assessment of all employees' daily experiences of innovation, the company's values, and the effectiveness of their leaders, to ensure they're consistently experienced.
To be considered, companies had to meet the Great Place to Work-Certified standard. To ensure survey results truly represent all employees, Great Place to Work requires that Trust Index© survey results are accurate to a 95% confidence level with a 5% margin of error or better. We review any anomalies in survey responses, news, and financial performance to ensure there aren't any extraordinary reasons to believe we couldn't trust a company's survey results. Companies with 10 to 99 people were considered for the small list.