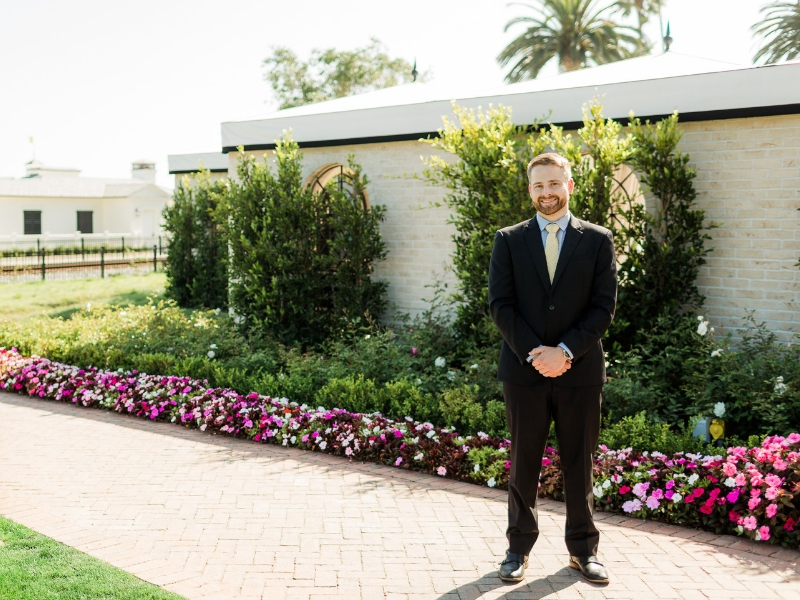 ---
---
Mission Wealth's Spotlight on the Team for November 2019 is Client Advisor, Wes Patton! Wes joined the Mission Wealth team in 2019. He holds an MBA from Chapman University, a Masters of Science in Financial Planning from California Lutheran University, as well as his CFP® designation. Learn more about Wes in this Spotlight on the Team interview!
What are a few childhood experiences you had that formed who you are today?
Growing up, I was really active with my local Boy Scout troop. I developed a love of nature and the outdoors. Some of the highlights are sailing around Florida, scuba diving in Catalina, backpacking in New Mexico, and getting to mentor younger members. Going on these outings and exploring nature showed me the beauty that the world has to offer, and the responsibility that we have to protect it.
How do you like to spend time outside of Mission Wealth?
I love to stay active. Since moving to Santa Barbara, I have spent a lot of time hiking around local trails and exploring the area on my bike. I also really enjoy seeing and performing live music, and spend a good deal of time outside of work with the worship band at my church, Reality Santa Barbara. 
Are you a raving fan of anything – like a sports team or band or school?
Growing up in Los Angeles County, I was raised as a die-hard Dodgers, Lakers, Chargers, and Trojans fan, and would usually go to at least one live game each season for each of these teams.
What's something interesting that people don't know about you?
I am very passionate about writing and performing music. I can play a number of instruments including guitar, bass, mandolin, and saxophone, but focus mainly on bass and guitar. Growing up, I spent a lot of time writing songs and performing with local bands, and even had the opportunity to perform at a number of festivals around the country.
If you could offer any advice to your younger self, what would it be?
Some of the most worthwhile and meaningful changes in your life coincide with some of the hardest and most frustrating points in your life. Don't focus on the struggle, but the opportunities that come out of it.
At Mission Wealth we talk to people all the time about what their goals and aspirations are. So what's on your bucket list?
I want to use my knowledge and passion to benefit my community and the world at large, and to explore the diversity and experiences that the world has to offer.
What do you think makes you well-suited for your current role?
My passion for financial planning and investment management, as well as a strong desire to grow and develop drew me to Mission Wealth. My experience building out financial plans and constructing portfolios for many different client types has given me the experience that I believe makes me well-suited for this role.
Is there something about your personality that guides your approach?
As someone who is genuinely curious about people and their experiences, I believe that learning about what makes someone different, their aspirations, and their values are just as important as knowing their financial details. Ultimately, I have much more conviction making a financial plan for someone who I know and understand than I would for a stranger.
What are your favorite kinds of clients to work with and why?
I like working with people like me: goal-oriented, driven, and relentless. I understand their motivation and values underlying their goals and decisions. If a client sees these same characteristics mirrored in me, than they can better appreciate the work that I do for them and lead to a deeper partnership.
What kinds of issues do you help your clients with and what kinds of unique services do you provide your clients with to help them with these issues?
One area of that I am passionate about is ESG, or Environmental, Social, and Governance investing. Many investors (myself included), place a priority on investing in firms that place a premium on environmental stewardship, social responsibility, and ethical corporate governance. I get a lot of satisfaction out of constructing an investment plan that not only allows a client to reach their financial goals, but that is also aligned with their personal values.
Success Story: Tell me an actual story about a client that you helped  and how you changed their life in a positive way.
Some of the most rewarding clients that I have worked with came to me with complex issues. As a complex problem solver, I loving finding unique solutions to complicated situations. One time, I was able to save a client more than $50,000 a year in underlying portfolio fees without triggering any taxes or transaction costs, and improving their overall risk and return profile. We were also able to move them down to a lower tax bracket through a combination of other strategies. Since much of this money was earmarked for their children, I was happy that I could optimize not only my clients reaching their goals, but their children as well, and provide value across a number of different metrics.
Give me one piece of financial advice you would offer clients:
Be clear and intentional with how you prioritize your different goals. Throughout life, there will be many goals and responsibilities that require you to make difficult decisions. Balancing lifetime financial goals, and understanding the trade offs, are vital to developing a plan that you can stick with.
What is a subject or area of finance that not many people know a lot about, but understanding it could really help their financial picture?
A lot of people rely too broadly on "rules of thumb" when making financial decisions. Commonplace standards can be great starting points, but any financial decision should be analyzed through the lens of someone's unique situation. The best financial habits and decisions are the ones that work best for a specific circumstance. This is one of the reasons why I believe having a a good advisor that is attuned to your financial picture is so important.
What are some important things to consider when choosing a financial planner?
While qualifications and experience are great factors to consider, I believe the most important factor is the connection that you feel to that advisor. Since the financial planning process is oftentimes personal, and touches many of the intimate details of one's life, working with an advisor that you are comfortable with is what will lead to a better planning relationship over the long run.
00351992 11/19