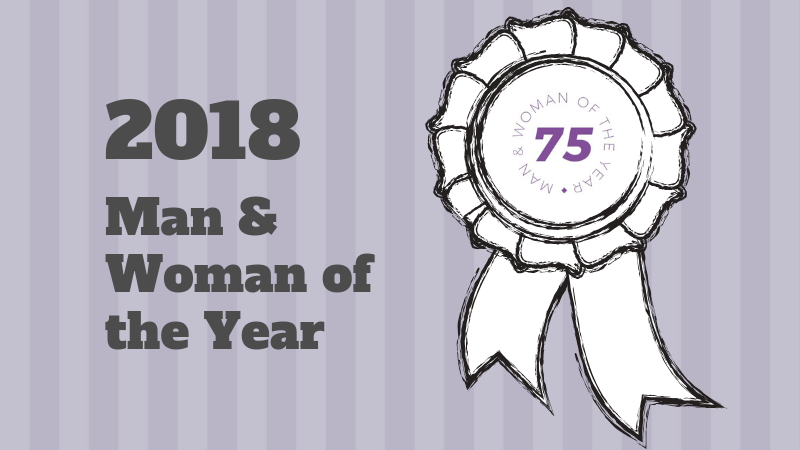 ---
On September 5, nearly 300 Santa Barbara community members gathered at the Biltmore's Coral Casino for the 2018 75th Annual Man and Woman of the Year awards, naming Ernesto Paredes and Joni Meisel as Man and Woman of the Year. The awards, bestowed by the Santa Barbara Foundation, honor individuals for their extraordinary service and voluntarism in Santa Barbara. Seth Streeter, Amanda Thomas, Geoff Gaggs, Jeff Avila, and Jessica Mora of Mission Wealth all attended to support the honorees.
The luncheon's program started off with S.B. Foundation Board Vice-chair Pamela Gann welcoming the guests and sharing how the event was started in 1942. Gallo emphasized the importance of voluntarism, calling it the best antidote to cynicism and a bridge to civility. He remarked on how "doing it, witnessing it, or being a recipient of what it heals always seems to make people a bit more optimistic." Before the main award presentations, Gallo recognized two other exceptional individuals: Abe and Jessica Powell of the Santa Barbara Bucket Brigade, for their fearless version of voluntarism in the recovery effort. In accepting a $10,000 check from the foundation, Abe Powell eloquently related how when we come together with compassion and cooperation, we can literally move mountains in this community.
Seth Streeter, in presenting the award to Paredes, his best friend, shared how Paredes is the voice for equality and the one willing to ask the tough questions and engage in difficult conversations. Paredes has been the executive director of Easy Lift Transportation for the past 23 years and Streeter noted how Paredes has excelled in that position while simultaneously being an advocate for the entire nonprofit community. He has served in leadership positions for a long list of nonprofits, including Hospice of Santa Barbara, Future Leaders of America, Court Appointed Special Advocates (CASA), Cottage Health, the Executive Director Roundtable, and Special Olympics of Santa Barbara. Paredes is also a six-time Ironman and volunteers every other year at the event. In accepting the award, Paredes displayed the humor he had been praised with possessing by sharing that he felt like he was at his own funeral.
Former Man of the Year Steve Lyons, in presenting Meisel with her award, noted how she approaches every endeavor with warmth, thoughtfulness, follow through, clarity, and amazing people skills, and proclaimed that she should be Woman of the Decade. By video, CALM CEO Alana Walczak praised Meisel for her many virtues and recalled how Meisel listened intently to her, making Walczak her feel like she mattered, and causing her to reflect on the thousands of other people Meisel has made feel like they mattered. Meisel has served in leadership capacities for many organizations, including CALM, the S.B. Public Education Fund (now S.B. Education Foundation) the Anti-Defamation League Santa Barbara/Tri-Counties, Santa Barbara Village, and Congregation B'nai B'rith.
Nominations for the awards can be made by anyone; the selection is made by a committee comprising past award recipients. The Santa Barbara Foundation, now in its 90th year, has more than $500 million in assets and strives to build philanthropy, strengthen the nonprofit sector, and solve community problems. Last year, it awarded $7.8 million in discretionary funds to S.B.-based nonprofits. It awarded another $18.5 million in donor-directed funds to nonprofits, a little more than half of which were based in Santa Barbara. On October 25, the foundation will reveal a new five-year strategic plan.
For more information about the Santa Barbara Foundation, go to sbfoundation.org.
---