Mission Wealth Announces Austin Merger with Mary Voll Miller and Alison Miller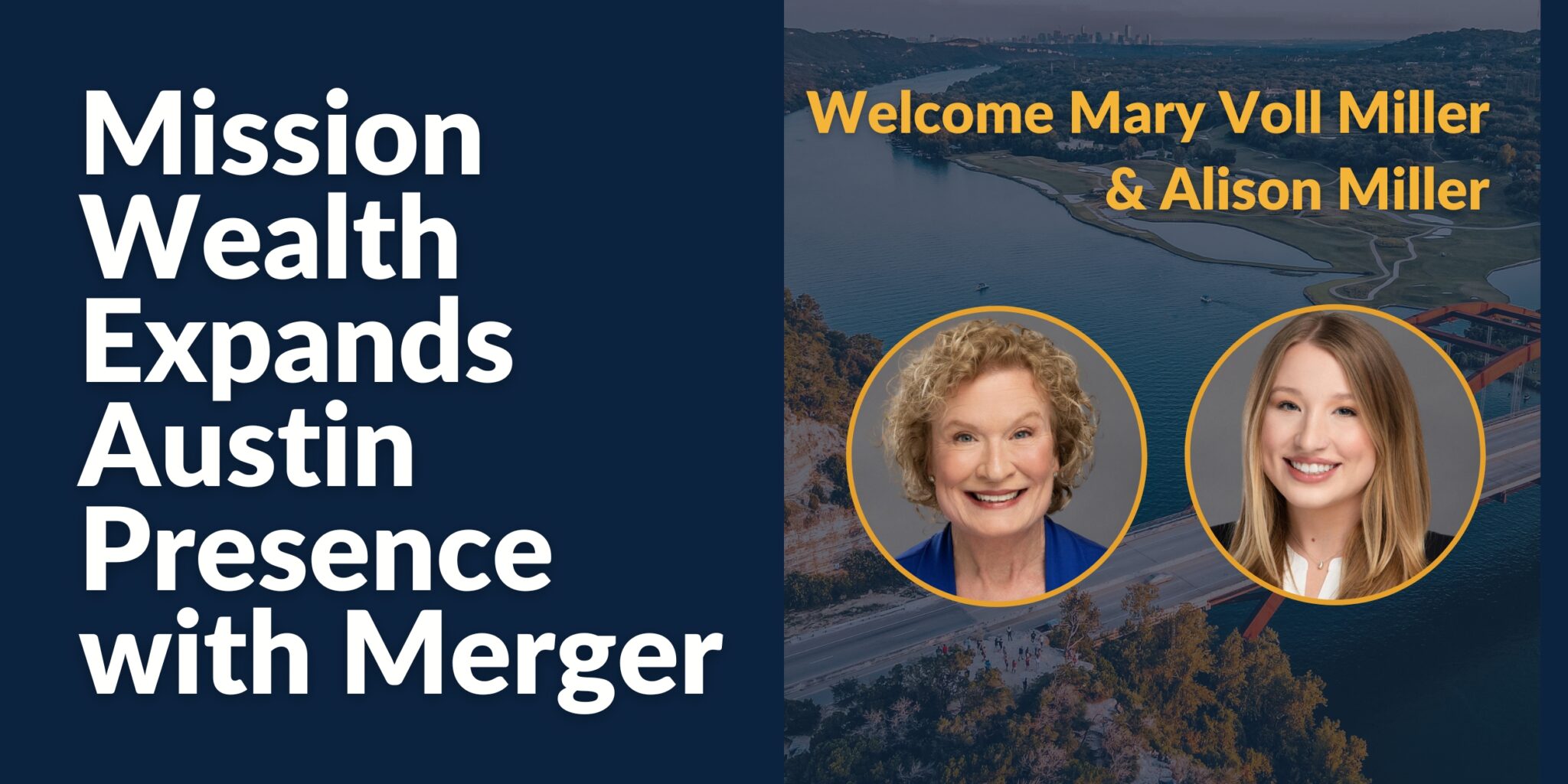 Mission Wealth is excited to announce its merger with a mother-daughter advisory team from Austin, Texas. Mary Voll Miller and Alison Miller are located in central West Lake Hills, Austin, and serve clients throughout the state of Texas and across the nation. The addition of this team strengthens Mission Wealth's existing client service experience and will enable Mission Wealth to better serve the needs of future clientele in this expanding region.
CEO Matthew Adams shared, "We are thrilled to welcome Mary and Alison to the team and know they will make an immediate impact within the firm. Both Mary and Alison demonstrate the highest level of professionalism, an incredible work ethic, and a clear passion to solve their clients' financial needs. From the moment we met Mary and Alison, it was clear to us that our shared values, our commitment to our teams, and our collective vision of the client experience would make this an ideal match."
Please read our full press release here. 
West Lake Hills, Austin, Texas Financial Advisors
Mary Voll Miller, CFP®, CDFA began her career as a broadcast television executive before transitioning into finance. Prior to joining Mission Wealth in 2023, Mary spent twelve years as Partner and Financial Advisor at Per Stirling Capital Management, and three years at Choice Asset Management, both in Austin, TX. Mary is a longtime volunteer at The Lake Travis Thrift Shop and is a member of The Ladies of Charity. She belongs to the Austin Chapter of the Financial Planning Association, where she served on the board of directors. Mary also served as an adjunct professor for the University of Texas Capstone Class of the Certified Financial Planning Certificate Program from 2016-2020.
Mary graduated with the highest honors from the University of Texas Financial Planning Certificate Program and has completed a specialized educational program in professional divorce analysis from the Institute for Divorce Financial Analysts (IDFA®). Mary is deeply committed to addressing the unique financial planning needs of her clients. She does this from a place of passion, with the heart of a teacher, and with deep care for her clients' wellbeing, specializing in working with fellow baby boomers and women in transition.
"We are delighted to partner with Mission Wealth and look forward to utilizing their amazing resources to help make our client experience even better! Having in-house access to tax, estate, philanthropy, and investment management professionals is a game changer and allows us to serve our clients with best-in-class resources, tools, and support." Mary Voll Miller added.
Prior to the merger with Mission Wealth, Alison Miller worked as a Client Service Associate at Per Stirling Capital Management. She found her calling in financial planning as a second-generation financial planner, following in the footsteps of her mother, Mary. Alison graduated with her Bachelor in Business Administration in Finance from St. Edward's University in 2021 and is currently pursuing her CFP® through the American College of Financial Planning. Alison is also a member of the Austin Chapter of the Financial Planning Association where she currently serves on the Board of Directors.
Expanding Women on a Mission at Mission Wealth
The addition of Mary and Alison strengthens our Women on a Mission group here at Mission Wealth. This array of female team members offers the advice and guidance women need in this new age. Our goal is to support a future full of strong, independent women, based on education, positivity, and empowerment. To learn more about our Women on a Mission initiative, visit our page.
Mission Wealth Proudly Serves Clients from 28 Locations
The addition of our West Lake Hills office expands our Austin presence to two full locations for clients to meet our advisory team. This also extends our office locations to 28 throughout the United States. To find an advisor near you, please visit our locations page.
Feel empowered with the confidence and resources you need to take control of your financial well-being.
Are you interested in working with a female advisor?
Advice for Women Investors at Mission Wealth
Mission Wealth was founded on a vision to empower families to pursue their financial dreams. That vision has grown into a mission to inspire people, optimize their finances, and achieve their life goals. With more women in a position to grow their wealth and take financial control of their own futures, in many cases for the first time, Mission Wealth has created Women on a Mission, a group of female wealth and financial advisors and strategists who share a passion to help other women achieve their financial goals.
Founded in 2000, Mission Wealth is a nationally recognized RIA that oversees more than $5.3 billion in client assets under management. Mission Wealth is known for its service model, driven by a world-class technology stack that offers financial planning, investment counsel, tax services, estate planning and philanthropic strategies, and asset protection solutions tailored to each client's needs.
If you are looking for more information about Mission Wealth's financial planning or wealth management services, please visit missionwealth.com.
00503296 04/23
Recent Articles for Women Investors