---
By Brad Stark, MS, CFP®, AAMS®, CMFC℠
Founder and Chief Compliance Officer
Over the years I've had the opportunity to play with some of the world's best golfers. This article is a great resource for you if you love golf, and more importantly, if you want effective, practical tools that can improve your game.

Here are some of my playing observations, after playing with: Jon Rahm (former #1 world amateur, 10 PGA victories, future-hall-of-famer in the works), Vijay Singh (former world #1, four majors, 71 victories), Dave Stockton (24 wins, 2 majors), Danny Willet (Masters), Gene Sauers (U.S. Senior Open), Scott Simpson (U.S. Open), Peter Jacobsen (23 wins) Doug Tewell (16 wins), Joe Ozaki (38 global wins) and congratulations this past week to Jared du Toit who picked up a victory down in Mexico in his third year as a pro.
Each one of these players approach the game differently. Rahm over powers the course and bombs it (best ball striker I have ever seen). Vijay is also long and solid all around. Stockton is a rather short hitter but anything within 100 yards is going down in two. Jared fired a 64 last year when we played together right before the LA Open at Riviera and it was a zero effort walk in the park for him (not so much for me). So how do they do it?
Vijay will say that you "throw" the club for speed and distance. Sauer's promotes shoulder turn. Rahm actually is not a technical guy, he just hits it (that's what happens when you are young, flexible and built like a NFL tight end).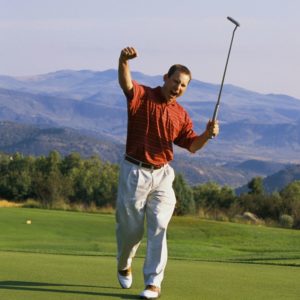 The one thing that all of these world class players have in common, amazing short games. Even when they are struggling they still seem to score well. And that is the major difference. When I was younger and could hit a long ball, I outdrove Stockton by 30 yards and lost by 15 strokes because my short game was a disaster. He was the most amazing putter and chipper I have ever seen. The pros make mistakes but they don't compound them. For example, on a par 5, Vijay missed his drive way right in the trees, punched it out, hit an 80 yard pitch pin high and made a 10 footer for birdie. For most players, that would be a double all day long.
For perspective, I took a look at the most current PGA Tour stats for the 50th best player in each category. We think they are perfect players on TV, but they are not. Which further points out how important the short game is. Further below I have put together a few of the best golf tip videos on the short game I have found. Hopefully they can help your game!
Top 50 Player Statistics for Perspective:
Driving Accuracy 67% (miss the fairway 33% of the time).
Greens in Regulation 72%.
Sand Saves 60%.
Putts per Round 28.5.
Three Putts only 1 over other round.
Scrambling Fringe 94%.
Scrambling Rough 61%.
Very few people are going to drive the ball 300+ yards but for the above players, only two did consistently (Rahm and Vijay). Get the ball closer, chip better, use fewer putts and suddenly scoring becomes your friend.
Watch some great videos on improving your Putting skills by clicking here and here.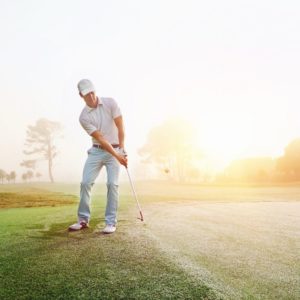 Pro-Tip for Chipping
The ball is really played off your right heel, line up, turn your feet toward the target, the ball will feel like it is behind you but it isn't.
Watch some recommended videos on boosting your Chipping skills by clicking here and here.

Pro-Tip for Wedge Fundamentals (if you watch nothing else, watch one of these!)
See the technique, and practice waist to waist shots. For me a 62 degree wedge flies 30 yards, 56 flies 40 yards, 50 flies 50 and so on works fine, see the video on high shots to adjust distance. For example, my stance change turns the 62 degree into either 10 or 20 yards depending on how open I rotate.
Pro-Tip for Green Reading (Aim Point System)
Walk the line with your eyes closed, feel the slope and how you naturally fall to one side or another. Stand 3 feet behind the ball on longer putts, close you non-dominate eye, 1 finger = 1% of slope, 2 = 2 degrees, and so forth.
For a double breaking putt, feel the break at the half way point. For short putts, 6 feet and under, stand directly behind your ball when doing the visual measurement.
Find a video of this by clicking here.
Are you living your life in a way that brings you joy and meaning?
Join the Inspired Living™ movement to elevate your past, present and future. Let us introduce you to prominent thought-leaders, life coaches, and influencers who can work together with you to develop your customized life plan. We will give you curated resources, actionable advice and targeted strategies during your journey of self-discovery. Then we will align your multi-dimensional and multi-faceted life with your ultimate vision so that you can become the BestU™ in your life journey. Learn More
00357709 01/20