How to Marry Family Legacy with Estate Planning and Wealth Management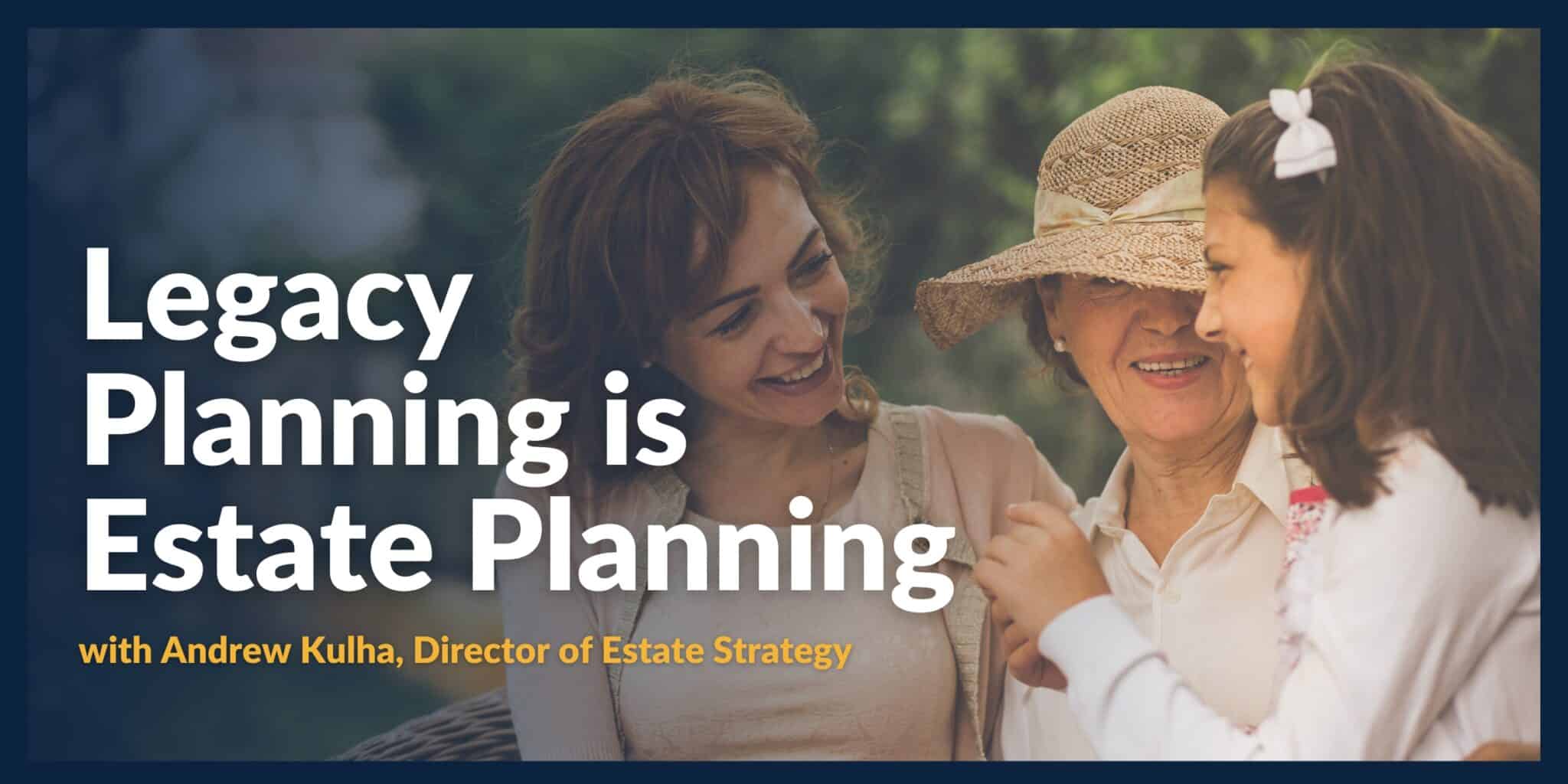 When talking about estate and legacy planning with clients, I like to start at the beginning, the "why" behind estate planning. Our clients ask us daily how to incorporate legacy planning into their wealth management approach. They're concerned about values, charitable intent, and honorable character traits, maybe more so than the transfer of assets themselves. We know that by 2030 baby boomers are set to pass more than $68 trillion to their children, the biggest wealth transfer ever, but what else will they pass down to the next generation? And how?
There are three important P's to keep in mind when you think of estate planning: Protection, Preservation, and Empowerment. 
The first two P's are fairly straightforward – we make sure we put an estate plan in place so we can protect our beneficiaries and preserve as much of our hard-earned wealth from unnecessary costs, delays, taxes, and expenses. However, the empowerment piece is the fun part of estate planning. Empowerment in an estate plan is thinking about the best ways to structure our plan to help our family, beneficiaries, and other charitable intents succeed long into the future.
Defining Your Family's Values and Mission (The "Why")
Estate planning is often (well, maybe not often by many, but in my practice it's quite often) referred to as legacy planning. It's important that we structure our plan so that our wealth gets to the right people and entities, but more importantly, in a way that honors our goals and wishes. One of the most important ways to ensure that you are setting up a solid, continuous legacy plan is to start by focusing on your family.
When I'm working with clients through the design of an estate plan to fulfill their legacy and empower the next generations, I ask them to stop and think about what it means to be a member of their family. Specifically, what does your last name mean to you? If you were to define your family values, how would you define them? Are you a family of hard workers? Are you philanthropic? Do you all care about leaving society a better place than you found it?
Once we've started that discussion, I'll often ask the family to go and think about what their family mission statement might be, based on some of the responses to the question first posed about what it means to be a member of their family. The family mission statement allows the members of the family to really dig into their raison d'être (reason for being). Is the wish to help the next generation succeed more than the previous generation? What does that success look like? Is it part of your family's mission to be charitable and support various organizations? 
Crafting a Custom-Made Estate Plan
By taking a deep dive into what exactly is a foundational value for each family, we can then start to craft the right, personalized estate plan for that family. For some, that may entail simply setting up generational trusts, with guidance on distributions – maybe beneficiaries are to receive more from the trust if they go into public service or volunteer outside of their careers. For others, charitable planning and charitable structures become a significant component of the plan, and we weave in ways for family members to benefit from family assets while also honoring charitable goals. This can involve charitable remainder or charitable lead trusts, donor advised funds, or less frequent family foundations.
There's more to the successful carrying out of a family's values and passing those from one generation to the next than the mere drafting of an estate plan, though. An equally critical part, and sometimes more challenging part, is getting the family to engage with one another, to talk about those values with one another, and then put them into practice.
Combining Annual Gifting with Charitable Giving: A Case Study
One such way might be to combine annual gifting with charitable gifting. For example, one of our client families stated they all get together for a large family event once a year. The heads of the family have started a tradition where they gift a certain dollar amount to each member of the family, with the caveat that at least half of each gift will be given to the charity of each member's choosing. Each year, the family members all present who they will be choosing as their charity and share the reasons why. It's a great way for them to put into practice one of their core values of charitable giving, and it doesn't hurt that the heads of the family also benefit from a tax perspective. In this instance, the giver/donor can receive a charitable deduction for the gifts they make, and they also shift assets from their estate into their other family member's, helping to reduce their potential estate tax liability down the line.
At some point, we will all pass on, but by proactively planning, understanding your family values, and putting those values into practice through a well-written estate plan and action, our legacy can live on well into the future. If creating a legacy for your family is something that is important to you, reach out to Mission Wealth and see how we can help you on that path today and provide long-term support for your family into the future, through our forward-looking financial planning, proactive tax planning, philanthropic advising, and estate and trust services.
Financial Guidance For Your Life Journey
Talk with a financial planner about your next steps.
Guidance For Your Full Financial Journey
Through our comprehensive platform and expertise, Mission Wealth can guide you through all of life's events, including retirement, investment planning, family planning, and more. You will face many financial decisions. Let us guide you through your options and create a plan.
Mission Wealth's vision is to provide caring advice that empowers families to achieve their life dreams. Our founders were pioneers in the industry when they embraced the client-first principles of objective advice, comprehensive financial planning, coordination with other professional advisors, and proactive service. We are fiduciaries, and our holistic planning process provides clarity and confidence. For more information on Mission Wealth, please visit missionwealth.com.
To meet with a Mission Wealth financial advisor, contact us today at (805) 882-2360.
00518169 05/23