Many families today are looking for planning and legacy tools to supplement their traditional estate planning documents. Beyond making sure taxes are paid and distributions transfer smoothly, families care about sharing values and carrying forward a lasting legacy.

Create a family mission statement
Although most parents tend to have implicit goals for their children — financial, professional, spiritual, physical, social, and emotional — these big ideas rarely translate into reality by accident. Intentional planning is required and writing a family mission and values statement can be a powerful foundation. In this personalized declaration, a family is able to outline their values and philanthropic priorities to establish a family's identity and to reinforce what is important to them. Examples include valuing integrity, work ethic, showing appreciation, or contributing to the community or the world at large.

Click on the image below for a handy worksheet to help you get started: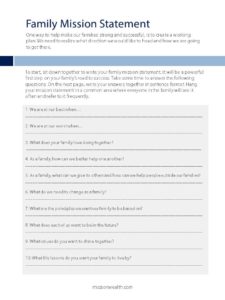 Record it!
Using video to share communication from grandparents to grandchildren may be a good way to memorialize these important family values. This does not need to be fancy; in this day and age everyone has access to a mobile phone with a camera included. Simply expressing to the camera what you appreciate about each of your family members, as well as sharing some of your greatest life lessons from your own personal successes and failures can be incredibly valued by your loved ones.
Tips to get started:
Consider using the family mission statement worksheet provided to help you gather your thoughts on what you want to say.
Write down your message to your family as a whole or to each individual family member separately.
Use your phone or computer and record your personal message, and then email or text it to them and your trusted professional advisor.
Try out voice memos. This is also an easy feature to record your thoughts and simply send them as an email or text to a loved one.
Having a shared vision along with a shared sense of values and purpose, bonds families together. It guides parenting decisions and offers children clear ideals to strive for and guidance in what choices to make. A mission statement also articulates the standards by which each member of the family can evaluate each other's behavior, and children and parents will ideally check and encourage one another as they make their way down this agreed upon path.
"A family mission statement is a combined, unified expression from all family members of what your family is all about — what it is you really want to do and be — and the principles you choose to govern your family life." – Stephen Covey
We wish you the best of luck on making the steps to create your very own lasting legacy!
942979 4/17