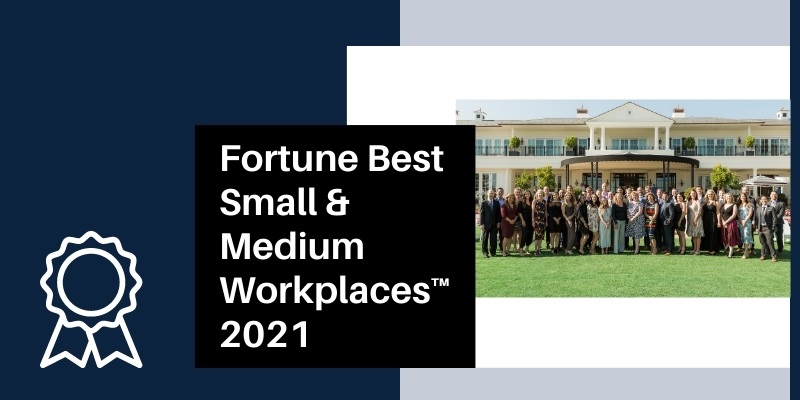 ---
---
Great Place to Work® and Fortune have honored Mission Wealth as one of the 2021 Best Small & Medium Workplaces™.
Fortune research partner Great Place to Work surveyed more than 840,000 employees at U.S. companies to find out which in the financial services and insurance industry rise above their peers by instilling trust—and allow members of their organizations to reach their full human potential. Those that made the list upended the stereotypes of greedy and heartless financial companies in 2020. They acted as generous corporate citizens amid a year of multiple crises, deepening employees' sense of purpose and commitment.
"We have always believed in a team environment based upon collaboration, support, sharing and caring for one another. It's fulfilling to experience the results of a true group effort." said Brad Stark, CCO and founder at Mission Wealth.
Great Place to Work, a global people analytics and company culture research firm, evaluated more than 60 elements of team members' experience on the job. These included the extent to which employees trust leaders, the respect with which people are treated, the fairness of workplace decisions, and how much camaraderie there is among the team.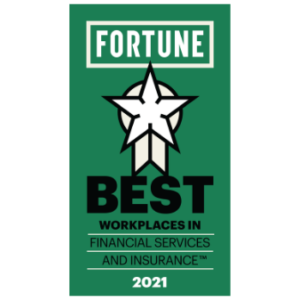 "Our secret sauce is simple. Operate from a place of caring; for our colleagues and their families, our clients and the communities we serve. With this as our foundation, our team is united and empowered to positively impact thousands of clients' lives across the country. We are so grateful for our team that is most deserving of this recognition." said Seth Streeter, CEO and founder.
The Best Small & Medium Workplaces stand out for excelling in one of the nation's most competitive marketplaces. Rankings are based on employees' feedback and reward companies that best include all employees, no matter who they are or what they do for the organization. Mission Wealth took the number 31 spot on the small workplaces list (companies with <100 employees).
"Best Workplaces like Mission Wealth have built dynamic, flexible, and transparent workplaces founded on trust," said Michael C. Bush, CEO of Great Place to Work. "This gives companies on this list a powerful opportunity not just to do well for their people, but also to do well for their businesses."
The Best Small & Medium Workplaces list is one of a series of rankings by Great Place to Work and Fortune based on employee feedback from Great Place to Work-Certified™ organizations.
About the Best Small & Medium Workplaces
To determine the 2021 Fortune's Best Workplaces in Financial Services and Insurance list, Fortune partnered with the people analytics firm Great Place to Work® to analyze anonymous survey feedback representing more than 840,000 US employees.
Employees responded to over 60 survey questions describing the extent to which their organization creates a Great Place to Work For All™. Eighty-five percent of the evaluation is based on what employees say about their experiences of trust and reaching their full human potential as part of their organization, no matter who they are or what they do. Great Place to Work analyzes these experiences relative to each organization's size, workforce make up, and what's typical relative to their peers in the industry.
The remaining 15 percent of the rank is based on an assessment of all employees' daily experiences of innovation, the company's values, and the effectiveness of their leaders, to ensure they're consistently experienced.
To be considered, companies had to meet the Great Place to Work-Certified standard. To ensure survey results truly represent all employees, Great Place to Work requires that Trust Index© survey results are accurate to a 95% confidence level with a 5% margin of error or better. We review any anomalies in survey responses, news and financial performance to ensure there aren't any extraordinary reasons to believe we couldn't trust a company's survey results. Companies with 10 to 999 people were considered for the small and medium category; companies with 1,000 employees or more were considered for the large category, and those that appear on Fortune's 100 Best Companies to Work For list are ranked first.
00398622 3/21