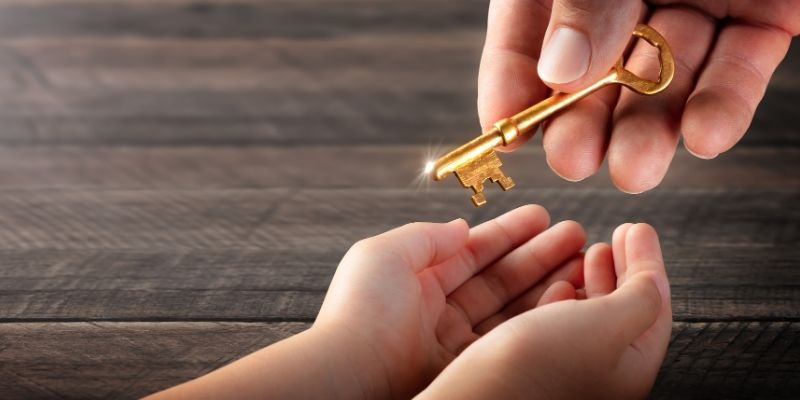 If you've received an unexpected wealth windfall, inheritance or have gained a large amount of wealth in a shorter than average time, an experienced financial advisor can work with you to optimize those funds. Read client advisor Jenna Roger's first-hand experience with an unexpected windfall.
---
By Jenna Rogers, MS CFP®
Client Advisor at Mission Wealth

A few years back my husband and I received a decent sized tax refund. He was a medical student at the time and not earning any income, so my tax withholding ended up being more than necessary. I was not fully prepared for my unexpected wealth windfall so I'm sharing my story to provide you with some tips for managing sudden wealth.
To this day, I could not tell you where that money went. Sure, I remember buying a few tops for work and going out to dinner a few times more than usual, but nothing that really stands out. Somehow though, after a few months, our bank account balance was back to normal as if the money had disappeared into thin air.
To say that I wasted an opportunity is an understatement. That tax refund – or any unexpected windfall, such as a bonus at work, an inheritance from a Great Aunt or a gift from a family member – could have made a substantial impact in our financial futures had I planned properly. I vowed from then on to plan in advance the best course of action for any surprise cash in our future.
1. Use sudden wealth to pay down debt.
15% credit card interest rate? 8% student loan interest rate? Over time, even small balances can become burdensome with interest rates so high. Take the unanticipated money and pay down debt, starting with the highest interest rate balances first.
2. Save your unexpected windfall and build a rainy day fund.
Living paycheck to paycheck is no fun. Open a savings account and designate it your rainy day fund to be used for emergencies only. It goes without saying that spending your emergency fund on new shoes is frowned upon.
3. Work with a financial advisor and invest in your future.
A financial advisor will be able to discuss your long-term goals and help to orient your finances to achieve them. Saving to a retirement account is also a great strategy. Whether it be a 401(k) through your employer or an IRA account, not only will your future retired self thank you, but you'll most likely get a tax deduction on any funds contributed for that year.
4. Change your life by investing in yourself.
Been thinking of taking an online course to further your job skills or maybe you've been eyeing that pottery workshop at the local art studio? Learning new skills not only keeps your brain challenged but could aid your career and improve your quality of life. Plus, it's fun to learn new things.
5. Buy experiences and plan a trip.
I am a strong believer that experiencing new places for the first time encourages growth and overall happiness. Monitor flight prices on kayak.com and be flexible. It's amazing what a little flexibility and Airbnb research can accomplish on a budget.
Work with a wealth manager to get the most out of your unexpected wealth.
If you've received an unexpected windfall, inheritance or have gained a large amount of wealth in a shorter than average time, an experienced Mission Wealth financial advisor can work together with you to ensure that you are managing your wealth optimally, investing your funds according to your risk profile, and are focused on achieving your long-term goals. Check out some services for emerging wealth and reach out to us with any questions.
How Mission Wealth Can Help
At Mission Wealth we work closely with you to identify your goals and build your roadmap, while helping you to consider your future options and optimize your financial security. To learn more, click here or reach out to our experienced team.
842767 2/16
---