Mission Wealth Certified as a 2023 Great Place to Work®
Mission Wealth is proud to be Certified™ by Great Place to Work® for the fourth year in a row. The prestigious award is based entirely on what current employees say about their experience working at Mission Wealth. This year, 100% of employees said it's a great place to work – compared to the average U.S. company at 57%. View Mission Wealth's company profile on this year's showcase page.
"We are honored to obtain Great Place to Work-Certified status for the fourth consecutive year as our employees are the core of our company and, ultimately, the ones who drive us forward," said Seth Streeter, Co-Founder and Chief Impact Officer. "Our goal is to create an environment of inclusion, integrity and excellence where people of all walks of life feel welcome and inspired. Achieving this status reaffirms our position as an employer of choice, creating a positive work experience for our employees across the country. We are proud to be among this group of phenomenal organizations that are being recognized."
Great Place to Work Certification™ is recognized worldwide by employees and employers alike and is the global benchmark for identifying outstanding employee experiences.
Company Culture at Mission Wealth
The employee experience below at Mission Wealth, compared to a typical company.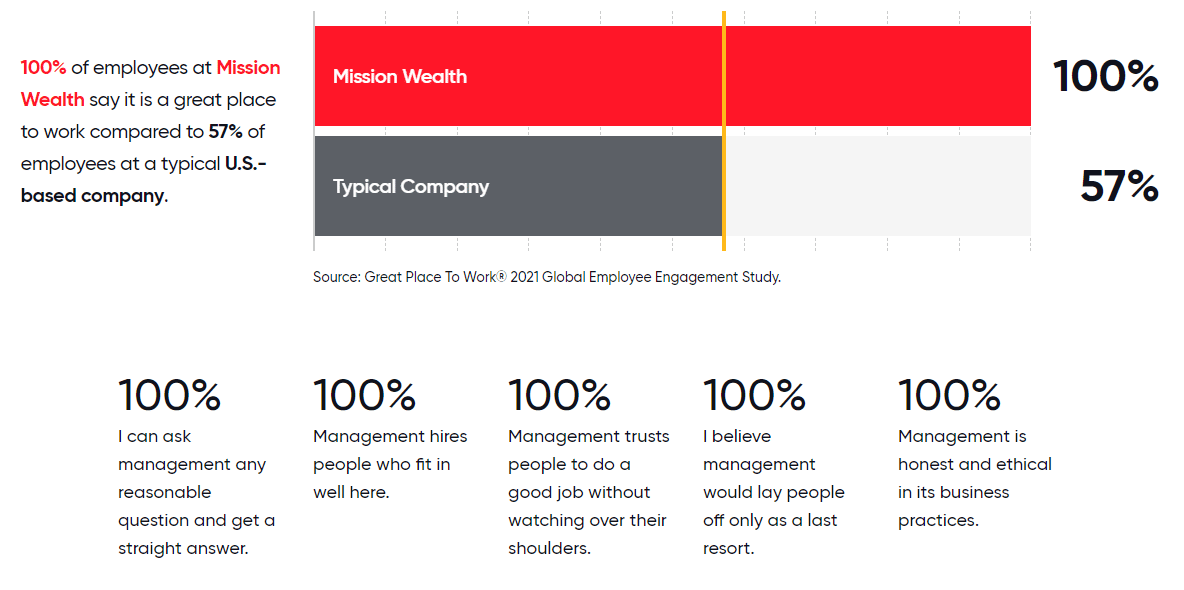 Mission Wealth has invested in its employees by fostering professional and personal growth through initiatives including affinity groups, like volunteering, fitness, book club, and Diversity, Equity, and Inclusion, while expanding the Women on a Mission group. We have expanded our onboarding process with a focus on mentorship, impact, the mission of Mission Wealth, our company values, and peer relationships. Mission Wealth also continued the  Mission Wealth MVP program, an employee award based on peer nominations and voting for the second year in a row.
Mission Wealth continued this focus of culture and impact at our annual employee retreat in Santa Barbara, California. While team members were welcomed from around the country, the retreat hosted team visioning exercises, group volunteering at a local beach clean up with Explore Ecology, as well as a fun atmosphere where team members got to know each other better over local excursions.
We have continued to advocate for social impact and environmental stewardship in the community, while also strengthening our relationship with nonprofits our employees are passionate about in their communities. Recently, Mission Wealth team members came together for the first annual Week of Giving. Throughout the week, employees volunteered together in their local communities throughout nine regions and varying from food banks to no-kill animal shelters. In the past year, Mission Wealth was able to contribute to more than 250 nonprofits across the country, as well as continuing worldwide impact, including the humanitarian effort in Ukraine. Mission Wealth continues to be a Certified Green Business and leads by example in how other companies can mindfully operate, purchase products, and reduce their carbon footprint. We also continued to foster a culture of caring and impact at Mission Wealth by implementing a Volunteer Time Off policy, where all employees have paid time off for volunteering in addition to our donation matching policy.
Why Work at Mission Wealth?
See what employees say about what makes Mission Wealth a great workplace. These words are drawn from employee comments on the Trust Index™ survey.

"Great Place to Work Certification™ isn't something that comes easily – it takes ongoing dedication to the employee experience," said Sarah Lewis-Kulin, Vice President of Global Recognition at Great Place to Work. "It's the only official recognition determined by employees' real-time reports of their company culture. Earning this designation means that Mission Wealth is one of the best companies to work for in the country."
According to Great Place to Work research, job seekers are 4.5 times more likely to find a great boss at a Certified great workplace. Additionally, employees at Certified workplaces are 93% more likely to look forward to coming to work, and are twice as likely to be paid fairly, earn a fair share of the company's profits, and have a fair chance at promotion.
About Great Place to Work Certification™
Great Place to Work® Certification™ is the most definitive "employer-of-choice" recognition that companies aspire to achieve. It is the only recognition based entirely on what employees report about their workplace experience – specifically, how consistently they experience a high-trust workplace. Great Place to Work Certification is recognized worldwide by employees and employers alike and is the global benchmark for identifying and recognizing outstanding employee experience. Every year, more than 10,000 companies across 60 countries apply to get Great Place to Work-Certified.
Great Place to Work® Trust Index™
All Mission Wealth employees were sent a survey from the Great Place to Work® team, Emprising. The survey asked questions to gain a detailed understanding of the data behind the firm's employee experience, including the organizational strengths and opportunity areas. The overall design included 60 core Trust Index© statements and two open-ended questions. Survey results were based on the 82 responses to the survey. The survey's scale measured consistency of employee experience: "almost always untrue" to "almost always true". Scores were presented in % positive: "often true" or "almost always true".
Methodology: Great Place to Work Certification for this year (2023-2024) leverages 30 years of research to quantify the current state of a workplace's culture and shows you how it compares to the best in the world. Mission Wealth applies to get certified and launches the survey to all employees in July of each year. Employees are asked but not required to complete the survey. At least 75% of employees need to fill out survey to be eligible for certification. The questionnaires are structured to make it equally easy for a participants to provide both favorable and unfavorable responses, and are not designed to produce a pre-determined result. The ward is presented for the current year that data was collected from it's employees. Mission Wealth paid a fee of $1,250 to apply and obtain logo rights for one year.
Survey results indicated that 100% of employees at Mission Wealth agree that the firm is a great place to work, compared to the benchmark of firms listed in the 2022 Great Place to Work® Global Employee Engagement Study, which was 57% (and all employees at a typical U.S. based company). This year Mission Wealth also ranked higher than the same benchmarked companies on average in credibility, respect, fairness, pride, and camaraderie. Visit Mission Wealth's company profile here to learn more about our results.
Financial Guidance For Your Life Journey
Talk with a financial planner about your next steps.
Guidance For Your Full Financial Journey
Through our comprehensive platform and expertise, Mission Wealth can guide you through all of life's events, including retirement, investment planning, family planning, and more. You will face many financial decisions. Let us guide you through your options and create a plan.
Mission Wealth's vision is to provide caring advice that empowers families to achieve their life dreams. Our founders were pioneers in the industry when they embraced the client-first principles of objective advice, comprehensive financial planning, coordination with other professional advisors, and proactive service. We are fiduciaries, and our holistic planning process provides clarity and confidence. For more information on Mission Wealth, please visit missionwealth.com.
To meet with a Mission Wealth financial advisor, contact us today at (805) 882-2360.
00527199 07/23