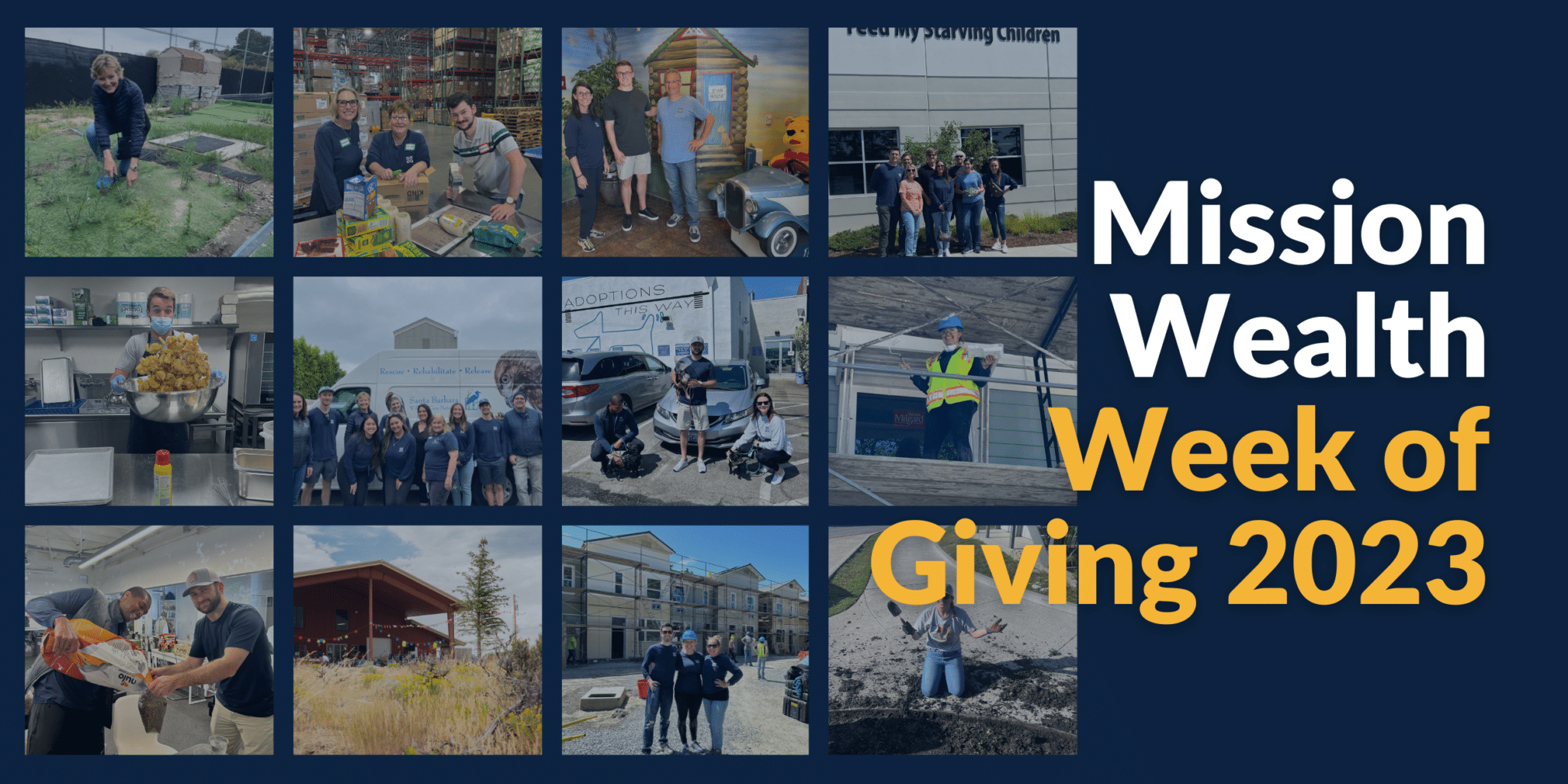 Recently, Mission Wealth team members came together for the first annual Week of Giving. Throughout the week, employees volunteered together in their local communities. Below are the organizations our teams chose and how they made a difference. Giving back continues to be a big part of Mission Wealth's culture and it allows us to stay close as a team and connected within the communities we serve. 
Austin, Texas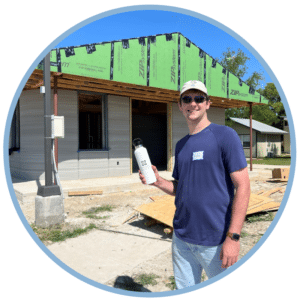 Community First! Village is a 51-acre master-planned community that provides affordable, permanent housing and a supportive community for the 328 men and women coming out of chronic homelessness. The master-planned community provides opportunities for the neighbors to earn their own income while contributing to the community, whether through their farm, greenhouse, selling art, or other avenues. While visiting the property, the Mission Wealth team helped with a landscaping project near one of the outdoor kitchen areas, with the goal of beautifying the area and making it more welcoming to their residents. To learn more about Community First! Village, visit www.mfl.org/community-first.
Chicago, Illinois
Hunger is still causing nearly half of the deaths in children under 5 years old and Feed My Starving Children believes hope starts with food. While volunteering at their Chicago location, team members packed 149 boxes and 32,184 meals. With their help, this will feed a daily meal to 88 local children for a year, the equivalent of $9,333.36 for these children. To learn more about your local Feed My Starving Children, visit www.fmsc.org.
Los Angeles, California
Wags & Walks is a dedicated community of dog lovers, working to reduce euthanasia in local shelters and increase awareness of rescuing animals. The no-kill shelter focuses on advocating for wrongfully stereotyped breeds, medical needs dogs, and pregnant dogs or puppies that are often overlooked at shelters. Since its inception in 2011, more than 7,250 dogs in need have been rescued and matched with their forever homes. While volunteering at their LA Adoption Center, team members were educated, walked dogs, packed food, played outside with a rescue dog, and more. To learn more about Wags & Walks, visit www.wagsandwalks.org.
Phoenix, Arizona
Ryan House provides a loving community where children with life-limiting or end-of-life conditions can truly be themselves and live their lives to the fullest in a safe, homelike environment. The organization has eight rooms used for respite or hospice care for children, with skilled staff on site. While visiting Ryan House, our team members received a full tour and then helped clean the entire outdoor environment and playground for their residents. To learn more about Ryan House, visit www.ryanhouse.org.
Park City, Utah
Nuzzles & Co. is a no-kill shelter in Summit County, Utah, and has saved over 25,000 pets since 1990. Local team members gave back at their Rescue Ranch, a 16,000-square-foot home for the dogs and cats in their program, built from the ground up by volunteers with materials donated. While at the ranch, volunteers helped with some landscaping in preparation for the Fly Free Memorial Celebration, an event honoring and celebrating the pets and people that we have loved and lost. To learn more about Nuzzles & Co, visit www.nuzzlesandco.org.
Walnut Creek, California
Our Bay Area team members joined Habitat for Humanity in Walnut Creek, California at the site of Esperanza Place, a neighborhood of 42 affordable homes. With the help of volunteers and donors – and the thousands of hours being put in by future homeowners – these homes are being built from sturdy foundations on which 42 families will build new beginnings. The Mission Wealth team enjoyed learning more about the work Habitat for Humanity is doing in local communities and spent the day painting on all levels of scaffolding and building awnings for the new homes. To learn more about Habitat for Humanity, visit www.habitat.org.
Santa Barbara, California
The Santa Barbara Wildlife Care Network provides rescue, treatment, rehabilitation, and release services to local Santa Barbara injured, sick, oiled, orphaned, and displaced wildlife while educating the public about the needs of at-risk wildlife and the challenges they face in the region. The center receives around 20-40 intakes of Spring babies a day and volunteers were ready to help! Team members came together and assisted with deep cleaning, laundry, dishes, as well as enclosure landscaping for incoming wildlife babies. To learn more about SBWCN, visit www.sbwcn.org.
Seattle, Washington
Team members in the Seattle area volunteered at the Ronald McDonald House Charities of Western Washington and Alaska to help prepare meals for resident families. The Seattle House has about 450 families staying throughout the course of the year with a 97% occupancy rate. The goal of the House is to help families as they focus on their child's healing – to ensure families don't have to worry about basics like a place to stay or where they will find their next meal. Volunteers helped prepare 150 meals for visiting families! To learn more about your local Ronald McDonald House, visit www.rmhc.org.
Greensboro, North Carolina
Too many families across North Carolina struggle to keep food on their tables – Mission Wealth team members chose Second Harvest Food Bank for their nonprofit in hopes to alleviate this local food insecurity. Second Harvest Food Bank's food sourcing operations have expanded beyond food recovery, as they continue to partner with retail grocers, farmers, food manufacturers, processors, and others to prevent good food from going to waste by instead distributing it to local food assistance programs. Every day, the organization moves between 35 and 40 tons of food to 515+ partner programs. While volunteering, the Greensboro team helped sort and box food for their community. To learn more about Second Harvest Food Bank, visit www.secondharvestnwnc.org.
Financial Guidance For Your Life Journey
Talk with a financial planner about your next steps.
Guidance For Your Full Financial Journey
Through our comprehensive platform and expertise, Mission Wealth can guide you through all of life's events, including retirement, investment planning, family planning, and more. You will face many financial decisions. Let us guide you through your options and create a plan.
Mission Wealth's vision is to provide caring advice that empowers families to achieve their life dreams. Our founders were pioneers in the industry when they embraced the client-first principles of objective advice, comprehensive financial planning, coordination with other professional advisors, and proactive service. We are fiduciaries, and our holistic planning process provides clarity and confidence. For more information on Mission Wealth, please visit missionwealth.com.
To meet with a Mission Wealth financial advisor, contact us today at (805) 882-2360.
00524175 06/23