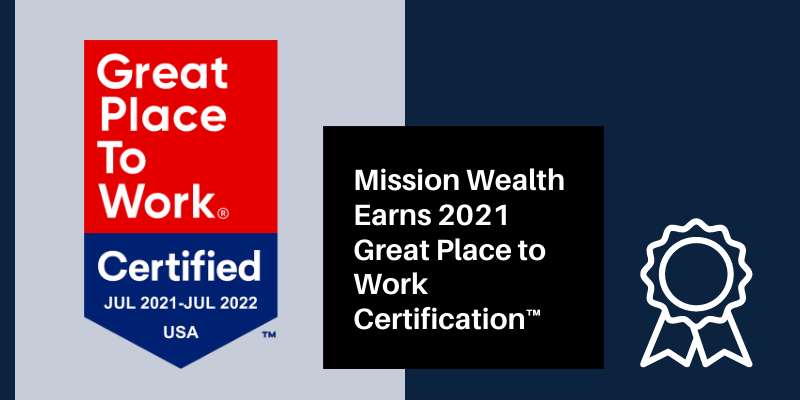 ---
---
Mission Wealth is proud to be Certified™ by Great Place to Work® for the second year in a row. The prestigious award is based entirely on what current employees say about their experience working at Mission Wealth. This year, 100% of employees said it's a great place to work – compared to the average U.S. company at 59%. Take a look at Mission Wealth's company profile on this year's showcase.
Great Place to Work® is the global authority on workplace culture, employee experience, and the leadership behaviors proven to deliver market-leading revenue, employee retention and increased innovation.
"When I look around the firm, I am proud to be associated with each and every person. Trust, caring, mutual respect, high moral character, smarts are not even a question but just a given. Each person knows without a doubt that everyone is working together as a team for a collective good. It's a wonderful and special environment. But it only happens because of who the people are in their hearts and minds. We are fortunate to have attracted more than our fair share." said Brad Stark, Founder and Chief Compliance Officer.


Company Culture at Mission Wealth
The employee experience below at Mission Wealth, compared to a typical company.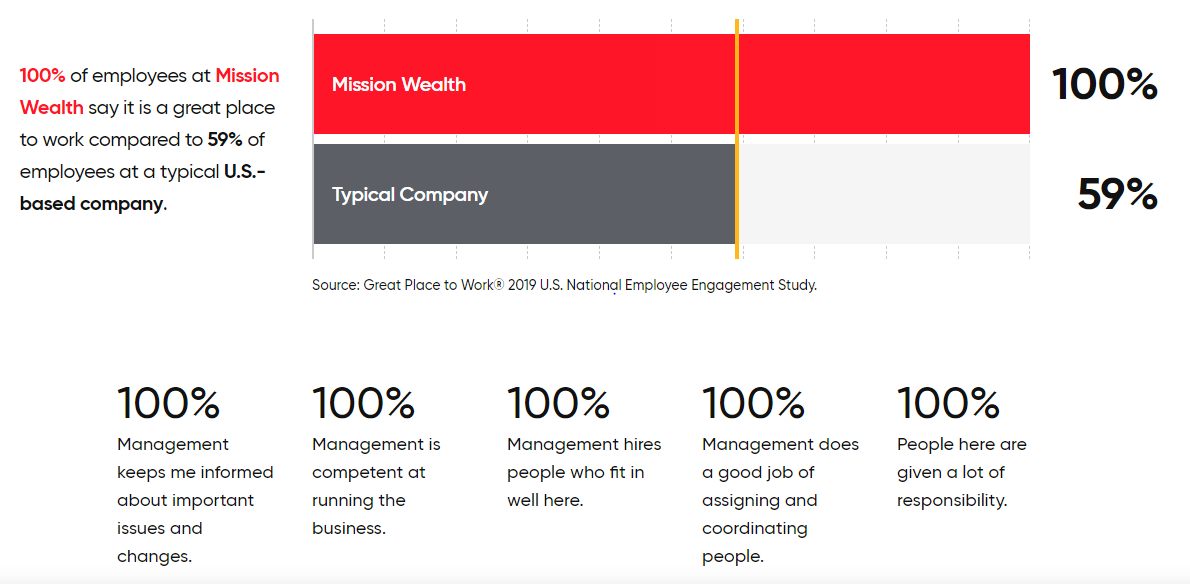 The last year with the pandemic was an opportunity for innovation, connection with our team and expanded impact in the community.
From a team perspective, we elevated our communications with multiple all team Zoom meetings every week, the launch of a peer nomination and voting recognition program, team led affinity interest teams – gardening, fitness, book club, personal growth and mixology – and an inspirational speaker series (such as the story of Hein Wagner, who was born blind and has gone on to live an extraordinary life). We started a mentor program for new hires and shared fun "happy hours" with ice-breaker games on interactive webinar platforms. We even introduced "playful breaks" into our normal team meetings such as hosting karaoke music breaks. J We also purchased new equipment and furniture for all team members to ensure their at home offices were fully functional. Our Women on a Mission program included periodic meetings and speakers for the female team members of Mission Wealth to provide support and empowerment.
In the community, we innovated a virtual holistic program series for clients and the public called Inspired Living. This included Wisdom Share programs where up to 90 participants crowdsourced ideas for how to have more abundance across 11 dimension of life (Impact, Emotional, Social, Intellectual, Physical, Fun, Spiritual, Career, Financial, Family and Environment). We also hosted Conversation Circles for Men and Women groups to discuss deep life topics in an intimate setting and INSPIREDtalks where we brought in subject matter experts to speak on various life dimensions (such as Dan Buettner on the Blue Zones and how to have more health and longevity).
We also actively advocated for social impact and the environment with community programs, hosted by our Chief Impact Officer, Seth Streeter, and via volunteering and sponsorships. In 2020, the Sustainability Symposium convened industry leaders to discuss leading sustainability initiatives. The Santa Barbara Eco Challenge team, led by Seth Streeter, came in 14th out of 818 global teams for completing sustainability actions. We also promoted voter registration and diversity and inclusion actions via campaigns and social media posts. Mission Wealth continued to support solarizing the local Museum of Natural History Sea Center that began in 2019. Seth Streeter was part of a local community group that led an ambitious campaign to preserve 100 acres of natural habitat from development. This effort achieved its goal of raising over $18 million dollars in a few months and now will preserve natural space and indigenous lands in perpetuity. Mission Wealth is a Certified Green Business and continues to lead by example in how other companies can mindfully operate, purchase products and reduce their carbon footprint.
Mission Wealth also formed a partnership with the Foundation for Financial Planning (FFP) to support their pro-bono financial planning programs for communities in need. We were also involved with sponsorships and volunteer programs with numerous nonprofits across a broad spectrum of causes that can be seen here. Giving back is a big part of our culture at Mission Wealth and it allows us to stay close as a team and connected within the communities we serve.


Why Work at Mission Wealth?
See what employees say about what makes Mission Wealth a great workplace. These words are drawn from employee comments on the Trust Index™ survey.

"Great Place to Work Certification™ isn't something that comes easily – it takes ongoing dedication to the employee experience," said Sarah Lewis-Kulin, vice president of global recognition at Great Place to Work. "It's the only official recognition determined by employees' real-time reports of their company culture. Earning this designation means that Mission Wealth is one of the best companies to work for in the country."
According to Great Place to Work research, job seekers are 4.5 times more likely to find a great boss at a Certified great workplace. Additionally, employees at Certified workplaces are 93% more likely to look forward to coming to work, and are twice as likely to be paid fairly, earn a fair share of the company's profits and have a fair chance at promotion.
About Mission Wealth
Mission Wealth is a nationally recognized RIA founded in 2000 that oversees over $4.25 Billion in client assets under management. Mission Wealth is known for its service model, driven by a world-class technology stack that offers financial planning, investment counsel, tax strategies, estate planning coordination, philanthropic advice, and risk management solutions tailored to each client's needs.
Mission Wealth's vision is to provide caring advice that empowers families to achieve their life dreams. Our founders were pioneers in the industry when they embraced the client-first principles of objective advice, comprehensive financial planning, coordination with other professional advisers, and proactive service. Mission Wealth is a fiduciary, and our holistic planning process provides clarity and confidence. For more information on Mission Wealth, please visit missionwealth.com.
Mission Wealth is a Registered Investment Adviser. This document is solely for informational purposes, no investments are recommended. Advisory services are only offered to clients or prospective clients where Mission Wealth and its representatives are properly licensed or exempt from licensure. No advice may be rendered by Mission Wealth unless a client service agreement is in place.
About Great Place to Work Certification™
Great Place to Work® Certification™ is the most definitive "employer-of-choice" recognition that companies aspire to achieve. It is the only recognition based entirely on what employees report about their workplace experience – specifically, how consistently they experience a high-trust workplace. Great Place to Work Certification is recognized worldwide by employees and employers alike and is the global benchmark for identifying and recognizing outstanding employee experience. Every year, more than 10,000 companies across 60 countries apply to get Great Place to Work-Certified.
Great Place to Work® Trust Index™
All Mission Wealth employees were sent a survey from the Great Place to Work team, Emprising. The survey asked questions to gain a detailed understanding of the data behind the firm's employee experience, including the organizational strengths and opportunity areas. The overall design included 60 core Trust Index© statements and two open-ended questions. There were 55 out of 65 responses from employees from June 1, 2021 to June 30, 2021, which was a high enough percentage of the firm's list eligibility. Survey results were based on the 55 responses to the survey. The survey's scale measured consistency of employee experience: "almost always untrue" to "almost always true". Scores were presented in % positive: "often true" or "almost always true".
Survey results indicated that 100% of employees at Mission Wealth agree that the firm is a great place to work*, compared to the benchmark of firms listed in the 2019 Best Small & Medium Workplaces list, which was 59% (and all employees at a typical U.S. based company). This year Mission Wealth also ranked higher than the same benchmarked companies on average in credibility, respect, fairness, pride, and camaraderie. Visit Mission Wealth's company profile here to learn more about our results.
About Great Place to Work®
Great Place to Work® is the global authority on workplace culture. Since 1992, they have surveyed more than 100 million employees worldwide and used those deep insights to define what makes a great workplace: trust. Their employee survey platform empowers leaders with the feedback, real-time reporting and insights they need to make data-driven people decisions. Everything they do is driven by the mission to build a better world by helping every organization become a great place to work For All™.
00410409 07/21