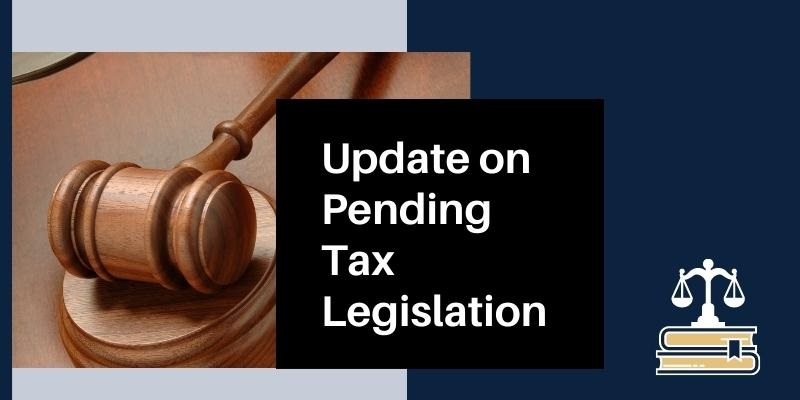 The House passed the Build Back Better Act on November 19. It will now go to the Senate where additional changes are likely. Read our article on the latest potential tax legislation updates.
---
---
Potential Tax Legislation - 2021 Build Back Better Act*
The legislation was passed in the House of Representatives.
The state and local taxes (SALT) limitation increases from $10,000 to $80,000 from 2021 through 2031.
Backdoor Roth strategies are being prohibited at all income levels.
A tax surcharge of 5% on income over $10 million. The surcharge will likely apply to trusts with income above $200,000.
An additional surcharge of 3% on income over $25 million. The additional surcharge will likely apply to trusts with income above $500,000.
The qualified small business stock exclusion will be reduced from 100% to 50% for those with income above $400,000. This change MAY be made retroactive to September 2021.
The 3.8% net investment income tax will apply to S-corporation earnings for single taxpayers with $400,000 of income and married joint taxpayers with $500k of income.
Tax Proposals by President Biden that will likely not happen
Increases to top ordinary and capital gains tax brackets to as high as 39.6%.
Reduction of estate exemption from $11.7m to $5m.
Elimination of step-up in basis at death.
The Senate will now discuss and likely make changes before voting on the bill. If the Senate does make changes, then the House will need to vote again to approve those changes. If the bill does get signed into law this year, then it will likely be in late December.
*Tax legislation is fluid and more changes could occur before the bill is signed into law. The House passed this legislation on 11/19/2021. It will now go to the Senate where additional changes are likely.
How Mission Wealth Can Help
At Mission Wealth, we integrate tax planning with your overall financial picture to help you reach your goals. We help you explore the most cost-effective solutions to help cover a number of possibilities. We have no proprietary products to sell and no quotas to fill. We simply offer independent, objective advice that serves your best interests.
Our Tax Management Services Include:
Estate Tax Reduction Strategies
Annual Tax Management Review (for Integrated Wealth and Private Clients)
Concentrated Stock Planning (Access to LPs)
Integration & Coordination with CPA on Tax Savings Strategies
MISSION WEALTH IS A REGISTERED INVESTMENT ADVISER. THIS DOCUMENT IS SOLELY FOR INFORMATIONAL PURPOSES, NO INVESTMENTS ARE RECOMMENDED. ADVISORY SERVICES ARE ONLY OFFERED TO CLIENTS OR PROSPECTIVE CLIENTS WHERE MISSION WEALTH AND ITS REPRESENTATIVES ARE PROPERLY LICENSED OR EXEMPT FROM LICENSURE. NO ADVICE MAY BE RENDERED BY MISSION WEALTH UNLESS A CLIENT SERVICE AGREEMENT IS IN PLACE.