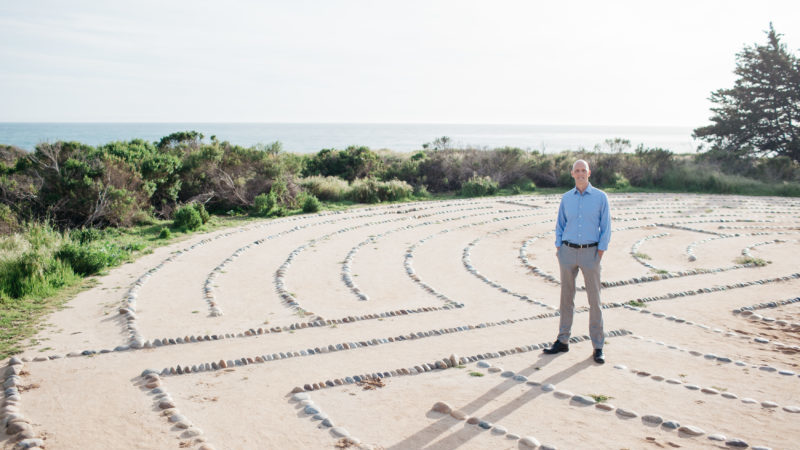 ---
Mission Wealth's Spotlight on the Team for November 2018 is Founder and Chief Impact Officer Seth Streeter. Seth has been in the financial industry for three decades and founded Mission Wealth in 2000. In 2017, he launched an innovative community building program called Sustainable Future where they are unifying nonprofits, businesses, schools, faith based organizations and the public sector to make Santa Barbara County a shining example for community sustainability. In this interview, Seth discusses growing up in Fort Collins, CO, offers a piece of financial advice and shares his passion for local and global organizations.
What are a few childhood experiences you had that formed who you are today?
We used to have a big Cottonwood tree in our backyard in Fort Collins, CO that I would climb up as a kid and sit with a notebook and come up with new invention ideas. I called it my Inventing Tree. I also started my own "businesses" as a kid; from reselling used golf balls I would dive in lakes near golf courses for, to lawn care, pet sitting, and to selling used mattresses I got from a local hotel when I was in college to help pay my school expense. I've always been willing to create things from scratch and think a little differently than others.
How do you like to spend time outside of Mission Wealth?
I'm soaking up the precious remaining years I have with my two teenagers at home before they head off to college. Every day I want to contribute to their lives and make positive memories with them. Aside from work and my kids, I am passionate about community service roles, especially my growing nonprofit. I also make time for exercise as my health, clear mind and energy are the fuel for all that I do.
Are you a raving fan of anything – like a sports team or band or school? And why?
Growing up in CO, I became a die-hard Denver Nuggets NBA fan. They have never made it to the NBA Finals and every year the optimist in me thinks "this could be our year".
What's something interesting that people don't know about you?
Where do I begin? I worked on a remote shrimp farm in Mexico during a summer while I was in college. I once was attacked by a sea lion while ocean swimming, and after joining a group of swimmers and kayakers for safety it swam right next to me for another mile never keeping me out of its sight. To this day, the Santa Barbara swimming community jokes that I have "sea lion mojo".
I enjoy adventure travel and have been off the beaten path in many incredible places, including: India, Morocco, Guatemala, Honduras, Cuba, Ireland, Nicaragua, Iceland, Turkey and many others. I also enjoy volunteering in these developing nations.
If you could offer any advice to your younger self, what would it be?
I don't need to be productive and high achieving to be worthy. Worry less about things and don't put so much pressure on myself. Things will work out just the way they are supposed to. Have more fun and relax. Oh, and enjoy your haircuts while you can get them because they won't last for long!
At Mission Wealth we talk to people all the time about what their goals and aspirations are. So what's on your bucket list?
I want to publish at least two books. One will be about designing and igniting a meaningful Life 3.0 vision. And the other will be a book of my poetry. One day I want to do an extended trip through Asia and I also want to take my kids on an African safari.
I want to build my nonprofit Sustainable Future so it can make a positive difference with regard to climate change concerns.
Are you a part of any organizations or clubs?
I've been an active member of YPO (Young President's Organization) for over a decade and I have held many leadership roles within it. It's an incredible organization of 25,000 leaders from around the world who are self-described as "Lifelong Learners".
I've also been a partner in the impact network, Social Venture Partners (SVP), for many years and I'm a lifelong member of the Santa Barbara Channel Swimming Association. I have proudly served on boards with numerous nonprofit organizations over the years and I have coached and served as referee for youth sports teams
What do you think makes you well-suited for your current role?
I am a natural connector so I love meeting with clients, prospective clients, team members, potential team members and business partners. I see myself as an ambassador and champion for culture for Mission Wealth.
I am always looking at ways we can evolve as a company and I'm willing to think outside of the box. This is fueling my leadership in the area of holistic wealth management, where we help clients optimize their life goals as well as their financial ones.
Is there something about your personality that guides your approach?
I'm an optimist and think of myself as the Chief Energy Officer (CEO) of the company. I operate from a lens of finding and maximizing opportunity for all.
What are your favorite kinds of clients to work with and why?
Nice people who want to make a difference as a general answer. I really enjoy working with executives and independent women who have just gone through a transition such as a divorce or loss of a spouse.
What kinds of issues do you help your clients with and what kinds of unique services do you provide your clients with to help them with these issues?
Of course everything financial. From high level planning and asset management to helping people retire in comfort. But this is just the beginning. What I really love to do is to also help clients optimize their lives across 9 other dimensions of wealth. From finding purpose and ways to make a positive impact, improving health and well-being, deepening relationships and making bucket list experiences come alive – I love to help people dream big and make their dreams come true.
Give me one piece of financial advice you would offer clients:
Having wealth first begins with having an abundant mindset. Let go of self-limiting beliefs and invite the career, security and financial successes you desire. Then develop a plan that clearly outlines what actions you and others need to take to get you there. And then fully commit to make this plan, this vision for your life, come true. Tell others about it so you are accountable. And then execute, execute, execute. Results come from developing consistent habits. As Ralph Waldo Emerson said "We form our habits and then our habits form us".
What is a subject or area of finance that not many people know a lot about, but understanding it could really help their financial picture?
Don't just chase money, chase living a fulfilled and impactful life. The sooner you make this your focus, the better.
What are some important things to consider when choosing a financial planner?
Can you trust them? Can you trust that their firm has a business structure that is aligned with your best interests? Have they demonstrated their technical competence, strong follow through and communication skills?
1085735 11/18
---