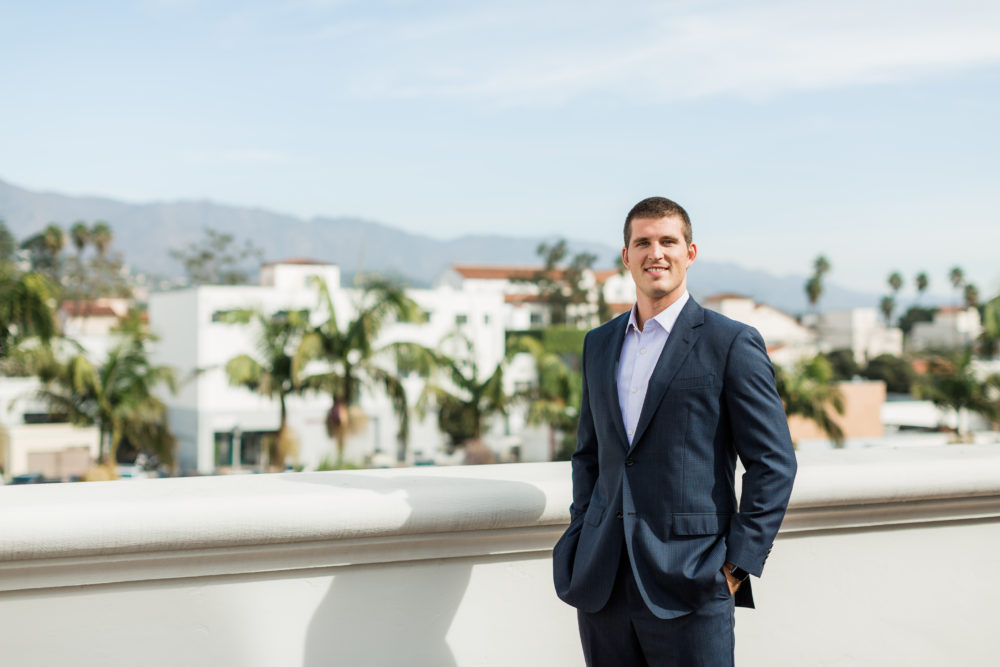 ---
Client Advisor Ryan Niedbalski is the focus of our spotlight for May 2018. In his role at the firm, he works to understand client needs and develops investment, estate, and financial planning strategies to best meet clients' current and long-term goals. He takes pride in helping clients learn how to put their hard-earned savings to work and see their legacies develop. An alum and a lifelong fan of Louisiana State University, Ryan is busy on autumn Saturdays watching Tiger games.
At Mission Wealth we talk to people all the time about what their goals and aspirations are. So what's on your bucket list?
I am fortunate to come from a rather unconventionally large and extended family. However, we are all relatively spread out geographically and spending more time with them is always on top of the list. There is no substitute for family or close friends and maximizing the amount of memories with them is priceless.
I'd like to do more traveling, especially in Europe. When I was an infant, my family spent a year in Heidelberg, Germany. The only memories I have are snapshot pictures of me chasing the pigeons in the park (which I certainly never caught) and that of my older sister dressing me up in a ridiculous reindeer suite for Christmas. I'd like to return and add some additional memories to that list.
Are you a raving fan of anything?
Where I come from, weddings on Saturdays in the fall are considered sacrilegious – that might be a slight indication of how much of a Louisiana State Tiger fan I was raised to be. Growing up, I was fortunate enough to attend nearly every LSU game in the same seats that have been passed down through my family – and I have all the big game ticket stubs to prove it. Those who know me best understand that I have not, and will not, miss the Tigers playing football on Saturday.
If you could offer any advice to your younger self, what would it be?
Probably to slow down and enjoy the journey – especially career-wise. It was always difficult to swallow the reality that you are just some of the things you don't quite know yet and, in this industry, there is simply no way to "fake" experience (nor should you try). I've been reminded multiple times that people are more influenced by how much you care than how much you know. I know that my heart was always in the right place so, had I heeded those words of wisdom, I might have been a little easier on myself along the way. With that said, I'm glad I was raised to never settle!
What do you think makes you well-suited for your current role?
Having an understanding that wealth management is really a lot less about the investments and "money" than people think. Most of our clients have already done the hard work to put themselves in a great place financially. The real value is helping them understand how to put their nest egg to use in a fashion that they can feel proud of – and doing so in a financially strategic way. After working through some in-depth planning, there often comes a point in time when people realize that their longevity is secure and it's no longer the ending investment balance that matters, but rather the legacy they have created and left behind. Here we can help our clients understand how best to leverage their life's savings to achieve what makes them feel good inside. Certainly the fundamental investments, tax saving strategies, etc. matter, but moving beyond the dollars and cents is where we can make the largest impact.
Is there something about your personality that guides your approach?
To discover what our clients are truly trying to accomplish with their life's savings beyond simply protecting and growing the portfolio, it means that we are generally asking personal and, at times, invasive questions. This can be tough on people as it requires someone to be open and honest in a conversation that traditionally revolves around investments and money only.
I've found that it's only fair for someone in our position to be equally as open in order to build trust and create comfort. While I am certainly lacking in many other areas, I consider myself fortunate that it's somewhat easy for me to be vulnerable just as I am asking someone else to be.
What is going to be your main focus in the coming years?
Continuing to help our clients, certainly myself included, remember to think logically about our investments and financial plan amid all the uncertainty and madness we are surrounded by. It wouldn't take long to make a very compelling list of both 10 reasons "why and why not" to be excited or terrified of the markets. Time has proven that one of the main inhibitors to accumulating long-term wealth is letting emotions affect investment decisions. Even the most intelligent, wealthy, and seasoned investors forget that at times. "Thinking Fast and Slow" by Daniel Kahneman is a fantastic read on the subject of behavioral finance and explores this topic thoroughly. He was awarded a Nobel Prize for his work.
There is always room to do a better job of helping our clients obtain the peace of mind and understanding that their long-term strategy is sound and one that is going to allow them to achieve all of their goals – both financially and personally.
What is a subject or area of finance that not many people know a lot about, but understanding it could really help their financial picture?
This is certainly not new, but is always worth restating – live within your means. Nearly all financial plans work out well if one understands what spending habits can be supported by their assets and sticks to those. As with most things in life, it's important to only try to control what you can actually control. From an investment and planning standpoint, that means controlling both the risk you subject yourself to and your lifestyle habits. One also needs to accept the fact that they can't control or predict the direction of the market over long periods of time (regardless of the many pundits and fund managers who claim the ability to do so). If you control what you can and invest wisely over a long period of time, the rest generally takes care of itself.
1042373 5/18
---