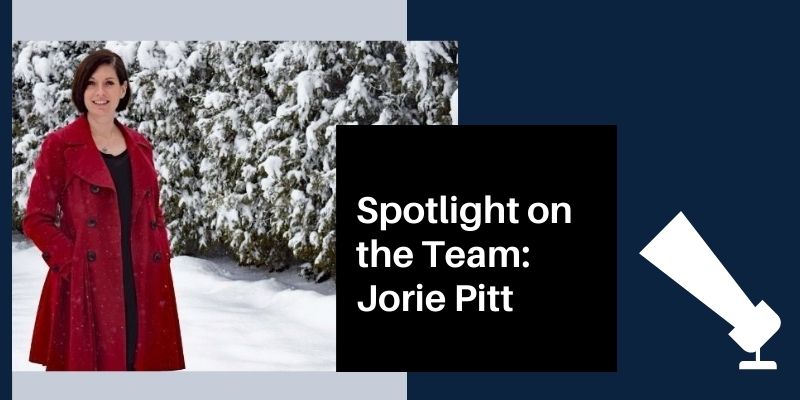 ---
Each month at Mission Wealth, we interview a new team member and publish the interview in a spotlight article. This month, we talked to Client Advisor
Jorie Pitt
and learned about her role as a financial advisor in the Chicago area, her CeFT® designation, some of her memorable childhood experiences, and also learned some financial advice. Learn more about our Jorie in this interview.
---
What do you think makes you well-suited for your role as a fiduciary financial advisor?
I always wanted two things from the career that I chose. I wanted to work closely with people and I wanted to feel like I was providing a service that helped to improve someone's life. I'm happy to say that I have both of these in my current role as a certified financial planner (CFP®) at Mission Wealth.
Financial planning is a really great mix of technical and personal. I spend a lot of time educating myself to make sure that I stay current with financial news and any changes taking place in financial, investment and tax planning. That helps satisfy my technical curiosity while the remainder of my time is spent in meetings with clients and helping them put in place plans to meet their life goals. It is all very satisfying!
Is there something about your personality that guides your approach?
I am a good listener which I believe is a very important trait for a financial planner. It is my job to listen to my client in order to understand their situation and their needs. Only then can I help them to create a personalized financial plan to meet their individualized financial goals.
Tell me about the Mission Wealth Chicago, IL office.
One of the great things about being a financial advisor is that I can do it from anywhere – in person or virtually. My main office is in St. Charles, Illinois. St. Charles is a wonderful family-friendly suburb of Chicago. It's a large town but somehow manages to maintain a close-knit, small community feel which I really love.
I also meet with clients out of our Chicago office. It's a great change of pace to leave the suburbs some days to go to the big city. On days that I work in the Chicago office I always try to find something fun to do in the evening before heading home. There is never a lack of options!
Finally, several times a year I also meet clients in our West Des Moines, Iowa office. I always enjoy my trips to Iowa and look forward to my return visits. I'm planning to try and schedule my next trip to coincide with the Iowa State Fair since I've heard it is a must-see!
What are your favorite kinds of clients to work with and why?
I enjoy working with a wide variety of clients. However, I have developed a specialty working with individuals who have experienced a 'sudden money' event in their life. A good example of this is someone who has recently received an inheritance. I enjoy the opportunity to help these clients learn how to effectively integrate their new-found wealth into their life. The level of interaction with a sudden money client tends to be deep as we engage in conversations about how they want to use their money and then work together to create a plan to bring their vision to life. I feel a great sense of satisfaction when I am able to help someone through a complex and emotional time of their life and see them emerge from the transition in a happy and secure place.
What is a Certified Financial Transitionist™ (CeFT®)? How does it affect the services you provide your clients?
I find that most clients who seek out a financial planner are going through or about to go through a transition (retirement planning, purchasing a new home, career change) and I'm able to apply my CeFT® training to help guide them through the decisions that they need to make.
A Certified Financial Transitionist™ is a financial planner that is trained to help clients navigate through major life events and the financial transitions that accompany them. Individuals going through major changes have life altering decisions to make and a CeFT® is educated to guide them through not only the technical decisions but also the emotional and psychological aspects of financial planning.
Tell me an actual story about a client that you helped and how you changed their life in a positive way.
I was approached by a recent widow who was grieving the loss of her husband and feeling very overwhelmed by all the financial decisions that she had to make. She and her husband had worked with a financial advisor but she was feeling pressured by that advisor to get things done and she didn't feel that she fully understood all of her options. To lessen the stress and worry for this client, at one of our first meetings we took the time to brainstorm all of the things that she had to do. It was a long list! Next, we took that list and we prioritized everything by determining if it had to be done now, soon or later. Once that was done, we filed away the soon and later lists and ONLY concentrated on what had to be done now. This simple exercise helped improve her mood and her focus because suddenly she had an achievable amount of tasks to accomplish.
Over the course of the next few months, I worked closely with this client to educate her about her options and to dialogue with her to help her make decisions that made the most sense for her. As time progressed, our meetings turned to discussing how she envisioned her life in the future. This was very unclear for her when she first came to me, as it is for most people soon after losing a spouse. However, eventually, the need to begin moving forward with her life emerged. It was at this point that we deployed a more technical financial planning analysis to determine what she could afford to do in terms of a home purchase, travel and gifting to her children.
What are a few childhood experiences that formed who you are today?
My childhood job as a golf caddy at Midlothian Country Club was very influential in my early life and taught me many life skills that I still use. I started caddying when I was 14 because my big brother was a caddy. It was a great job for a teenager but you learned quickly to become self-motivated if you wanted to be successful.
As a caddy you didn't have set days or hours. If you wanted to work that day, you just showed up in time for roll call. Everyone would dump their badge in a box and the caddy-master would pull badges out one at a time to determine the order that caddies would get assigned to golfers. If your badge was pulled late, you could end up sitting around the caddy shack all day waiting for your loop (and not getting paid). My brother and I used to get up extra early and get to the golf club well before roll call. Almost always, we were able to get assigned to an early foursome that teed off before roll call occurred – and then we'd be done working and home by 11 am!
Through my job as a caddy, I also learned how to interact with all types of people. I loved all of the different personalities that I got to meet out on the golf course. As a high school girl I learned early that talking to the CEO of a major corporation wasn't any different from talking to my high school math teacher. As I got older, the time I spent as a caddy for highly successful business people helped me feel less intimidated by their positions and allowed me to more fully see and understand the person behind the title.
Caddying continued to influence my life through college as I was honored to be the recipient of the Chick Evans Scholarship which is a 4-year full ride scholarship for caddies. Many doors were opened for me due to the summer job I chose as a teenager, and I am very thankful for the experience.
How do you like to spend time outside of Mission Wealth?
I enjoy spending time with my husband, Stephen, when I'm not working. We tend towards being homebodies and you can often find us hanging out in our backyard which we spent a lot of time and effort designing to our tastes. We love entertaining and having friends and family over to enjoy a backyard bonfire.
In 2015, we rescued our dog, a pit bull named Bosco, and we spend a lot of time taking him on "adventures" to local forest preserves and state parks. When we aren't at home, we do enjoy traveling and aim to do at least one big trip and a couple smaller trips each year.
What's something interesting that people don't know about you?
I originally planned to major in vocal performance in college. I auditioned for the music programs at several schools and was accepted to the Musical Theater program at Northern Illinois University. However, I had won a full-ride scholarship to the University of Illinois but was not accepted to their music program. In the end, I decided to accept the scholarship and change my major.
Are you a raving fan of anything – like a sports team or band or school?
I wouldn't go so far as to say I'm a "raving" fan, but I am a fan of the Chicago White Sox. I met my husband, a huge White Sox fan, in 2004 and he started taking me to a lot of games. Then came the incredible 2005 season when the White Sox won the World Series and I was hooked! They haven't won a World Series since but I still enjoy following the team and love going to the ballpark for a game.
If you could offer any advice to your younger self, what would it be?
I would tell my younger self to be more accepting of uncertainty and to be less fearful of failure. I've always been a planner and I like to know what to expect for the future. However, as I've gotten older I realize that life doesn't always go as planned and that life is often at its most interesting when you take chances and divert from the planned route (within reason!). One of my favorite quotes by Winston Churchill says it well: "Success is not final, Failure is not fatal, It I the courage to continue that counts".
At Mission Wealth we talk to people all the time about what their goals and aspirations are. So what's on your bucket list?
In the past few years, a lot of my goals were home improvement projects. That list is now getting pretty short so my new bucket list is heavy on travel! The next international trip on my list is Italy and in the U.S. I'd like to visit all of the National Parks.
Are you a part of any organizations or clubs? Tell us more about it.
I volunteer at the West Suburban Humane Society. This is a wonderful organization that rescues cats and dogs and works to find them permanent homes. I volunteer at the adoption desk and help guide individuals and families through the process of finding their new furry family member.
What are some important things to consider when choosing a financial planner?
There are many technical areas you should consider when choosing a planner. For example, the planner's credentials, investment philosophy and how they structure their fees. However, I believe that a very important non-technical consideration is personality. You will be sharing a lot of personal information with your financial planner so it is important that you feel comfortable with that person and that they have a style of communication that works for you.
What is a subject or area of finance that not many people know a lot about, but understanding it could really help their financial picture?
Tax planning. Our tax code is quite complex and there are many financial planning and investment decisions that can be made to help manage the total taxes an individual might pay over their lifetime.
Give me one piece of financial advice you would offer clients.
Know where you are spending your money. I know this sounds like simple advice but most people do not have a good handle on how they are spending their money. I go through a cash flow exercise with all of my clients and it is often very eye-opening for them when they discover where they are spending their money. Oftentimes they find that their spending patterns are not aligned with their personal goals and values.
00391102 02/21
---