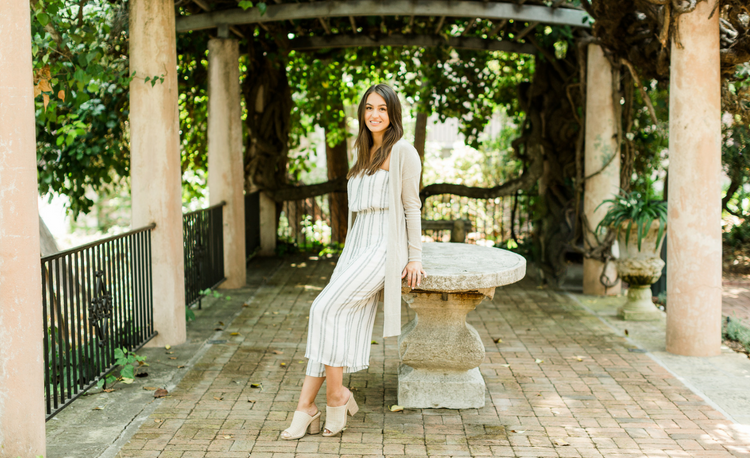 ---
---
Mission Wealth's Spotlight on the Team for August 2018 is Client Advisor Jessica Mora. She has been a part of the Mission Wealth team since 2017. In this interview, Jessica discusses growing up on the Central Coast, her love of the outdoors and her interest in behavioral finance.
What are a few childhood experiences you had that formed who you are today?
I grew up in Santa Ynez Valley, which is a pretty small town. It gave me an appreciation for the outdoors, having a close circle of friends, and being active playing sports. All of those things still ring true to this day.
How do you like to spend time outside of Mission Wealth?
Outside of work I spend a lot of time with friends and family. I feel very fortunate to have most of my immediate family and a great group of friends in close proximity. I also make it a point to spend at least an hour or two outside every day, usually doing something active.
Are you a raving fan of anything – like a sports team or band or school?
I'm a big fan of happy hour. I would rather hang out and snack over a glass of wine than have a big meal most nights of the week. My sister and I have a tradition of making a cheese and charcuterie board whenever we get together.
Do you have any pets? Are you a dog or a cat person?
I don't have any right now, but growing up we always had pets. I would love a dog one day (Doberman Pinscher), but for now I just don't have the space for one.
What's something interesting that people don't know about you?
Recently I started taking boxing lessons once or twice a week. On top of being a great workout, it's been really fun to learn a new sport. There's so many different things to be thinking about in the moment that you have to completely disconnect with everything else going on, at least for an hour.
If you could offer any advice to your younger self, what would it be?
Never be afraid to try something new.
At Mission Wealth we talk to people all the time about what their goals and aspirations are. So what's on your bucket list?
I definitely want to start traveling more. I've never been to Europe, and Spain is at the top of my travel list. Glamping in Zion National Park and Lake Como are tied for second place. I've been fortunate to visit the Hawaiian islands and Mexico, but I'm ready to start branching out into new territory.
What do you think makes you well-suited for your current role?
I have always been super organized, even as a kid, so I'm inclined to have strong attention to details. Sometimes half the battle of building a plan or getting finances in order is just getting all the information together. To me, that's one of the most exciting steps.
Is there something about your personality that guides your approach?
It will be a bit different with each client depending on what they're looking for, but being personable and approachable is always important. When clients feel like they can be open and honest with you, they'll get the most out of the planning experience.
What does a day of work look like to you?
No day is ever exactly the same. Financial planning covers so many different topics, that you constantly run into new situations. It keeps the role challenging and exciting.
What are your favorite kinds of clients to work with and why?
Clients who are seeking out a financial planner for the first time are usually motivated by some kind of life event. Being able to outline that first plan and put all the pieces organized for a client is really rewarding.
You're a part of Mission Wealth's "Women on a Mission" group. Tell us a little about what you hope the group can accomplish.
It's exciting to highlight how many women there are working in all the different departments at our company. We have strong female representation across the board in our administrative, marketing, advisory and investment departments. I think it really speaks to Mission Wealth's values.
What do you think are the most important things people can do to improve their finances?
The most important step anyone at any level can take is to educate yourself. It can be as small as taking the time to read an article online, signing up for a class or recruiting the help of a professional. I remember being shocked at realizing how little I knew during my first finance class, which was a broad overview of the different areas in financial planning. Unfortunately, we're not taught about budgeting, saving, investing, how to choose an insurance plan, or what a 401(k) is in school, so it's up to us to take the initiative to learn.
What is a subject or area of finance that not many people know a lot about, but understanding it could really help their financial picture?
Behavioral finance blends traditional financial planning concepts with psychology to help us better understand our beliefs and biases when it comes to finance. When you are able to identify patterns and behaviors, you can make better financial decisions. I plan on taking courses to earn my Behavioral Financial Advisor™ designation to gain a deeper understanding of this subject and use it to help future clients.
What are some important things to consider when choosing a financial planner?
Trust sets an important foundation to build on top of. When working with a financial planner, the goal for both parties is that you will be working together long term. Decisions you make from the beginning will have an impact for the rest of your life, so you want to work with someone who will have your best interest in mind during that journey.
1061689 8/18