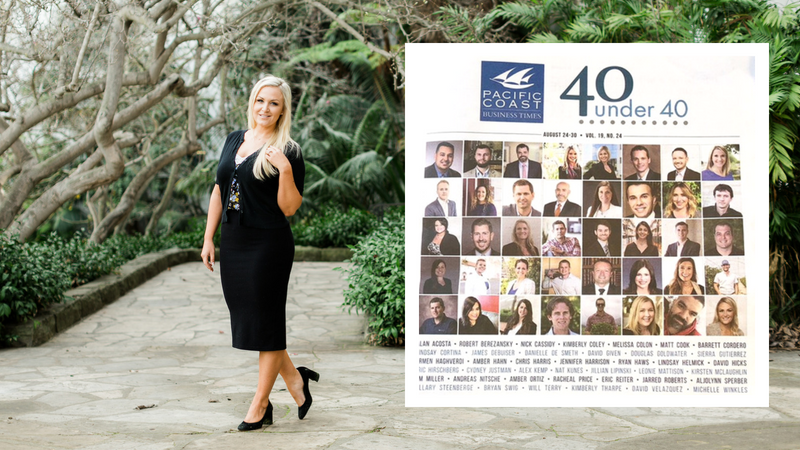 ---
The Pacific Coast Business Times announced the honorees of the 18th annual 40 Under 40 awards this week, naming Michelle Winkles, Mission Wealth Director of Marketing, to the 2018 list. This year, the Business Times selected the region's top up-and-coming professionals under the age of 40, in an array of industries including finance, professional and other business services, real estate, technology, nonprofits, health care and education.
In December 2017, Michelle earned her MBA in Social Business and Strategic Management from Antioch University Santa Barbara, then both married and bought her first home earlier this year. Outside of her daily job at Mission Wealth, she actively participates as a member and volunteer at The Women's Fund and Fairview Gardens.
Now expecting her first child in December, Winkles claims "It's all about having a strong work-life balance, working hard for something you are truly passionate about, placing yourself in a positive work culture, and having the support of my best friend - my husband."
The 40 Under 40 special report has proven to be a sustainable way to recognize up and coming leaders in the community. Many prior winners are rising up to the executive ranks at regional companies and nonprofits and this year the class is expected to follow in those footsteps. Each year the selection process becomes more and more competitive, with twice as many nominations as they select. The nominees are selected in order to maintain the right balance between the tri-counties, while achieving as diverse a group as possible.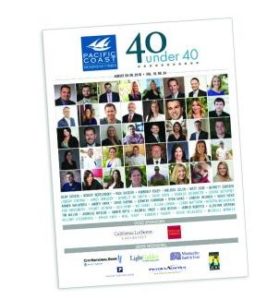 The three requirements to be considered for this selection include: 1) Be under the age of 40 at the time of nomination close; 2) Be a resident of or a person whose business or volunteer efforts are based in the tri-counties; 3) You can only be honored once. In picking winners, they consider professional accomplishments, outside recognition and community involvement. They look for people who have gone above and beyond by taking leadership roles in their organizations or by starting their own companies.
At Mission Wealth, Michelle has been working hard to design and launch a new initiative called "Women on a Mission", highlighting Mission Wealth's female leadership and advisory group as they empower women with the financial confidence and resources they need to take control of their money and wealth. This group of women will be writing many articles, compiling educational resources, collaborate in national conferences and participate on boards or volunteer in numerous organizations that support and help women in the community. This initiative will build on Mission Wealth's current planning techniques that are all designed to support clients' overall financial health and well-being.
"Women are the key to their own financial futures, so it's critical that women educate themselves about finances and be able to make financial decisions," said Winkles. "Yet the world of financial planning isn't always easy or convenient. Mission Wealth believes that women should feel empowered to think and invest for the long term."
Pacific Coast Business Times will be celebrating the 2018 class of 40 Under 40 at a very special dinner at the Topa Tower Club in Oxnard on Monday, September 10.
1062656 8/18
---