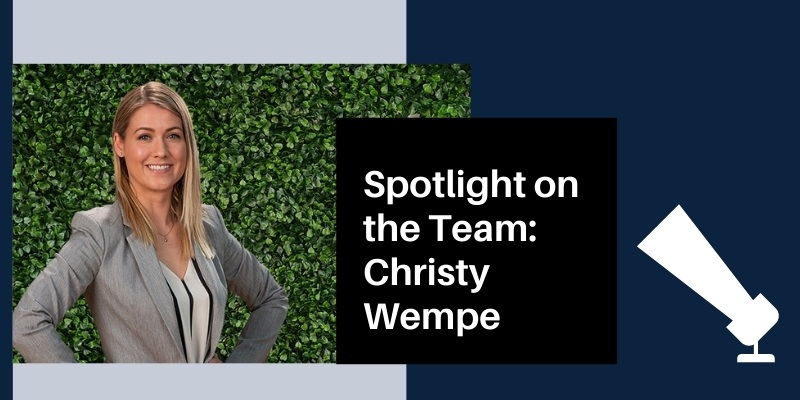 ---
Each month at Mission Wealth, we interview a new team member and publish the interview in a spotlight article. This month, we talked to Client Service Representative Christy Wempe and learned about some of her memorable childhood experiences, what makes her well-suited for her role, and what's on her bucket list. Learn more about Christy in this article.
What are a few childhood experiences you had that formed who you are today?
I grew up in a big German family with my sister and a lot of cousins. Vacation for us was loading up the car to visit various aunts and uncles, and didn't extend much beyond the Midwest. My mom, who was born in Germany, was very adventurous and traveled a lot before having kids. I grew up listening to her stories of all the places she had been. I always loved looking through her old photos and souvenirs she collected over the years. In her 20's, she went to visit relatives in Germany and loved it so much that she decided to get a job and stayed there for a year. Shortly after her return to the US, she decided she needed some sunshine and palm trees and moved to California for a few years.
When she wasn't moving across the globe or country, she was camping in national parks and taking road trips. Her travels are some of her fondest memories. I grew up being told, whatever you do in life, travel! Because of her encouragement I've studied abroad in Florence, climbed the Great Wall in China, hiked the Highlands of Scotland and have been to the top of the Swiss Alps! I've been to 11 countries and all over the U.S. and only want to see more. I was always encouraged to step out of my comfort zone and try new things and I have my mom to thank for my sense of adventure.
How do you like to spend time outside of Mission Wealth?
When there isn't a global pandemic, my husband and I love to travel and explore new cities and countries. I also love learning new hobbies like baking (bread and macarons are specialties of mine), cooking, painting, and drawing! I'm also an avid reader and love a good puzzle. On weekends you can find me and my husband Joe, out walking our dogs Brock and Otis.
Are you a raving fan of anything – like a sports team or band or school?
Like any good Chicagoan, I am a Bears and Blackhawks fan (even in the worst of times) and I'm a proud, life-long Cubs fan! There is nothing better than watching a Cubs game from the bleacher seats at Wrigley Field in the summer.
What's something interesting that people don't know about you?
I've been skydiving! My dad and I jumped out of a plane just before his 60th birthday.
If you could offer any advice to your younger self, what would it be?
Do what makes you happy and stop worrying so much about what other people think.
At Mission Wealth we talk to people all the time about what their goals and aspirations are. So what's on your bucket list?
Traveling! Spain and Norway are next on our list, but New Zealand is the dream trip!
What do you think makes you well-suited for your current role?
I am very much a team player and like the feeling of contributing to something. If there is something that needs to get done, I'll figure out how to do it.
Is there something about your personality that guides your approach?
I think my sense of humor and positivity helps whether I'm working with an advisor or a client. If you can approach a situation with a bit of levity or a positive attitude, it can help put others at ease and feel more comfortable. And if you can make someone laugh, that's even better.
What are your favorite kinds of clients to work with and why?
My favorite clients to work with are the ones that truly need our help; either they are going through something difficult or dealing with a lot of uncertainty and stress. Being able to help to lighten their load and provide some peace of mind is so rewarding.
00388265 01/21
---