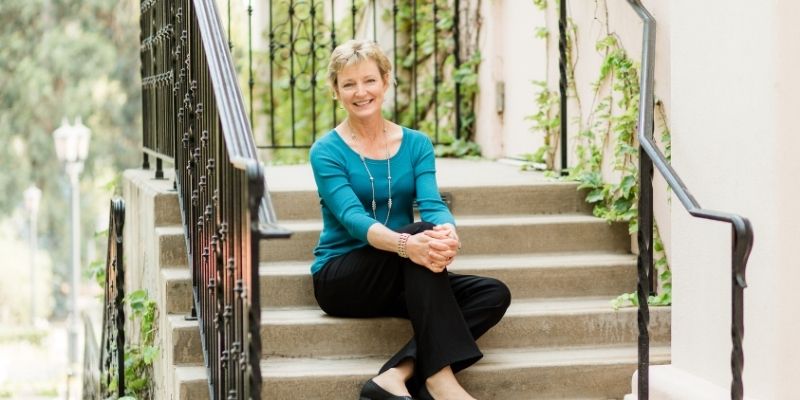 ---
Mission Wealth's Spotlight on the Team for July 2018 is Client Advisor Amanda Thomas. Amanda has been with Mission Wealth since 2006 and has over 35 years of experience in finance. In her role at Mission Wealth, she becomes personally acquainted with the specific goals and financial lives of her clients and then delivers customized financial planning, risk management, and tax strategies to assist in their goal achievement. In this interview Amanda discusses her passion for sports, travel and languages.
What are a few childhood experiences you had that formed who you are today?
We had 5 children in my family, 4 of them girls. My mother worked at a girl's camp in New Hampshire and every summer my mom, me and my sisters would pack up the station wagon and drive all the way up the coast starting in Miami and then spend 2 months in the White Mountains doing all the varied activities that camps offer. My mom continued to work at the camp for 52 years until age 92!
How do you like to spend time outside of Mission Wealth?
I picked up golf later in life and try to play most weekends with my golf partner who is a local estate planning attorney. And, my husband and I love to travel, and we are planning an international trip annually if we can.
Are you a raving fan of anything – like a sports team or band or school?
I enjoyed my years at the University of North Carolina at Chapel Hill, and they have a fantastic basketball program and I have watched their many trips to the Final 4. In fact, I went to school at the same time as Michael Jordan, and enjoyed watching their NCAA championship win in 1982.
What's something interesting that people don't know about you?
I love languages and speak almost fluent Spanish, and I wanted to be an interpreter when I was younger.
If you could offer any advice to your younger self, what would it be?
Know that every step in my career path, positive or negative, created the building blocks and knowledge base that led to where I am today.
At Mission Wealth we talk to people all the time about what their goals and aspirations are. So what's on your bucket list?
To travel by car or RV to most of the national parks in the US. I love to not have a schedule or agenda and be able to stop at some interesting point of interest or some cute remote town and check it out. I also want to take some gardening classes as I now have a 1/3 acre property and I want to understand what and why some plants thrive.
Are you a part of any organizations?
Starting in high school, I have a long history of being involved in non-profits. Most recently I was asked to return to the board of the Santa Barbara Maritime Museum to kick-start their Planned Giving program. I also joined the Newcomers Club in Santa Barbara, so my husband who works as an aerospace engineer at Vandenburg Air Force Base could meet new people in town since he moved here a few years ago. The Newcomers Club in town is the largest, most active group in the country, and they have just asked me to join their board.
What do you think makes you well-suited for your current role?
I love people and enjoy learning about their families and backgrounds, but I also have a long career in finance that gives me a wealth of experience. I took a class in Behavioral Finance that was an eye-opener and helped me understand that each client brings in a history in dealing with money that contributes to how they act today.
Is there something about your personality that guides your approach?
I am not shy around people and through lively and in depth conversations with clients I try to understand their life goals and how I can help them achieve them.
What does a day of work look like to you?
Before work I try to fit in a work out by either a swim at the gym or a bike ride if it is light enough. I am at the office around 7 am and use the first, quiet hour to catch up and get ready to start my day. Then, it's replying to emails, preparing for client meetings or catching up on the latest market developments and research.
What are your favorite kinds of clients to work with and why?
I enjoy the educational part of my job and work well with those who want to learn. I sometimes will draw pictures during our discussions that depicts their cash flow, tax flow, or accounts, and many times these clients want to take that picture with them as they are visual and want to revisit it.
You're a part of Mission Wealth's "Women on a Mission" group. Tell us a little about what you hope the group can accomplish.
Many of my clients are women who were divorced, widowed, or business owners and they typically seek out a woman financial advisor with whom they can relate. The women advisors at Mission Wealth all have extensive backgrounds in finance and are the perfect fit to help these clients who have recently experienced a life event.
What do you think are the most important things people can do to improve their finances?
Awareness and education are key. Many times clients have never tracked or totaled up their spending figures and how they are divided up – fixed costs such as mortgage and property taxes, versus discretionary lifestyle expenses. Then, if any adjustments need to be made in their spending to achieve their long term goals, they can look to adjust their discretionary spending or perhaps downsize their home if those fixed costs cannot be covered through their lifetime.
What is a subject or area of finance that not many people know a lot about, but understanding it could really help their financial picture?
Behavioral finance is a fascinating topic that is helpful to understand people's relationship with money. As an example, a business owner likes to have control, but abrupt changes in the stock market can cause them to panic more than the average investor. Or, a person who has had a trust fund cover most of their expenses may have never worked and cannot understand that they may need to find employment so their funds will last through their lifetime.
What are some important things to consider when choosing a financial planner?
Many times it is a personality fit as well as trust in that advisor. Secondly, being a fiduciary, such as Mission Wealth, is key to the trust factor as an advisor should be unbiased in their investment recommendations and do what is in the client's best interest.
1053981 7/18
---