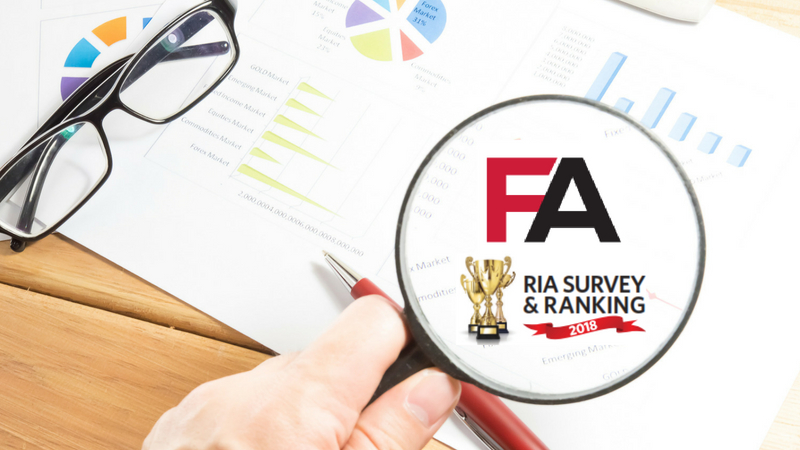 ---
We are pleased to announce that we have been named in Financial Advisor Magazine's 2018 RIA Ranking, which lists the top Registered Investment Advisor firms in the country. The ranking was released in the magazine's July 2018 issue.
Out of 707 firms that made the list, Mission Wealth placed in the top 25% of the list at #180, with a 15.76% growth in assets from 2016-17.
RIA firms completed a survey for consideration on the list, which was based on total assets under management as of year-end 2017. There are no fees required of independent advisory firms that are surveyed by Financial Magazine for the RIA Ranking.
"It is an honor to be recognized as a leading firm among our esteemed peers. With over 12,000 Registered Investment Advisors in the U.S., we are proud to be ranked in the top 1.5%. It is our mission to continue to serve more clients with our holistic guidance to make a positive difference in their lives" said Seth Streeter, Mission Wealth founder and CEO. "Caring for our clients is what we do. Helping them achieve their financial goals and life dreams is what makes each day fulfilling."
Mission Wealth manages over $1.85 billion in assets. Besides its Santa Barbara headquarters, the firm has eight other offices located in the states of California, Oregon, Washington, Arizona and Colorado. Mission Wealth's offerings include financial planning, investment management, estate planning, charitable giving, tax planning, retirement planning and redefining wealth.
"The credit goes to our clients and the deep, trusting relationships we have developed over the years," said Brad Stark, Mission Wealth founder and CCO.
 
Financial Advisor Magazine – RIA Survey
This annual survey is performed by Financial Advisor Magazine as a means of measuring growth among independent advisors across the U.S. Firms must be registered investment advisors and provide financial planning and/or related services to individual clients. All firms must be either independently owned or a freestanding subsidiary of another business. Data is provided by each firm, mostly from numbers and information published on their Form ADV, including assets under management. Each participating advisor is then ranked alongside their participating peers.
 
1052414 7/18
---