Post-College Graduation Financial Tips from a Mom (and Wealth Advisor)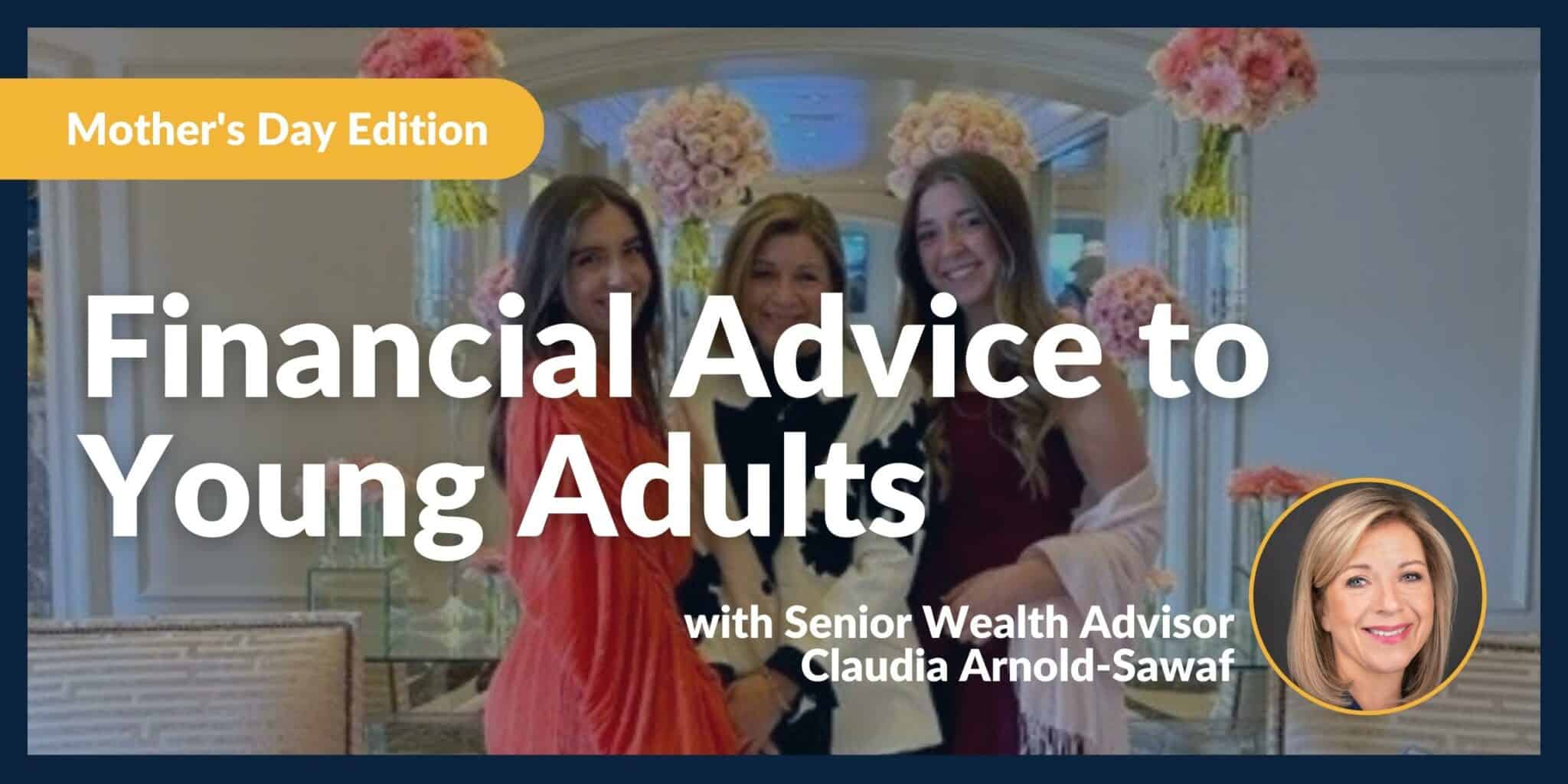 Congratulations, graduates! You're now entering a new phase of your life where financial independence becomes a reality. From paying rent, bills, and student loans, to making large purchases such as a car or home, managing your finances effectively becomes essential. Without a solid understanding of financial management, you risk falling into debt, missing payments, and even facing legal or credit consequences.
I am a mom first, Wealth Advisor second. As a proud parent of my own graduate in June, I understand the importance of teaching these invaluable lessons to ensure her success and financial security (and yours!) in the years ahead.
Navigating Financial Independence
Here's a life tip: You do not need to have all the answers now…and I know how that may sound. You want to be sure you're on the right path, you want to make your family proud, and you are ready to get your life started. The trick to having the right mindset is understanding that you are constantly going to change, grow, and learn. My hope is to give you tangible advice that you can use now, and philosophical advice that you may tuck away for the future.
Develop These 5 Financial Habits Early
1. Understand Your Student Loan Obligation and Repayment Options 
Always make at least the minimum payment on all debts, on time. Keeping your debts (including student loans) in good standing is crucial to your credit score. Know the grace period for any payments needed and your repayment options (standard, graduated, extended, income-based repayment, loan consolidation, deferment, or forbearance). Keep track of all paperwork and your student loan interest deductions for tax purposes.
But what about the possible loan forgiveness? I stopped predicting what Congress would do a long time ago. Save the amount you would have paid each month towards your student loan while it is on pause to a high-yield savings account. Once repayments start again, put the entire amount saved toward the principal of your student loan.
Leftover 529 plan funds can be used to pay down outstanding qualified loan amounts (up to $10,000 annually allowed by The SECURE Act).
2. Pay Down or Off Any Credit Card Debt
If you've been carrying balances on any credit cards, now is the time to start chipping away at them by paying more than your monthly minimum. Eliminating credit card debt is important so that you don't get stuck on a high-interest treadmill. Consider the "snowball method" (working from the smallest debt to the largest) or the "avalanche method" (paying off the debt with the largest interest rate first). Here's a wonderful real-life example of what this looks like from CNBC. 
3. Create a Realistic Budget
What exactly is budgeting? It's the tracking, planning, and controlling inflow and outflow of your income and expenses. Analyze your current situation, determine your goals, and develop a written plan. Then, measure your ongoing progress!
Crafting a budget is a vital step toward financial stability. Assess your income, expenses, and prioritize your financial goals. Create a realistic budget that accounts for essentials like rent, utilities, and groceries, while also allowing for discretionary spending. Set financial goals, such as building an emergency fund, saving for a down payment, or paying off debts, and track your progress regularly.
Reminder, it's a plan and a plan/budget can change as needed. Budgeting is a long-term healthy habit to reach your most important life goal so, make it fun and consider tracking your finances through an app (i.e. Mint). Set rewards for yourself for meeting your savings goals.
4. Monitor Your Credit Score
A good credit score is important for many reasons. Protecting our credit is just as important as creditworthiness opens the door to not only better financing rates BUT can be critical for job opportunities. It also determines your ability to access credit for renting apartments, better loan terms, buying a new car, and more.
You can monitor your score by downloading your report annually for free at www.annualcreditreport.com, and pulling your own credit will not affect your score. Late payments (including student loans), too many inquiries, and uncorrected errors can all negatively impact your credit score.
5. Learn How to Save
While it may seem challenging to save in the early stages of your career, it's essential to start saving as soon as possible. Set up an emergency fund to cover unexpected expenses and aim to save at least three to six months' worth of living expenses. Once that's covered, consider investing for long-term goals such as health plans and retirement. Take advantage of employer-sponsored retirement plans like HSAs, 401(k)s, and explore individual retirement account (IRA) options.
Avoid common pitfalls such as overspending, excessive use of credit cards, and living beyond your means. The expensive shopping trips will take a toll on your finances and your confidence, trust me. Practice mindful spending, track your expenses, and differentiate between needs and wants. Create a habit of saving consistently and make wise financial decisions aligned with your goals.
Empower Yourself for Lifelong Financial Success
Graduating from college is an exciting and challenging time in your life. By taking the time to educate yourself about financial management and implementing the tips and strategies discussed in this article, you can set yourself up for success and achieve your personal and financial goals.
Remember, developing healthy financial habits takes time and effort, but the rewards are well worth it. Now, step confidently into this new chapter, armed with the knowledge, determination, and resilience to build a brighter financial future. Onwards and upwards!
Financial Guidance For Your Life Journey
Talk with a financial planner about your next steps.
Guidance For Your Full Financial Journey
Through our comprehensive platform and expertise, Mission Wealth can guide you through all of life's events, including retirement, investment planning, family planning, and more. You will face many financial decisions. Let us guide you through your options and create a plan.
Mission Wealth's vision is to provide caring advice that empowers families to achieve their life dreams. Our founders were pioneers in the industry when they embraced the client-first principles of objective advice, comprehensive financial planning, coordination with other professional advisors, and proactive service. We are fiduciaries, and our holistic planning process provides clarity and confidence. For more information on Mission Wealth, please visit missionwealth.com.
To meet with a Mission Wealth financial advisor, contact us today at (805) 882-2360.
00518000 05/23