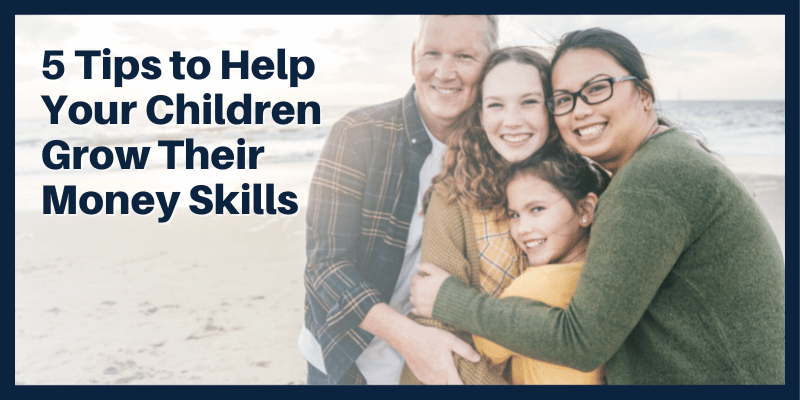 You want the best for your children as a parent. Giving them the gift of financial literacy can play a vital role in influencing their sentiments, thoughts, and beliefs regarding money. In this article, we explain five simple ways to help your children grow their money skills.
"Without a working knowledge of money, it is extraordinarily difficult to do well in life," says Sam X Renick, author of children's financial literacy novels. "Money is central to transacting life, day-in and day-out. Where we live, what we eat, the clothes we wear, the car we drive, health care, education, child-rearing, gift giving, vacations, entertainment, heat, air-conditioning, insurance—you name it, money is involved."
Here are five tips to play a key role in shaping your children's feelings, thinking, and values about money, and how you can give them the gift of financial literacy.
1. Let them Learn
Start your money parenting style by teaching your child how to earn money. Kids need their own money to learn how to manage it and make decisions about how to spend it. Allowing your children to earn and save money gives them the opportunity to learn how to use it, which is important if you want them to become savers. They learn the importance of their hard work when you give them allowances in exchange for chores or when they can begin working part-time jobs. You can instill the habit of earning in your children at any age, even if it's only a cent at the time.
2. Smart Spending Decisions
The first financial decision your child will make is how to spend their money. Kids who have earned their money will be more conscious of how they spend it than those who have received it as a gift. Allow them complete authority over their finances, with the caveat that if they don't have enough, they won't be able to borrow any more. They will be able to make more rational decisions about spending and saving if they feel in charge of their own resources.
3. Needs versus Wants
A requirement for a person to exist or thrive is referred to as a need. A want is something pleasurable but not essential. Helping children discern between wants and necessities is the first step in teaching them the value of saving. You must then trust their instincts and allow them to make that decision - good or bad. After all, if you want kids to be financially responsible, they must understand the repercussions of their behavior. Encouraging kids to consider these two categories can help them approach money with greater mindfulness.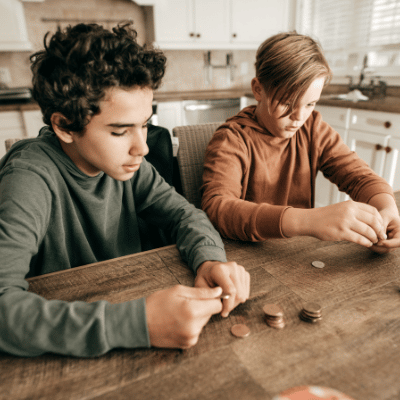 Once your kids are old enough to know they shouldn't be sticking pennies in their mouths, you should introduce them to coins and cash. Explain what money is and how it is used. Actually, showing them how money works is more effective, so let them see you making purchases with cash.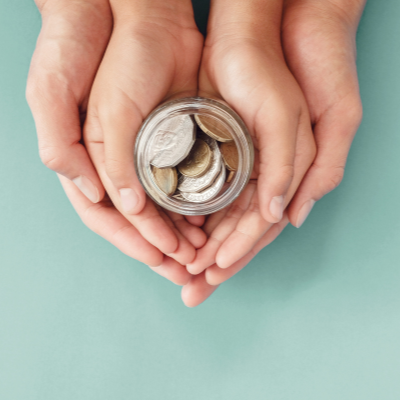 Another key lesson for children is the value of giving. If you value giving to others, you can instill that value in your children by helping make it a habit for them from an early age.
4. Set a Good Example
There's no denying that children pick up money habits from their parents. Small actions, such as checking your receipt after a shopping trip or putting money into savings, can help youngsters create positive habits from an early age. If you want your children to take financial literacy seriously, you must create the correct environment at home. In this setting, encourage your child to ask questions without fear of retribution. While you may not have all the answers, starting a conversation with your child about money is a good approach for them to learn more about it.
5. Reward Them
You can use the same technique to motivate your children to save if you're having difficulties motivating them. Paying tiny sums of interest on your child's savings is a good method to encourage them to save more. Older children will be ecstatic to find that the money they earned the previous week can be used to earn even more interest if they save until the following week.
A Word from Seth Streeter
Mission Wealth's Co-Founder and Chief Impact Officer Seth Streeter recently shared a brief insight into his kids' fourth grade project to improve their relationship with money.
How Mission Wealth Can Help
For over 20 years, Mission Wealth has offered holistic wealth management to high net worth families across the United States. Our fiduciary financial planners ensure that every piece of the puzzle is put into place as our clients' lives unfold and their needs evolve. This gives them the complete picture and confidence in their future.
To learn more about our business planning services contact us by using the form below for a FREE, NO-OBLIGATION consultation with an advisor.
Mission Wealth Family Office Solution
Our Family Office Solution offers the highest level of sophisticated planning and expertise to support your family's wealth and life goals.
Our in-house team of professionals with specializations in investments, taxes, estate planning and asset protection will partner with you and your other trusted advisors to address your family's unique needs and complexity. Family Office services are tailored for every unique client situation. Through our boutique offering, we will create and implement bespoke strategies to address your evolving needs and long-term goals. Our family governance and philanthropy offerings will help you to establish and instill your family values in an impactful way to create a lasting legacy for you and your family.
To learn more about our Family Office Solution and if it is the right fit for your family, click here.
Copyright © 2022, Mission Wealth is a Registered Investment Advisor. All rights reserved.
ALL INFORMATION HEREIN HAS BEEN PREPARED SOLELY FOR INFORMATIONAL PURPOSES. ADVISORY SERVICES ARE ONLY OFFERED TO CLIENTS OR PROSPECTIVE CLIENTS WHERE MISSION WEALTH AND ITS REPRESENTATIVES ARE PROPERLY LICENSED OR EXEMPT FROM LICENSURE. PAST PERFORMANCE IS NO GUARANTEE OF FUTURE RETURNS. INVESTING INVOLVES RISK AND POSSIBLE LOSS OF PRINCIPAL CAPITAL. NO ADVICE MAY BE RENDERED BY MISSION WEALTH UNLESS A CLIENT SERVICE AGREEMENT IS IN PLACE.