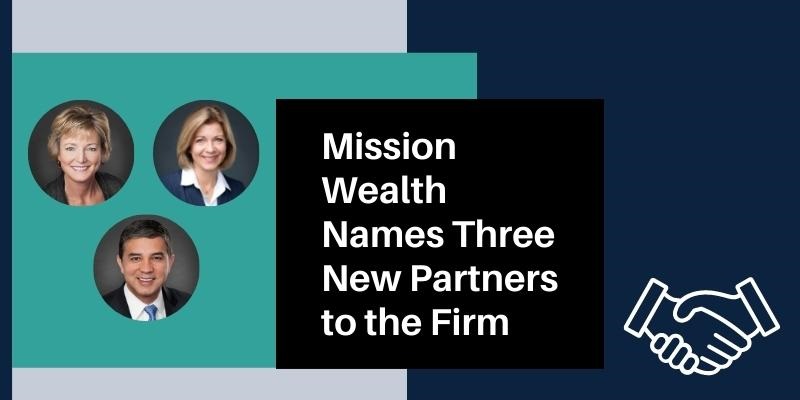 ---
Mission Wealth is pleased to announce the addition of three new partners to the firm: Amanda Thomas, Claudia Arnold-Sawaf, and Rick D. Gonzalez.
"We are excited to welcome three new partners to the firm, bringing our grand total to nineteen and helping us ensure that we have expanded leadership to steward the firm for many years to come,"
said
Matthew Adams
, CEO at Mission Wealth.
"Expanding equity ownership within the firm remains central to our team philosophy because it reflects our intention to serve the needs of our clients across future generations and is also key for employee attraction and retention. We are thrilled with the addition of these new partners to our owner group and are eager to continue the expansion of the partnership group each year."
---
---
Amanda Thomas is an Advisor at Mission Wealth on the Santa Barbara regional team. She becomes personally acquainted with the specific goals and financial lives of her clients and delivers customized plans to ensure that their financial goals are reached. She has extensive experience working with the financial goals of divorcees, widows, and multi-generational families. Prior to joining Mission Wealth in 2006, Amanda spent 11 years as a Vice President in Private Banking at Northern Trust Bank in Santa Barbara, working with high net worth clients and their banking, investment, and trust needs.
Amanda has a Bachelor of Arts degree from the University of North Carolina at Chapel Hill. She holds a Certified Financial Planner® (CFP) designation and is a Certified Divorce Financial Analyst® (CDFA). She also has a Master of Science in Financial Planning from the College for Financial Planning. Amanda currently resides in Santa Barbara with her husband and enjoys travel and all outdoor sports including beach volleyball, golf, tennis, hiking, skiing, and swimming. She is Past President and current Board member of the Santa Barbara Maritime Museum.
"I am honored to be a part of an organization with such a focus on integrity as well as a commitment to act in the best interests of our clients. The culture at Mission Wealth is second to none and I'm proud to work alongside such a talented team of individuals," said Thomas.
---
---
---
Claudia Arnold-Sawaf translates her earliest experience in global hospitality to 20+ years of providing world class service and personal care to help her clients achieve their visions and goals. As an Advisor at Mission Wealth, Claudia serves private wealth clients and private foundations. She owned and operated her own fiduciary planning practice until 2019 when she joined Mission Wealth to provide even greater resources and a broader team of experts to her esteemed clients.
Claudia graduated from the Vienna Business School, completed leadership course work at Cornell University in Paris and has been awarded the Accredited Investment Fiduciary® (AIF) designation. She lives with her family in Irvine, California, serves as Vice Chair on the Board of Directors and chairs the Planned Giving Committee at the New Horizon School in Irvine. Travel is her all time passion and visiting her hometown of Vienna, Austria is at the heart of each year. Claudia enjoys all that southern California living has to offer and you can always find a collection of great reads on her list.
"Being part of a team that consistently goes above and beyond to deliver for our clients has been my dream all my professional life. We do that at Mission Wealth and I am proud and honored to be a member of this world-class organization," said Arnold-Sawaf.
---
---
---
Rick D. Gonzalez is an Advisor and serves clients in the greater Los Angeles area. As a client advocate, Rick works to understand client needs and develops investment, estate, and financial planning strategies to best meet clients' current and long-term goals. With over 25 years of experience in the financial services industry, Mr. Gonzalez began his career at a boutique financial services firm in Denver, CO and joined Mission Wealth in 2014.
Rick has a Bachelor of Arts in Economics from University of California, Berkeley, as well as an MBA from the University of Southern California. Additionally, he holds a Certified Financial Planner® (CFP) designation, the Accredited Wealth Management Advisor® (AWMA) designation, and a Certified Investment Management Analyst® (CIMA) designation. Rick has volunteered at the Children's Hospital of Los Angeles and is a member of the USC Alumni, the UC Berkeley Alumni, and Investment Management Consultants organizations.
"I am thrilled to be part of such an amazing organization. The firm's culture, approach to supporting our clients, and comradery among employees is truly exceptional. I look forward to be a part of Mission Wealth for many years to come," said Gonzalez.
The Mission Wealth Owner Group now consists of nineteen Partners: Seth Streeter, Brad Stark, Matthew Adams, Tricia Fahnoe, Dannell Stuart, Steve Caltagirone, Andy Penso, Geoff Gaggs, Brian Sottak, Kieran Osborne, Michelle Winkles, Ryan Niedbalski, Renee Hennessee, Jeff Avila, Jenna Rogers, Stephanie Bruno, Amanda Thomas, Claudia Arnold-Sawaf, and Rick D. Gonzalez.
Mission Wealth is a Registered Investment Adviser. This document is solely for informational purposes, no investments are recommended. Advisory services are only offered to clients or prospective clients where Mission Wealth and its representatives are properly licensed or exempt from licensure. No advice may be rendered by Mission Wealth unless a client service agreement is in place.