Mission Wealth Earns Coveted Spot in FA Magazine's 2023 Top RIA List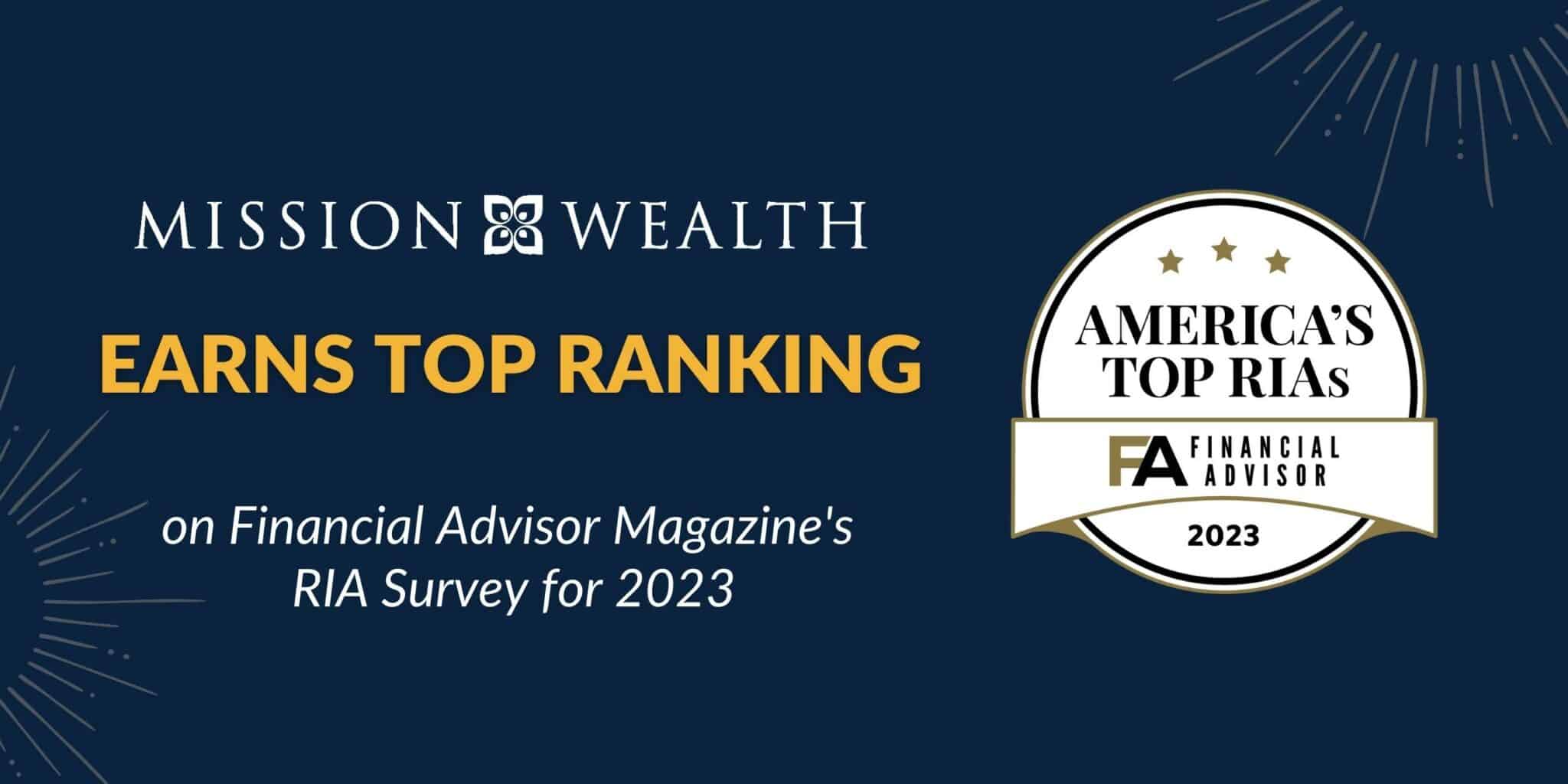 Financial Advisor magazine (FA magazine) has released its highly anticipated annual RIA Survey and Ranking list, and Mission Wealth is pleased to announce that we have once again secured a place among the top Registered Investment Advisory (RIA) firms in America. Out of the 521 firms evaluated in the survey, Mission Wealth proudly earned the distinguished position of #95, reaffirming our commitment to excellence and client-centric financial services.
This prestigious recognition serves as a testament to Mission Wealth's unwavering dedication to providing superior wealth management solutions to our valued clients. The remarkable growth in assets in a challenging year like 2022, and an impressive 16.8% increase in the number of clients from 2021 to 2022, have been instrumental in solidifying our position on this exclusive list.
"We are honored to be recognized by Financial Advisor magazine as one of the top RIAs in the country. Our team of dedicated professionals is committed to providing holistic and comprehensive financial advice, delivered with care and professionalism," said Matt Adams, CEO of Mission Wealth. "With such a wonderful group of recipients on this list, we are humbled to now rank in the top 100 of RIAs nationwide. The future of our industry is bright, with enhanced services and new technologies enriching the client experience and adding to the depth of trust and client-to-advisor relationship that we so treasure."
Mission Wealth's inclusion in the industry list marks the 12th time we have achieved this distinguished ranking. Over the years, our firm's performance has demonstrated consistent growth, ensuring that we continue to thrive and provide exceptional service to our clients. In 2022, Mission Wealth attained the impressive place of #109, following #123 in 2021, and #158 in 2020.
 About Financial Advisor Magazine – RIA Survey
FA's RIA survey is a ranking based on assets under management of independent RIA firms that file their own ADV with the SEC. FA's RIA ranking orders firms from largest to smallest, based on AUM reported to us by firms that voluntarily complete and submit FA's survey by our deadline. For more information, visit the FA website at www.fa-mag.com.
To explore the complete list of top RIAs in America and learn more about the factors that contributed to Mission Wealth's success, visit the Financial Advisor website.
Financial Guidance For Your Life Journey
Talk with a financial planner about your next steps.
Guidance For Your Full Financial Journey
Through our comprehensive platform and expertise, Mission Wealth can guide you through all of life's events, including retirement, investment planning, family planning, and more. You will face many financial decisions. Let us guide you through your options and create a plan.
Mission Wealth's vision is to provide caring advice that empowers families to achieve their life dreams. Our founders were pioneers in the industry when they embraced the client-first principles of objective advice, comprehensive financial planning, coordination with other professional advisors, and proactive service. We are fiduciaries, and our holistic planning process provides clarity and confidence. For more information on Mission Wealth, please visit missionwealth.com.
To meet with a Mission Wealth financial advisor, contact us today at (805) 882-2360.
00527440 07/23