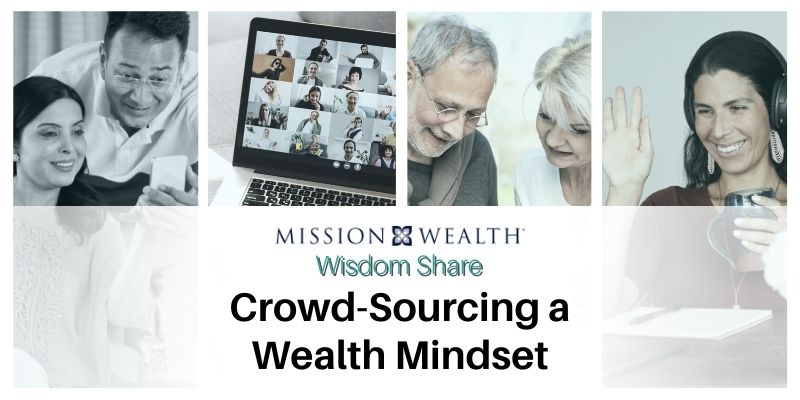 ---
At a Mission Wealth Inspired Living™ Wisdom Share virtual event, our financial advisors collaborated with small client groups to crowd-source different definitions of wealth, and ways to curate a fulfilling wealth mindset. Read our top takeaways below.
---
Recently, Mission Wealth hosted it's second virtual Wisdom Share this year for private clients, family and friends as a part of our Inspired Living™ programs. During the session our client advisors collaborated with small groups to crowd-source some of the most effective strategies, tools and tips for gaining enhanced fulfillment, and boosting abundance in each of the 11 Dimensions of Life™. Here is a compiled list of takeaways from both Wisdom Share events.
---
Frequently Asked Questions
---
"What is a Money Mindset?"
A Money mindset is your individual and unique set of core beliefs about money, and how money affects and operates in our world and society. In short, your money mindset represents your deeper-set, underlying attitudes and values surrounding money. This helps you to define what it means to be wealthy to you. 
---
---
What is 'Wealth' and how do I define it?"
Your definition of wealth will be unique to you. Defining what wealth means to you is a crucial part of our life-oriented financial planning process at Mission Wealth. This is because the elements of life that bring the most joy and fulfillment to someone will depend many factors, such as approaching life transitions, beliefs and values, past experiences, and future aspirations and goals. 
---
"Do I have the right mindset to get rich?"
There is no right or wrong mindset to have and the top takeaways from the Wisdom Share illustrate that. Your balanced path to wealth across all of the 11 Dimensions of Life™ will ebb and flow in the same was as your life does. This means finding the 'right mindset' is an on-going project that changes as your priorities evolve. 
---
"How can I acquire a "millionaire" mindset?"
You can't 'acquire' a millionaire mindset per-say but you can learn about how other people approach life and what it means to be truly wealthy. Use the tips and top takeaways below from our Client Wisdom Share event to get started. Keep what works, ignore what doesn't, and contact us with any questions.
---
---
---
Top Crowd-Sourced Takeaways
Curating a Wealth Mindset
---
During our recent Wisdom Share events, we meet in groups to define top ways to boost your wealth and abundance within each of the 11 Dimensions of Life™. See below for a compiled summary of tips we crowd-sourced for each dimension, from both Wisdom Shares.
During these sessions, participants felt they had the greatest abundance in the career, family, and intellectual dimensions. Participants most wanted to improve their impact, social, physical and fun dimensions.
---
---
---
The Physical Dimension of Life™
---
Stay active
Get an accountability partner to push you, challenge you, and motivate you
Walk more and get fresh air outside if the weather permits
Change up your environment you exercise in so that it stimulates you
Sign up for a team sport so that you are accountable and show up
Use technology – try using an apple watch, fitness apps, online workouts and health apps
Try gathering your family together and do a family fitness zoom workout
For a good low-intensity workout, try yoga
Stretch everyday
Get a standup desk if you work remote
Establish a daily routine
Get a pet to walk
Drink a lot of water
Explore somewhere new near you
Try team challenges to compete against others
---
---
---
The Environmental Dimension of Life™
---
De-clutter your space around you
Get out in nature - you can find a gem anywhere you go
Keep plants in your home/office
Move to a new place that brings you more peace
Start a garden
Carry something personal with you wherever you travel
Surround yourself with beautiful pictures of destinations and places
Clean-up your home environment (space you live/work in)
---
---
---
The Social Dimension of Life™
---
Be a "yes" family
Use technology to connect with friends and family (social media, text, phone, FaceTime, Zoom)
Practice authentic communication
Invite friends to activities and hobbies you are passionate about
Invest in your neighbors
Call a friend at random
Look into what kinds of events are going on in your community
Get involved with your kid's clubs, boosters, or parent groups
Find people with common interests and participate via Zoom (book club, game night, etc.)
Say hello to strangers
Stay smart about things re-opening and staying social (not hosting a large gathering right out of the gate)
---
---
---
The Fun Dimension of Life™
---
Laugh and smile at daily, small things
Be intentional, fun is an attitude
Put yourself in situations to be able to have more fun - fun people, positive people, teaching moments, plan a trip
Bring fun into the workplace - icebreakers in Zoom meetings
Discover new hobbies like gardening and hiking
Go to beach and collect rocks
Hike new trails
Keep moving
Travel
Recognize fun as essential
Dance more
Take a cooking class online or an art class
Find daily joy in the small moments (making coffee or lunch)
Projects around the house
---
---
---
The Spiritual Dimension of Life™
---
Spend time in nature
Prayer and bible study
Being in or by the water
Practice breathing, visualizations and meditation
Keep it personalized and unique.
Have a devotional time in your routine
Keep spiritually connected to family and your community
Read daily motivations and listen to them
Focus on the 99% you have in common with others, not the 1% you don't
Have a common belief
Practice gratitude
We may not have the same faith, but have faith in something
Be true to yourself and your values
Look at things from different perspectives
Having faith that things are working together for your benefit
Find the common uniting principles with others – be kind, help others, etc.
---
---
---
The Intellectual Dimension of Life™
---
Get involved in subjects outside of your preferred domain and do things to broaden your knowledge like classes
Learn something new every day
Dedicate time to read (use audio books, news, digital media)
Visit YouTube, take a master class (TEDtalks)
Learn a new language
Actively stay curious "Follow through the breadcrumbs of curiosity"
Invite someone to coffee to learn more about their experiences or intel
Daily things to expand intellectual curiosity (books, podcasts, etc.)
---
---
---
The Career Dimension of Life™
---
Know your worth
Set goals and be vocal about your goals
Lift others as you climb
Find a mentor or be a mentor
Re-position career passion into retirement passion (i.e. teacher example)
Fill a void in retirement
Ensure you are doing something where you can share a gift
Concentrate on area where you can find solutions
Be flexible, embrace it
"Put the best of you in all you do, and results will take care of themselves"
Network – join forums of other like-minded individuals
Find a place where your passions, values, and strengths meet a need in the world
Read the "how I built this" podcast
Make sure you have social interaction
Do something where you have a natural strength; help find solutions
---
---
---
The Impact Dimension of Life™
---
Get involved in passions you care about
Start local and begin to make a difference there
Use your skillset to make a difference
Simply share a smile with a stranger or talk/listen
Reduce your carbon footprint
Climate change is a big concern for those in this group. It is our personal responsibility to help here
Look for opportunities to have connections with people who share different viewpoints
Start small
Communicate with elected leaders
Utilize talents and passions
Make energy upgrades at home
Reach out to youth- younger gen to see what you can do
Reduce feelings of tribalism in the current state of the world
Get other people's perspectives to help grow
---
---
---
The Family Dimension of Life™
---
Practice intentional communication and spend quality time with family
Put the phone down more and be present
Share special moments via Zoom or Facebook Live
Volunteer as a family
Have honest conversations to reduce tension
Take initiative to plan family events & rotate responsibilities
Be open to feedback and being vulnerable
Talk more about emotions and feelings
Learn acceptance
---
---
---
The Emotional Dimension of Life™
---
Get 8 hours of sleep; quantity and quality are important
Practice meditation
Exercise  to relief stress
Maintain a positive attitude through affirmations and/or positive self-talk.
Avoid politics and practice self-discipline with news
Start a gratitude journal – what are you grateful for?
Use apps for journaling
Don't participate in things that are triggering for you
Click here to read our blog "Design and Ignite your 3.0 Life Vision" with Chip Conley
---
Mission Wealth
At Mission Wealth, we do more than manage wealth and investments. When designing a comprehensive financial plan for our clients, we believe that ALL aspects of life should be considered in order to build an effective, meaningful and fulfilling life plan. Learn more about our Inspired Living™ services and programs, or reach out to our experienced team.
*Last updated on 6/30/21.
00397830 03/21
---