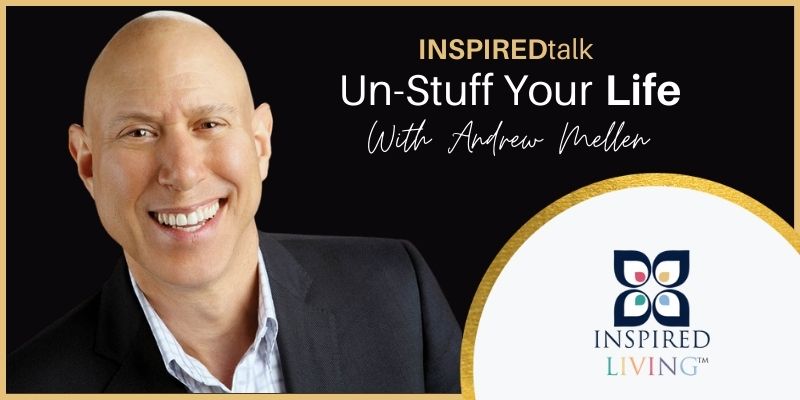 Andrew Mellen's 5 Top Tips:
How you can regain 1 (or more) hours in your week
1) Find a home for your keys.
Save 12-15 minutes per week.
I suggest the home be near the entrance/exit to your home. A hook near the front door is an easy solution as long as you can't see them hanging from outside your home—that's an invitation to a thief!
2) Find a home for your wallet.
Save 12-15 minutes per week.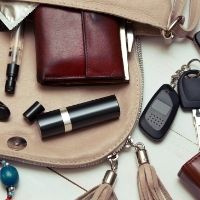 My wallet lives with my keys in the same rice bowl. When I come home, the first thing I do is empty my pockets into the rice bowl. If you carry your wallet and keys in your pockets, you can also do this. If you carry a purse or other bag with these items, then you should establish a specific pocket or location INSIDE the bag. Do not just drop them into the bottom of the main section. If you swap bags throughout the week, identify this location in each bag.
3) Find a home for your bag.
Save 12-15 minutes per week.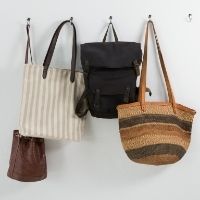 The home for your bag is not just where you drop it when you walk in the door. You need to establish a specific home for your bag. If you carry your bag around your home throughout the day, then you need to establish a very specific place in EACH room that will be where the bag lives. I suggest you either find a home on a surface large enough for your bag or get a hook and hang your bag from that. Don't put it on the floor—BAD fung shui.
4) Find a home for your mobile phone.
Save 12-15 minutes per week.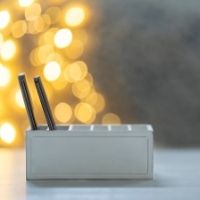 Get a dish or tray or other container for every room in your home and office where you spend time and make that the home for your phone when you're in that space. While this may take a few days to feel natural, after a few weeks, it will feel odd if you DON'T put your phone in its home as soon as you enter a room. You can use a decorative tray or dish or even a wireless charging station as the home. I use them in both my office and my kitchen as the homes in those rooms.
5) Find a home for your mail.
Save 12-15 minutes per week.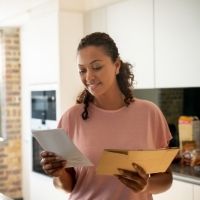 There are 2 strong choices for the mail's home: either near the door so it's easy to drop it in when you come in the house OR near where you are going to open and process the mail. Both have their pros and cons—it's really personal preference. I suggest you have a small bin to capture recycling and even possibly shredding nearby so you can process through the mail as soon as you bring it in. No point in waiting—just toss all the junk mail into the recycling bin and rip up or tear anything that needs to be shredded before tossing it in that basket.
Andrew Mellen's 5 Top Tips:
Managing Your Meetings
1) Call standing meetings.
This doesn't mean recurring meetings. It means meetings where everyone stands. If you only use high tables and chairs or eliminate chairs altogether, your meetings will be brief and to the point.
2) Agendas should be distributed a minimum of 24 hours before meeting.
You want everyone to bring their best work to the meeting, not guess or make things up "on the fly." Giving attendees access to their deliverables and items to be reviewed allows everyone to prepare before they arrive.
3) Time limits for every agenda item and no meetings longer than 1 hour.
No item for discussion appears on an agenda without it having a quantified time allotment. And no meeting should be longer than 1 hour. If you can't finish everything within 1 hour, then schedule another meeting. This may create some internal and external friction when you start limiting meetings, but soon it will become the norm and people will get more efficient and succinct. A lot of time is wasted with people justifying their points of view, etc.

4) No back-to-back meetings—ever.
You will not remember what was discussed 3 meetings ago, AND you are typically not present for the first 10 minutes of any meeting if you are spending that time debriefing yourself from the previous meeting. If you are calling the meetings, LIVE by this rule. If someone else is calling the meeting, push back to create the appropriate buffer.
5) Debrief yourself after the meeting.
The end of the meeting is NOT the end of the meeting. It's not the end until you have debriefed yourself and created tasks for any new deliverables you owe.
Andrew Mellen's 5 Top Tips:
Managing Your Emails
1) Only read email when you have the time to answer it.
Do not open emails unless you have time to process them and answers them as well. Start and finish dealing with each new message when you first see it. At best, you have just wasted the time it took to read the email because you'll have to re-read it when you CAN reply; at worst, you are now upset by what you read and have interfered with your ability to focus on what you need to do instead of replying.
2) Don't read email constantly throughout the day - pick 3 times to commit to being inbox, otherwise stay out.
Establish a particular time or times each day and an appropriate duration for the review and answering of email. Set a time. When the time is up, you're finished.
3) EOM.
When a single directive or sentence can convey the entire message, there's no need to write more. By adding the 3 letters EOM (End Of Message), you'll know that the subject IS the message and not waste time opening an empty message. Bonus: Add NRN for "No Reply Needed."

4) Automate using rules or filters.
Configure email "rules" or "filters" to direct emails to specific folders based on sender, subject, and/or content.
5) Use complete info in subject lines.
Avoid cute personal shorthand, private languages or overly generalized subjects such as "update," "checking in," or "status." Be thorough and succinct, to the point and direct. You'll help the recipient anticipate content and ensure an accurate and timely response. Do NOT overuse URGENT or it will soon mean nothing.
---
About the Speaker | Andrew Mellen
Helping clients around the globe Call BS on Busy™ and bring their mission and daily operations into alignment with their values. If you think you have too much to do and not enough time, we can help blow up that lie and get you productive and happy (again). Using field-tested best practices, data-driven scientific research and common sense, we create sustainable systems for streamlined operations, and offer training on everything from time management + productivity to project management.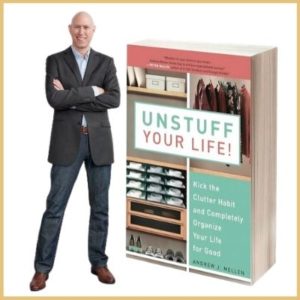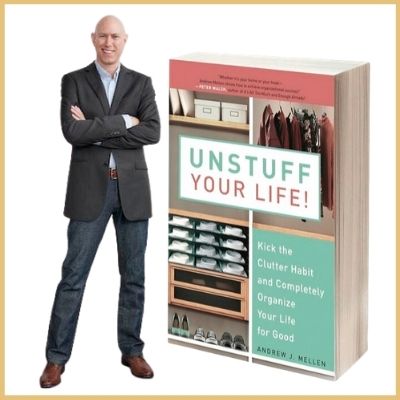 Founder and CEO, Andrew Mellen, is the WSJ top 10 best-selling author of Unstuff Your Life! and The Most Organized Man in America's Guide to Moving, and a frequent media expert on productivity and organizing. You'll find him everywhere from Fast Company and WSJ to The New York Times, Oprah, Martha Stewart Living, HGTV, CBS Sunday Morning, GQ, XM-Sirius Radio and NPR. Mellen travels the globe leading workshops, speaking and training on productivity, simplicity, agile work systems and organizing.
Learn more about Andrew here, and check out some popular challenges that Andrew deals with here (don't worry – he hasn't found a challenge he couldn't fix yet!).
00391498 01/21