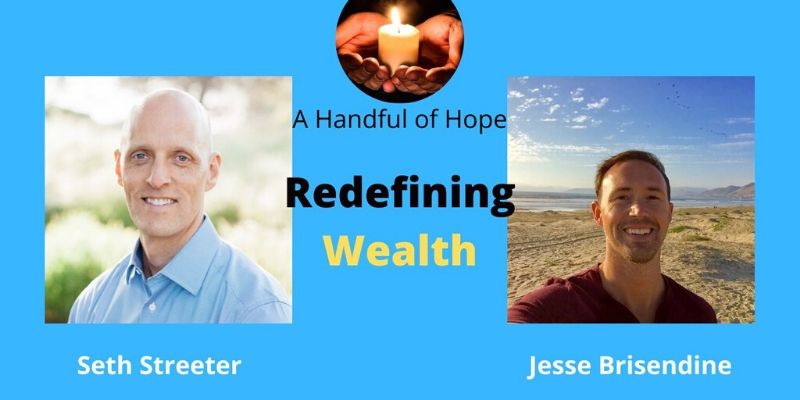 ---
What's the value of a penny? How can we tap into the wisdom of our 90 year old selves? Are we being open to the life we really want? These are some of the questions that Mission Wealth CEO Seth Streeter and Jesse Brisendine discuss in this podcast published on June 24th, 2020. Click here to listen to the full interview.
A thought-leader in the area of conscious financial planning, Seth helps people reframe their perspective of wealth beyond just the financial so that they can enjoy more balanced, impactful, and fulfilled lives. Seth was recognized by Real Leaders Magazine in 2015 as one of the Top 100 Visionary Leaders who strive to create a better world, due to his work in conscious finance.
Seth's experience in finance and the pursuit of well-being has caused him to become a sought-after speaker. In 2016, Seth was asked to speak on the TEDx Stage to share his powerful message on Redefining Wealth, and in 2017, he was chosen to speak and facilitate at the Young Presidents' Organization (YPO) Global Leadership Conference. His 2018 Developing Your 3.0 Vision for Life four day International YPO event won the 'Most Impactful Learning Event of the Year' globally.
Seth's passion is working with YPO Chapters, forums and members to help them develop and ignite a meaningful 3.0 vision for life and success. He is the Chair of the Inspired Living Sub-Network of the YPO Health & Wellness Network. Seth is a founding member, Officer and Board member of the YPO Pacific One regional chapter.
As the founder of the nonprofit SustainableFuture.org in 2017, Seth is growing a community unifying platform to empower positive daily actions in the areas of sustainability, volunteerism and wellness. Campaigns utilizing the platform have been launched by businesses, nonprofits, schools, universities and churches.

About A Handful of Hope
A Handful of Hope brings extraordinary people (entrepreneurs, NY Times Bestselling authors, celebrities, thought leaders, CEO's, etc...) together to share their tips, tricks, tactics, tools, and magic with you. The goal of these interviews is to inspire you to follow your heart in building a thriving business and living a fulfilling life.
A Handful of Hope is hosted by Jesse Brisendine, the creator of "Zero Limits Coaching". Jesse is a world renowned expert who works with high achievers and organizations to move beyond their limitations & unlock their greatness. Business leaders, Hollywood celebrities, entrepreneurs, medical professionals, and educators have utilized Jesse's services to break through limiting beliefs, uncover their unique purpose, build thriving businesses, and live fulfilling lives.
Are you living your life in a way that brings you joy and meaning?
Join the Inspired Living™ movement to elevate your past, present and future. Let us introduce you to prominent thought-leaders, life coaches, and influencers who can work together with you to develop your customized life plan. We will give you curated resources, actionable advice and targeted strategies during your journey of self-discovery. Then we will align your multi-dimensional and multi-faceted life with your ultimate vision so that you can become the BestU™ in your life journey. Learn More
00371765 06/20
---