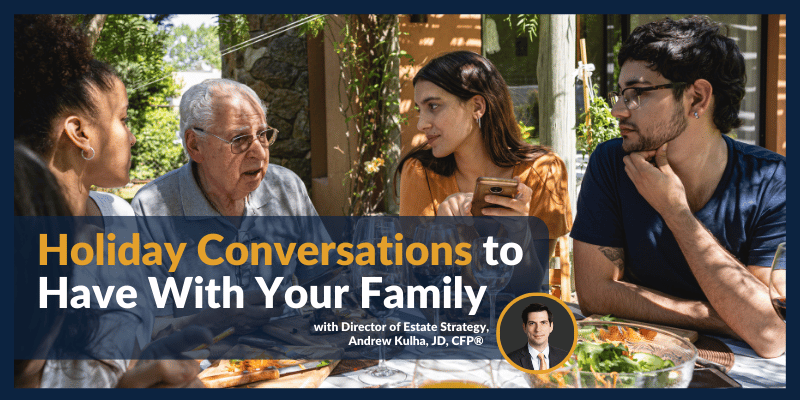 The idea of having heavy or serious conversations around the holidays is something no family wants to think about. But as Louis Pasteur said, "luck favors the prepared". By taking the time to discuss your long-term financial and care needs, you set your family and your legacy up for long-term success.
One of our clients' most asked questions is how to begin the legacy or future planning conversation with children. Whether the time is now or somewhere down the road, there are steps that you can take to make your life (and theirs) a little easier. Some people live their entire lives with little to no assistance from family and friends, but as Americans live longer than ever before, the amount of people that will need assistance at some point in time is only increasing.
The first step in preparing for future authority or caregiving roles is having the conversation with your children. Explain your current wishes to them. In some cases, they may be unwilling or unable to talk about their parents' future passing. That's okay, for now. The best gift to give your family is the shared knowledge of what you want, and how you can all help them to carry on the family legacy, even if that means just having it written down.
How to start the conversation:
Make a list of topics that you need to discuss. Here are a couple of key points that are great conversation starters:
Reference an article you read or a recent conversation with a friend. Have the article printed and share it around the table. Explain that a long-term plan is something you've been thinking about and already have some of the pieces to the plan finalized. Tell them you value their input, but it's important for them to listen to your wishes.
Bring up your financial advisor. Blame us! But seriously, use the discussions you have with your trusted advisors to segue into your conversation with family. Legacy planning, financial long-term care planning, and estate planning are all conversations that loved ones should be aware of.
Discuss expectations and values. When thinking about your legacy, it's crucial to think about what you want your heirs to receive. Is it more important to you that they receive your money or your values? How do you tie the two together? Make sure you discuss this with your children and what it means to be a part of the family and help incorporate some of their goals into the planning. At the end of the day, just relaying the information will make your children feel much more prepared but having a deep discussion about that information will greatly enhance the chance of success for your legacy to continue for years to come.
---
Are you ready to talk with an advisor about the benefits of Mission Wealth?
Learn more about our Estate Planning service. 
Once you've opened the lines of communication, your next step is to prepare a personal data record for your family. This document(s) lists information that they might need access to in case you are incapacitated or pass away.
Here's some information that should be included:
Financial information: Bank accounts, investment accounts, real estate holdings, approved personal representatives or trusted contacts, including beneficiaries.


Legal information: Wills, durable power of attorneys, health-care directives, and trusts.


Funeral and burial plans: Prepayment information and final wishes.


Medical information: Healthcare providers, medication, and medical history.


Insurance information: Policy numbers, company names, and beneficiaries.


Advisor information: Names and phone numbers of any professional service providers.


Location of other important records: Keys to safe-deposit boxes and real estate deeds.
Be sure to write down the location of the documents and any relevant contact information. It's a good idea to make copies of all the documents you've gathered and keep them in a safe place. This is especially important if your loved ones live far away because you'll want the information readily available in the event of an emergency.
Note that this does not mean you have to share everything to the minute detail – make sure you are comfortable with information you share as you share it. Maybe the first conversations are more around overall structure and values, and as time progresses and you all discuss more, more of the edges can come into focus.
Mission Wealth can help. Get trusted support and advice.
Your Mission Wealth Client Advisor can help facilitate your family legacy discussions. We can review your current estate plan and help you understand how it is currently laid out and identify if any updates may be in order. Click this link for more information on our estate planning services.
If you need health care advice, your Client Advisor can also partner with independent services such as geriatric care managers (GCMs). Typically, GCMs are nurses or social workers with experience in geriatric or aging life care. They can assess your holistic care needs, coordinate round-the-clock resources as necessary, or recommend home health care and other agencies that can help you remain independent and in your home.
At Mission Wealth, we help you create and implement a plan so that your hard work will help empower the people in your life, protect your legacy, and preserve your hard-earned assets.
Estate planning with wealth can be complicated, but it doesn't need to be. Our Director of Estate Strategy Andrew Kulha would be happy to discuss your options and review your specific estate planning goals.
Copyright © 2022, Mission Wealth is a Registered Investment Advisor. All rights reserved.
MISSION WEALTH IS A REGISTERED INVESTMENT ADVISER. THIS DOCUMENT IS SOLELY FOR INFORMATIONAL PURPOSES, NO INVESTMENTS ARE RECOMMENDED. ADVISORY SERVICES ARE ONLY OFFERED TO CLIENTS OR PROSPECTIVE CLIENTS WHERE MISSION WEALTH AND ITS REPRESENTATIVES ARE PROPERLY LICENSED OR EXEMPT FROM LICENSURE. NO ADVICE MAY BE RENDERED BY MISSION WEALTH UNLESS A CLIENT SERVICE AGREEMENT IS IN PLACE.
00484886 11/22