The Journey to Financial Freedom Isn't as Linear as You Think
In
/
by Gary Brooks, CFP®, CSRIC™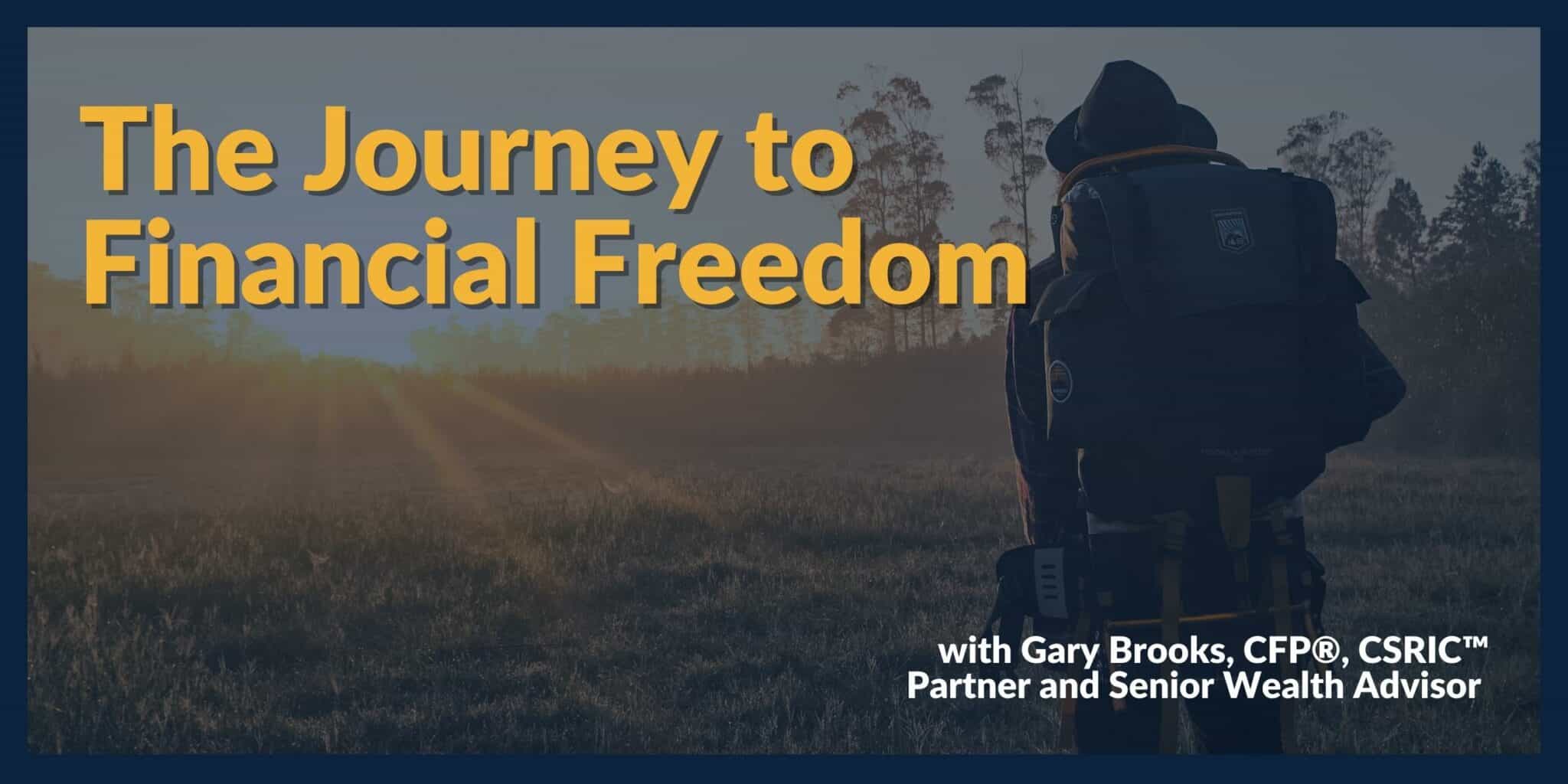 This article was originally published in full on Tacoma's The News Tribune. Gary Brooks has been a contributing author for the paper since 2008 and is also a Partner and Senior Wealth Advisor at Mission Wealth in Gig Harbor, WA.
Just about everyone makes a regular driving commute across town. For some people, it's the daily jaunt to work. Others are making a recurring visit to the grocery store, gym, or some other location.
For many of us, our satisfaction with this commute relies on how we catch the stoplights along the way. Most days, we experience a normal mix of green and red. We progress in an expected time without thinking much about it. Other days, most or all the lights are green. It's unexpected, so we notice and appreciate it, hoping that it happens more often in the future.
Of course, there is an opposite, when we catch nearly all red lights – or even worse, lights that are green until they turn yellow when you are 50 yards from the intersection, usually when you've left a few minutes later than you intended, and you hope to make up time with a swift commute.
Investing is a Mix of Red and Green Lights
This mix of progress on the road is also an apt description of investing. There are rare times when investment markets advance several days in a row and others when they decline several days in a row. But most of the time, there is a near constant back and forth as millions of investors (and computers administering programmed trading) decipher all the new information about company profits, business opportunities, economic conditions, interest rates, news of the world, and dozens of other tangled factors.
Over the 12 months from the end of October 2022 to the end of October 2023, the S&P 500 Index of large U.S. stocks had daily closing values that declined a total of 3,670 points. The index entered November 2023 with a value of 4,193.80. That is because, while the index declined 3,670 points on 127 negative trading days, it rose 3,992 points on the 124 positive trading days, collectively adding over 300 points of growth over the past 12 months. There are a lot of stop and go, a mix of green and red lights, especially when you view stocks on a daily basis. It is rare that stocks post more than five consecutive positive days, even when conditions are good, or five consecutive negative days even when there are wars abroad, political chaos at home, and questions about the future of the economy everywhere.
That is why John Bogle, founder of Vanguard – which manages over $7 trillion – has said, "The stock market is a giant distraction to the business of investing."
It Pays to Stay the Course
The daily gyrations have no relevance to your long-term financial plans. In fact, Ben Inker, from investment manager GMO, authored research concluding that there is about 18 times more volatility in investment market movements than is justified by the underlying fundamental measures of market value. The price of Microsoft, Costco, Starbucks, or any other stock that piques your interest bounces around way more in daily trading than any logic can explain.
Financial professionals can show charts, graphs, and statistics to explain abundant investing data but, for most people, a simple metaphor, memorable anecdote, or story is more relatable and can have more impact on decision-making about something as serious as lifetime financial security.
There will be times when growth of your account balances seems to come easy and might exceed expectations (a stretch of green lights). Other times, it will feel like you get going smoothly, but then progress gets stopped repeatedly.
2023's Share of Red and Green Lights
We've seen both this year. From March 13 through the end of July, the S&P 500 Index gained 19 percent. From the end of July into October, it declined more than 10 percent, entering a "correction." Both are normal stretches of market activity. The calendar year return of the S&P 500 has been positive in 32 of the past 43 years, despite an average annual decline of 14.3 percent at some point during the year.
Read our latest Market Perspectives report.
When confidence in your investment strategy is tested by short-term declines, keep in mind the historical benefit that patience and a disciplined approach have provided. When your long-term expectations are for a mix of red and green lights, but you keep focused on the destination and leave yourself some extra time in case things don't go exactly as planned, you'll most likely arrive within range of when you expect.
No investor can accurately forecast what will happen for any individual stock, industry sector or the broader market, the same way they can't predict how many lights will be green between departure and destination. Over time, if history is at all useful as a guide, large short-term fluctuations are likely to tighten over time, reflecting long-term market average returns that can help you reach your preferred destination of financial security.
Financial Guidance For Your Life Journey
Talk with a financial planner about your next steps.
Guidance For Your Full Financial Journey
Through our comprehensive platform and expertise, Mission Wealth can guide you through all of life's events, including retirement, investment planning, family planning, and more. You will face many financial decisions. Let us guide you through your options and create a plan.
Mission Wealth's vision is to provide caring advice that empowers families to achieve their life dreams. Our founders were pioneers in the industry when they embraced the client-first principles of objective advice, comprehensive financial planning, coordination with other professional advisors, and proactive service. We are fiduciaries, and our holistic planning process provides clarity and confidence. For more information on Mission Wealth, please visit missionwealth.com.
To meet with a Mission Wealth financial advisor, contact us today at (805) 882-2360.
00554944 11/23