Introducing Trust Services at Mission Wealth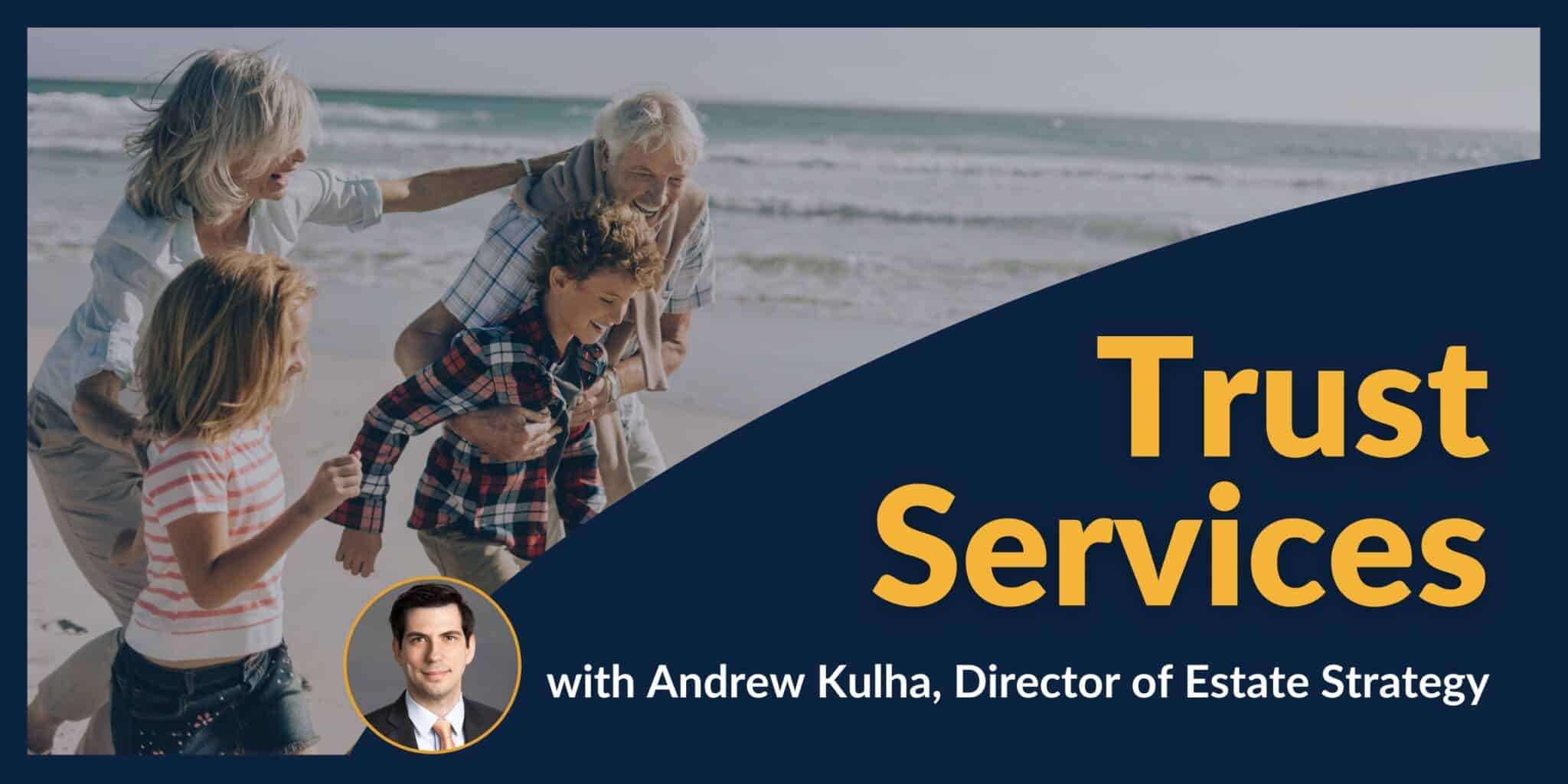 As a trusted wealth advisory firm for over 23 years, Mission Wealth is honored when asked to step into trustee capacities when our clients are unable to continue doing so, or to assist our clients when they are the beneficiaries of trusts that were set up for their benefit.
As part of our overall Estate Planning services, we are pleased to announce several new additional solutions to assist in the transition of our clients' assets, stewardship of their wealth, and support for their heirs. 
Introducing Trust Services at Mission Wealth
Through our comprehensive platform, we offer a full suite of solutions spanning Independent Trustee Services, Post-Death Administration, Trust Splitting & Funding, Tax Basis Reset, Appraisals, Marshalling Assets, Statutory Heir Reporting, Tax Optimization & Compliance, Investment Management, Financial Planning, Asset Protection, Trust Distributions, Special Needs, Bill Pay, and Charitable Intents with the focused purpose of supporting your family goals.
Key benefits include: 
Fully Independent Advice – With no proprietary investment products to sell, Mission Wealth maintains objectivity in the management and recommendations of the estate.
Continuity of Advice – Your Mission Wealth team continues as your family's advisor to provide the white-glove service that your family members are accustomed to and deserve.
Best-in-Class Service – Dedicated professionals both internally and externally oversee every aspect that is needed to look after your estate.
Flexibility – You or your family may have legacy, real estate, or investment assets around which we can create a bespoke portfolio, specific and flexible to accommodate all of your needs.
Tax-Efficient Management – We do not have to conform to a corporate-mandated model, thus we can better take into account low-basis securities and legacy holdings.
System of Checks and Balances – Unlike traditional bank models, our systems are truly objective.
Access to Additional Income Opportunities – Mission Wealth has access to alternative investments in addition to traditional stock and bond portfolios that can provide enhanced yields for your trust(s), potentially resulting in more income production and distribution to the heirs without having to disturb trust principal.
Best-in-class service when your family needs it most.
Managing an estate of a loved one can be burdensome. Trustee services can help reduce your stress, offering additional peace of mind for your family when your family needs it most. To learn more about our suite of estate and trust options, please visit our estate planning webpage.
Financial Guidance For Your Life Journey
Talk with a financial planner about your next steps.
Guidance For Your Full Financial Journey
Through our comprehensive platform and expertise, Mission Wealth can guide you through all of life's events, including retirement, investment planning, family planning, and more. You will face many financial decisions. Let us guide you through your options and create a plan.
Mission Wealth's vision is to provide caring advice that empowers families to achieve their life dreams. Our founders were pioneers in the industry when they embraced the client-first principles of objective advice, comprehensive financial planning, coordination with other professional advisors, and proactive service. We are fiduciaries, and our holistic planning process provides clarity and confidence. For more information on Mission Wealth, please visit missionwealth.com.
To meet with a Mission Wealth financial advisor, contact us today at (805) 882-2360.
00504459 03/23