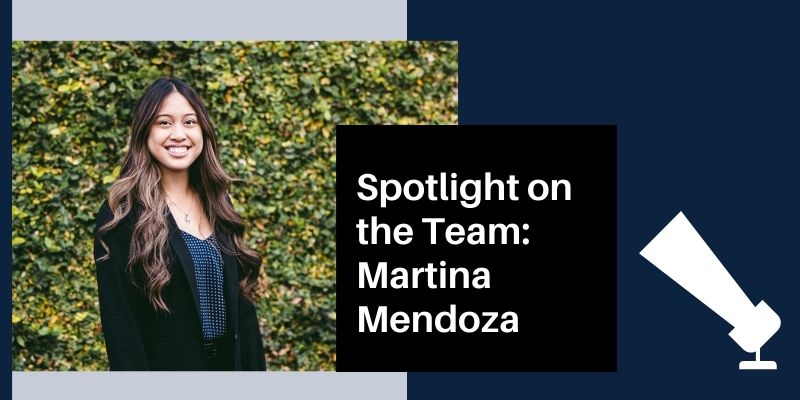 ---
Each month at Mission Wealth, we interview a new team member and publish the interview in a spotlight article. This month we talked with Client Advisor Associate
Martina Mendoza
and learned about her upbringing, hobbies, and some financial advice. Learn more about Martina in this interview.
---
What are a few childhood experiences you had that formed who you are today?
I come from a family of five where I am the youngest and only daughter. In my household, I was raised where family is and always will be number one. Not only did I develop a thicker skin by having two older brothers, I am largely who I am today because of my parents and their countless sacrifices that have opened many doors for my brothers and me. I have my parents to thank for their constant love and unwavering support in all that I choose to do.
How do you like to spend time outside of Mission Wealth?
I enjoy staying active and exploring the outdoors. I recently moved to Santa Barbara with my boyfriend, Jacob, and we have been enjoying discovering new hikes and trails that we stumble upon. You can always find us outside watching the sunset.
Are you a raving fan of anything – like a sports team or band or school?
Being born and raised in the Los Angeles County, I became a Los Angeles Lakers, Dodgers and Rams fan.
What's something interesting that people don't know about you?
I danced during most of my childhood – from age 4 to 14 and explored all different styles of dance including ballet, jazz, contemporary modern, and hip-hop. When I entered high school, I decided to switch roles completely by retiring from dance and joining my high school's volleyball team along with being a part of a travel volleyball team outside of school.
If you could offer any advice to your younger self, what would it be?
Don't mind about what other people think or do, just focus on yourself and be positive. It's important to love yourself and surround yourself with people who truly care about you.
At Mission Wealth we talk to people all the time about what their goals and aspirations are. So what's on your bucket list?
I would love to travel to as many places as possible, domestically and internationally. I am eager to learn aspects of different cultures, try a new cuisine and tap into new adventures. Another reason why travel is number one on my bucket list is because there is no better way to expand one's perspective. When discovering new places, you realize that there is no one way to live life. The top locations on my list include the Seven Wonders of the World.
Are you a part of any organizations or clubs? Tell us more about it.
I recently moved to Santa Barbara, however, I am excited to find organizations that I am passionate about.
Give me one piece of financial advice you would offer clients.
Spend less than what you earn and invest the difference in a well-diversified portfolio.
What are some important things to consider when choosing a financial planner?
There are many factors to consider when choosing a financial planner including certifications and designations, fee structure and researching about their history. Beyond the online research, I believe it is essential to interview a handful of financial planners you potentially want to hire. You should instantly feel a connection between you and your financial planner where they understand you on an emotional, as well as a financial level. It is important that they always act as a fiduciary, in your best interest ahead of their own.
---