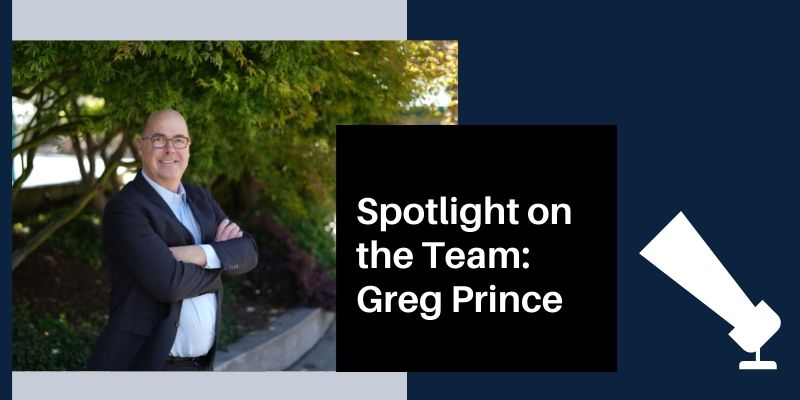 ---
Each month at Mission Wealth, we interview a new team member and publish the interview in a spotlight article. This month we talked with Client Advisor Greg Prince and learned about his upbringing, hobbies, and some financial advice. Learn more about Greg in this interview.
---
Greg Prince serves as a Client Advisor for Mission Wealth and joined the team in 2021.
What are a few childhood experiences you had that formed who you are today?
I used to have paper routes as a kid. Every morning, I had a routine that introduced me to getting up and getting the job done. In addition to my job as a ten year old, I had two older brothers and grew up in a university town.
How do you spend time outside of Mission Wealth?
I enjoy spending time with family, swimming and playing poker. I'm also a big fan of Michigan! I grew up there and my family had season tickets to football and basketball – go Blue!
At Mission Wealth, we talk to people all the time about what their goals and aspirations are. So what's on your bucket list?
I want to travel more, with three young kids and with the pandemic, we haven't been able to travel much recently.
If you could offer any advice to your younger self, what would it be?
It is time in the market, not timing the market. Also, always continue to work hard - you will reap many benefits from your persistence.
Give me one piece of financial advice you would offer clients.
Aim for diversified growth over time. It is easy to let the "noise" lead you astray, be disciplined in your investments. Do not chase fads or stocks and do not panic in times of market duress.
Tell me an actual story about a client that you helped and how you changed their life in a positive way.
I had a married couple as clients. The husband got into a serious auto accident and had long lasting brain injury. The wife who had previously been an inactive participant in the planning and investment process was suddenly forced to take the reins. We partnered with her to get her up to speed on their financial situation and update their plan for this life changing event. She now has a firm grasp on their investments and comfort in knowing the plan that is in place to take care of them in their retirement years.
00400131 06/21
---