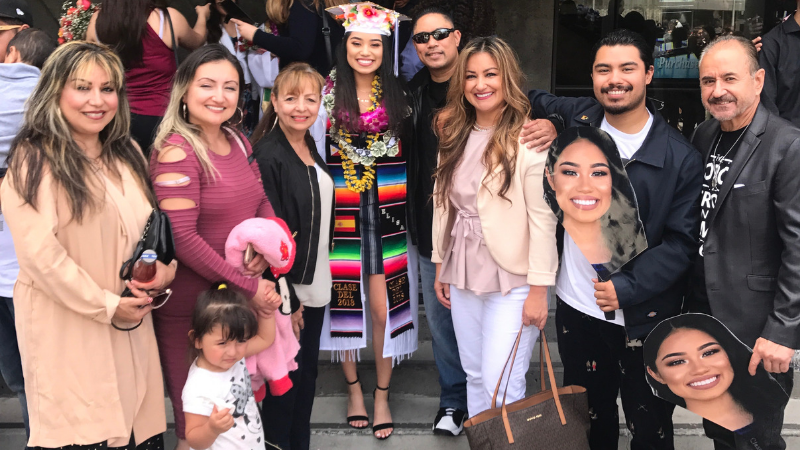 ---
Mission Wealth's Spotlight on the Team for December 2018 is Portfolio Administrator Carla Ramos. Carla has been with Mission Wealth for 5 years, and brings to the firm over 20 years of experience in finance.
In this interview we learn that Carla enjoys DIY "Do it yourself", the method of building, modifying, or repairing things without the direct aid of experts or professionals. She also reveals her favorite Bay Area sports teams and discusses the ways in which she makes an excellent Mission Wealth team member.

What are a few childhood experiences you had that formed who you are today?
I have two amazing parents that taught us that family and GOD always come first. When we were young children, my parents would take us on our annual family vacations to Disneyland and camping. My sisters and I continue these traditions and go on family vacations every summer together with our families.
Another experience that formed who I am today is when my parents bought our first home: I was 5 years old and my dad remodeled the entire house. I was his helper and learned a lot about carpentry work and how to use tools. In the evenings I would go to the kitchen and keep my mom company while she cooked. My mom is a fantastic cook so inherited this quality.

How do you like to spend time outside of Mission Wealth?
I love creating crafts and painting. Mostly taking old projects and restoring them to new. This involves sanding, stripping paint, varnishing, and painting. I am a DIY (Do It Yourself) person and love to see the outcome of a project.

Are you a raving fan of anything – like a sports team or band or school?
I am a fan of the Bay Area teams: the Oakland Raiders, the Oakland Athletics and the Warriors. I was born and raised in the Bay Area and love going to their exciting games.

What's something interesting that people don't know about you?
Being a DIY person, I learned how to remodel a house. I've installed Pergo floors, a fireplace mantel, built the covered outdoor patio, and fixed plumbing and electrical on my own.

If you could offer any advice to your younger self, what would it be?
Don't rush growing up. Most importantly, don't be afraid to try new things and don't be disappointed when things are not perfect. I spent so much time wanting everything perfect and setting expectations that I sometimes forgot to have fun and enjoy the special moments.

At Mission Wealth we talk to people all the time about what their goals and aspirations are. So what's on your bucket list?
My bucket list for my adventurous side calls for parasailing, zip lining, traveling to Europe, and to the Fiji Islands. On the contributions side, I would like to open up a facility for families with special-needs children. A place that has resources, therapies, and activities for both families and special-needs children.

Are you a part of any organizations or clubs?
I volunteer at an organization called SPRED (Special Religious Education), which is organized through the Catholic Diocese of Oakland. I personally work with the 6- to 10-year-old age group. We integrate children with special needs into the parish family. As the Leader Catechist, I assist and help the children to grow spiritually and receive ongoing faith formation through symbols, music and activities.

What do you think makes you well-suited for your current role?
I am dependable, detailed oriented, and I have the ability to multi-task with efficient and high quality standards.

Is there something about your personality that guides your approach?
I would have to say my self-driven and motivated personality. I will always find a solution for an issue.

What kinds of issues do you help your clients with and what kinds of unique services do you provide your clients with to help them with these issues?
I perform cost basis research, help with tax planning issues, and create customized reports for clients to better understand their performance returns.

what is one piece of advice you would offer others?
Be in a profession you are passionate about and enjoy it. This may require downsizing a certain lifestyle to approach this dream, but you should go for what you love to do.

What is a subject or area of finance that not many people know a lot about, but understanding it could really help their financial picture?
Many of our clients come to us with large unrealized gains and concentrated stock positions. At Mission Wealth, we focus on selling those positions against certain tax lots. That minimizes their realized capital gains and in turn reduces their tax burdens, while diversifying away from the legacy holdings.

What are some important things to consider when choosing a financial planner?
Choose an Advisor who listens to your goals and provides reasonable advice to accomplish them.
1089246 12/18
---